Payroll Giving is a scheme available to you (as an individual) if you receive your pay through payroll, or if you are a Manager or Business owner you can make this an available option for all your employees.
Payroll Giving is great because you get more impact for your money and pay less than is donated to us!  For every £1.00 that you give it will only cost you 80p, as the taxman pays the rest, and if you're a higher rate tax payer it will only cost you 60p. 
It's simple to sign up to donate a monthly amount of your choice direct from your pay, before tax.
Payroll Giving (also known as Give As You Earn or workplace giving) is a valuable source of funds to Freshfields as it enables us to plan ahead a little.
Simply ask your finance or HR department to set you or your employees up, check if you are registered, or register your company here:
A donation of £5 per month costs the basic rate taxpayer £4.00
So, 20 employees giving just £4 a month (with Freshfields receiving £5) would equal £1200 a year. This would provide us with the funds to care for 10 precious hedgehogs for four months and safely re-release them in the spring. Each hog costs just £1 a day. 
We conserve the populations of hundreds of Hedgehogs (an officially endangered species) every year.  There are only 1 million left compared to 60 million ten years ago!
Do you have a Payroll Giving scheme at your company?  Is the welfare of pets and wildlife a cause that matters to your staff?  Does your business share common values to Freshfields Animal Rescue – ethically led, committed to local impact, quality of care and service, sustainable living or wildlife conservation? 
Please contact us to discuss how together we can maximise the benefits of a Payroll giving arrangement with Freshfields.
Please call our Fundraising Manager, Emma Jensen on 07591 205 078 or email emma@freshfields.org.uk.
Alternatively, submit your enquiry via our contact form HERE and we'll get back to you at a time to suit you.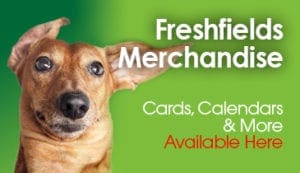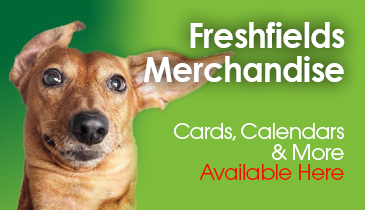 Merchandise
Exclusive merchandise available direct from the rescue. Don't miss out, follow the link to make your purchase today.