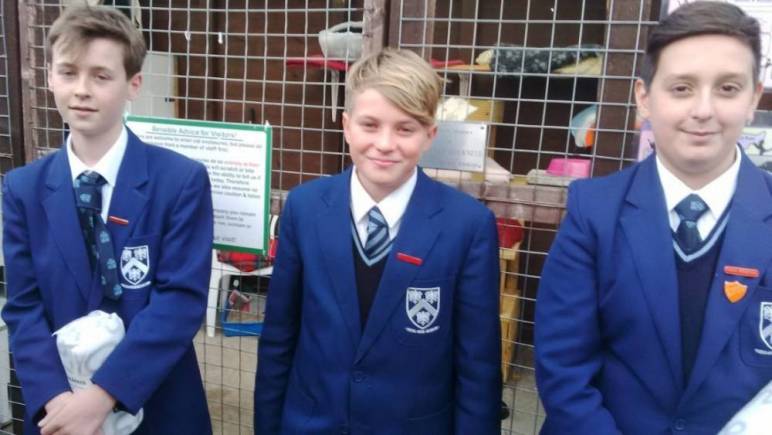 As a community focussed organisation, we are always happy to hear from schools and groups, interested in involving themselves with Freshfields.
At our Liverpool centre we are able to accommodate small groups wishing to visit the shelter, learn a little about what we do, and meet some of our resident animals. Visits are available strictly by appointment and according to staffing available on any given day.  We will do our best to accommodate you, but ask you to please bear with us, as our resources are limited.
Opportunities may also be available for projects ongoing, for example one school in Birkdale, Southport instigated a 'reading aloud to cats' programme for a small number of students, aimed at confidence building.  The students, in relaxed outdoor surroundings, were able to socialise with the resident cats whilst improving their own skills. The programme proved of great benefit to the animals, whilst aiding the students to gain confidence and grow as individuals.
We are happy to consider similar projects with other schools so if you have a suggestion please do get in touch.
As well as small groups vising the shelter we are able to offer Urban Wildlife talks to take place on the schools premises.  These are focussed mostly around hedgehogs and urban foxes. Many schools find themselves falling foul of visiting foxes and our school talks aim to allay the many fears and misconceptions that rumour, as opposed to fact have, over the years, attached to the fox.  We are able to advise you of the best and most reasonable responses to these creature's visits and show you how to manage the nuisance factor.
Please visit our outreach pages here to learn more about our work with urban foxes and the potential benefits for you.
If you are a school or club and want learn more about the work of Freshfields Animal Rescue, be that via the rescue and re-homing of domestic animals or through our Urban Wildlife Conservation project, please contact us on 0151 931 1604 or email schools@freshfields.org.uk

Haunted Liverpool School Tours
Haunted Liverpool has been raising funds to support the animals at Freshfields since 2008.  As part of our repertoire, we offer tours to local schools who are keen to bring to life the rich history of Liverpool. School Tours can take place in the daytime or evening as required, (subject to Guide availability). Teachers and helpers go free of charge.
Many schools have used the tours to inspire their pupils to write their own ghost stories. Our tour is based upon the stories of Tom Slemen, one of the most read authors by children under the age of fourteen.
The Tour takes place around the Georgian Quarter which is steeped in history. We do include historical facts in the tour for example:
William Huskisson – was an MP in 1830 hence Huskisson Street. He was the first person to be killed by a train. The train was Stevenson's Rocket and the station was Liverpool. We tell the ghost story relating to this at Huskisson's mausoleum.
There's also the fascinating story of how the Cathedral came to be built, and the little-known fact that Giles Gilbert Scott (who designed the Cathedral) can also lay claim to inventing the red telephone box.
St James Cemetery was a sandstone quarry which was donated to the Archdiocese in 1813. There are facts about the Cathedral and the Cemetery included. If we look at the gravestones we can see that many children died at a very young age. Life was much harder in the nineteenth century with dangerous workplaces for young children and no health care to speak of. Many children led both tragic and short lives and most adults did not reach a great age.
The tunnel at the entrance to the cemetery used to be a bat sanctuary and there is a freshwater spring on the perimeter of the cemetery which is supposed to have healing properties.
The cemetery contains the grave of Kitty Wilkinson who was the pioneer of the Wash House. Her work resulted in a significant decrease in chronic illness and she also went on to open an orphanage. There is much more to the 'Saint of the Slums' as she was known and she probably deserves a tour of her own.
A great many of the headstones were removed to make the grounds into a garden, but the bodies remain buried below the surface. These are just a few of the facts you will discover on our tour. Liverpool City Council requires Haunted Liverpool to adhere to a Health & Safety code. A Risk Assessment for the Tour is available on request.
Schools who have successfully worked with Haunted Liverpool are:
North Liverpool Academy
Holly Lodge
Wallasey Grammar
The Belvedere Academy
Alsop High
We also conduct tours for groups of overseas students.
If you would like more information please contact Jan Robinson at jan@freshfields.org.uk