How we can help with feral, street or community cats?
So, you are feeding a cat(s) that has no owner or home. Often these cats have a number of feed bowls they access at different households. Often they sleep somewhere else and not in your shed.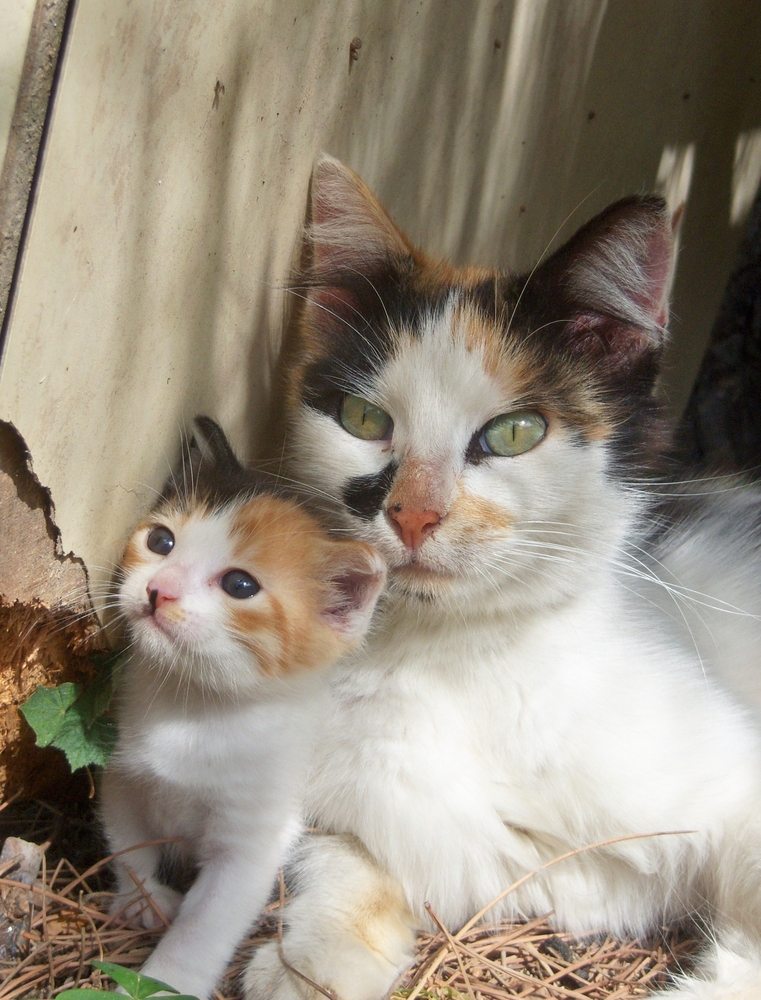 What you should do
• Call us and register the cats onto our neuter scheme.
• We need your full name, address and postcode with at least one contact number.
• The neuter scheme will call you back and ask you a large number of questions about feeding times and location, how many cats are there, how many can be handled, who is breeding, do we need to use traps etc.
• We will need to establish whether this cat is unhandleable and feral, or a domestic stray or street cat.
• If the latter, we do need to be absolutely sure there is not an owner in the street who will not like us messing around with their pet at a vets. We always recommend attaching a paper collar for a few days with a note so that an owner, if there is one, can talk to us. Your own clinic will let you have a single paper collar for no charge.
The process and further information
• Our only policy with feral, street, stray or community cats being fed by householders is to sterilize, worm, deflea, scan for a microchip and attend to any veterinary concerns the clinic may have.
• The cat is then returned to the same location. Householders should be aware that this is a neuter scheme and the scheme will not move cats on for householders. That does not stop individuals persuading one of the cat charities from admitting the animal through their formal rehoming program, but it is something the neuter scheme will not instigate. Where consent is arranged by one of the rescues to admit a street cat, the neuter scheme will move the street cat to the designated charity after the clinic has finished.
• More times than not, the householder are attached to the individual cat and wants to integrate it into their own home. This is fine. Where there are existing cats in the home, we do recommend a simple snap blood test for Fiv/Felv which we can arrange to avoid bringing in one of the immunosuppression diseases that on occasion are present in street cats.
• If you can handle the cat safely we can provide you with a secure carrier and only ask that you ensure the cat is brought in the night before surgery so its available for the vet booking and have it ready in the carrier for collection early on the morning of surgery. Of course, because sedation is required, the cat has to be starved the night before.
• If you cannot handle the cat but it comes into your kitchen, in some situations, it can be caught by hand by us depending on the layout of your kitchen. This would need to be assessed first and the cat would be caught the day before surgery and left over night at the clinic. It can be a messy business catching by hand, but generally the entire thing is accomplished within 10 seconds if it is handled right.
• If the cat is unhandleable and never sets foot in the house then it has to be trapped. Single cats we catch with an automatic pedal trap but we have to be sure no other cats from the neighbor will interfere with it. It is often left down for a day so the cat gets used to it. The golden rule is that no other food be available for the cat so it is forced to enter the cage for the tuna or chicken. The pedal once trodden on triggers the door shut. You then call our mobile and the cat is transferred into a transfer box and taken to clinic for veterinary attention.
• If there are several unhandleable cats then you have a small feral colony. We only use Jackson boxes for the collection of these. The box is a simple wooden big box, meshed all the way round and has a rope pulled door. The door can be operated from 40 feet away behind a window and can select which cat is caught and when, so we can pull out an injured cat or a pregnant cat first. The box needs to be in a safe private environment with no access to the public. It is left down for a week with the door open so that all the cats can get used to it and all feeding takes place within the box at the same time every day. We pre-bait the box to ease the process of the collection. We take several days to collect all the cats, we select all the females first and we do all this in conjunction with the householder or owner of the property/business. Sometimes we have to alter the times and location of the feeding to ease the process.
• It is straightforward, procedurally simple and all our clinics and us have been doing it for years. But we do need your co-operation in seeing it through.
• Clinic cats are rested for 24 hours, usually in clinic rest cages. Males are rarely stitched and can be returned the same night. Females with flank incisions and minimal stitching will usually be brought back the next day after surgery. Cats with other issues like abdominal incisions or having had dental treatment will usually be rested in recovery caging for up to five days.
• Please remember the sole aim for this work is to sterilize and stabilize a problem. The choice is often kill or sterilize. We have opted for a compromise.
• There is no charge for this service but donations are welcome.
• Generally we will not trap cats that are feeding kittens and we will not be called into sites where there are young kittens unless you have secured somewhere for those kittens to be moved onto. Instead we will delay trapping until kittens are independent and can be safely neutered at 12 weeks.
Why do I Need to do This?
• Male strays have a terrible tendency to be territorial, to fight with your cat or your neighbour's cat, to accumulate bad bite wounds that you may well need a charity to resolve, to stink your garden out and are seriously at risk of becoming a candidate for a serious disease.
• If you have a group of feral cats that you are feeding and breeding is taking place, your small group will become a large group. You will impact upon your neighbours with the noise, smell, fighting, toileting, disease and dead kittens.
• Nobody and nobody is going to come up with homes for the 15 feral kittens that you have suddenly realized that you now possess in your garden.
• A small cat problem is easily dealt with over a couple of days. The scheme has been called out over the years by different authorities to enormous cat problems of 50 plus where unregulated breeding has gone on for three or four years and nobody has wanted to seize the initiative in the community. These can take us months of work to see through.
• Once any anti-cat neighbours or anti-cat work colleagues see that something is being done to ease the situation, any antagonism generally dies down over the next few months.
• Please bear in mind that we require your consent to bring what is trapped on your property back. Occasionally this is refused and the charity is unable to proceed with assistance.
Do you ever move groups of feral cats to a safer zone?
• Rarely is the honest answer.
• We would need to assess the dangers honestly and be frank with our opinion.
• We would not move anything unless there were rural properties waiting for us to provide a group to them. We will no longer cage up feral cats for months on the off chance they may get moved. They are semi-wild animals and do not respond to long-term caging.
• We only move groups of 3 to 6 feral cats to rural properties that want them, usually equine establishments to control the mice.
I am looking for a group of feral cats for my farm, how do I go about it?
• You would need to agree to at least three.
• All would be from the same colony.
• All would be neutered, ear-tipped, wormed and deflea, tested for Fiv/Felv and medically sound from the clinic.
• Your property would need to be safe from busy traffic and not adjoining a keepered shoot area.
• You would need barns, outhouses and buildings that would provide shelter.
• You would be required to feed daily as well as expecting the cats to act as a deterrent to the mice and rats you wanted controlled. Not feeding will only encourage them to seek food from neighbours.
• The feral cats will need confining in one of your barns for the first two weeks to acclimatize them to the move, we can provide necessary caging for that.
• A donation will be required.
• If you are happy with all of the above then please contact Dave Callender on 07789 624517 or the Liverpool rescue centre on 0151 931 1604.