Ethos
Our ethos dictates with certainty that ALL animals (dogs, cats, small animals, wildlife and farm) are worthy of consideration, they are not ours to use, to harm, to eat or to otherwise abuse. We also embraces the importance of the Human animal, and the vital role that we humans have to play in securing a safe and certain future for our own kind and for the many species that we live alongside.
We have no expectations of perfection and indeed acknowledging our own imperfections gives us cause to strive to do better, to see good in others and to recognise beauty in the most simple of those living things around us. Those imperfections also make us stronger, more determined and we would hope more forgiving.
For many of us, our values have become a way of life, and lead naturally to the 6 key areas of operations focussed upon today …

Rescue and re-home
Our core work and also where Freshfields began with the rescue and re-homing of unwanted, abandoned and abused domestic animals including cats, dogs, horses, ponies and other smaller creatures. Over time and limited  by space this work has expanded to include smaller farm animals such as pigs, sheep, chickens, ducks and geese. Our core work recognises animals and humans in desperate situations and therefore desperate need. It allows us to make a hugely positive impact and life-changing difference to hundreds of animals each year as finances allow. Meet the animals >.
Conservation
This work mostly focuses on the rescue, rehabilitation, and release of hedgehogs, and a plethora of wild birds although at times we are called upon to assist other small wildlife too.  As a charity, we place great emphasis on greener living and strive to incorporate what we can into our daily working practices.
Outreach
Rescue and re-homing will always be limited by available space and is there to help those individuals in desperate need. It is sad but not necessarily a terrible thing for an animal to end up in a rescue, often the real tragedy remains with those poor animals not fortunate enough to make it that far!    This is why outreach and education work is so important.  Whilst our core work is very much about individuals and making a difference on a one-to-one level, it is through outreach and education, often provided in conjunction with and supported by other like-minded organisations,  that we can make a larger scale impact. More on Outreach >
Education
Whilst we certainly aren't here to preach, what better way than education to lead the cause for animal welfare forwards!
According to Wikipedia… 'Any experience that has a formative effect on the way one thinks, feels, or acts may be considered educational. Knowledge, skills, values, beliefs, and habits of a group of people are transferred to other people, through storytelling, discussion, teaching, training, or research.
It's fantastic that Freshfields does what we do in terms of 'rescue & re-home' and 'rehabilitate & release' and hopefully this work which impacts so positively upon individuals will always continue.
Education however, provides the scope to achieve a much greater and potentially permanent change that will influence positively the lives of thousands of animals for the future.
And education is never just about children. Through the sharing of experiences and knowledge in fun and interactive ways (with school groups, clubs, social groups and even businesses through team building exercises) we share our values, exposing our moral philosophy whilst firming up those foundations both for now and for the future.
People
Whilst we are an animal charity,  without 'people' there is very little we can do to help the animals!   Sadly people are all too often the reason that animals suffer, conversely, people are generally also the only ones able to right the wrongs of our fellow man! As with so many things 'human' it's complicated…
We value the 'people' who help us to keep our goals in sight. People are an investment well worth making, they are many and they are diverse, coming from a variety of backgrounds and with differing skills and availability. Each person is very much an individual and together they help us and fulfill vital roles:
Staff – Volunteers – Fundraisers – Supporters –  Foster Families – Adopters – Donors – Trustees
Community
Community is so important to Freshfields.  Without our communities and their support, we could not carry on our vital work. 
Whilst community can be physical, the locality of where we operate, the greater community is a shared sense of purpose and belonging.  When like-minded individuals work together, their collective energy and focus becomes a powerful tool for the good.   The real beauty of community is that it has no boundaries.   We encourage you to join us, work with us, be part of our Freshfields family, and strive for a world where everyone values animals and our natural environment.      
# No Animal Left Behind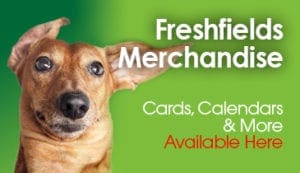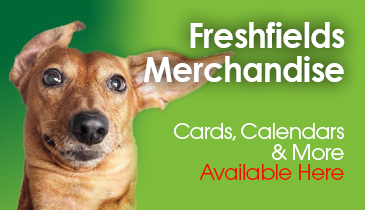 Merchandise
Exclusive merchandise available direct from the rescue. Don't miss out, follow the link to make your purchase today.