MEET OUR COMMUNITY FUNDRAISERS!
We'd like to introduce you to some of the wonderful people who fundraise for Freshfields in the community and help keep our doors open for the hundreds of creatures who rely on us every year.
The Sidney Road Lights Crew
Steve Henshall has been supporting the animals at Freshfields for 7 years now, lighting up his garden on Sidney Rd. in Southport every Christmas with a sound and light spectacular. The highlight is a 7 metre-high attraction, which has been likened to Blackpool Illuminations.  To create his Christmas wonder, he imports specially-made parts from all over the world. The light show is synchronised to music, with multi-coloured pixels and an enormous Christmas Tree made from tomato plant frames.
Under the supervision of his team of rescue cats, Steve creates special sequences with the lights from either Christmas favourites, or movie soundtracks from the likes of Star Wars, Game Of Thrones, The Greatest Showman and Harry Potter.  Steve also puts on the light shows for other occasions including Easter, Halloween and Remembrance Day.
Steve works as an industrial ice cream machine sales manager and engineer for Moody Direct, based in Nottinghamshire. When he is not travelling for work, he is dedicated to making the displays as wonderful and creative as possible.  Steve's entire family are animal lovers and everyone contributes to the displays, which draw hundreds of children and families every year.
Jay Wheeler
Medically retired from the army with Post-traumatic Stress Disorder (PTSD) after 15 years of service, Jay struggled with his mental health when he came back to civilian life. Jay uses art to raise awareness of the power of art as therapy for mental ill-health.  During his recovery, Jay says that he knew that he had a lot of love to give, and when he saw Fudge advertised on our website, it was love at first sight. Fudge adopted Jay, rather than the other way around! Since then Jay has raised funds for the animals through his art, and his support in promoting Freshfields' work on local radio and TV. Jay takes part in special community activities such as the Sponsored Abseil down the West Window of Liverpool Anglican Cathedral.
Sandra Nixon
Sandra is a talented local artist and long-time friend of Freshfields, who has been drawing and painting portraits and selling them to raise funds for the animals for many years.
Sandra is a vegan and is dedicated to animal welfare. She has had her portraits exhibited in the Atkinson Arts Centre in Southport and is always on hand to help us when we need an extra pair of hands on the stalls, when we are taking part in local Summer or Christmas Fayres and spreading the word about the work we do. Sandra is a Freshfields Community Ambassador, and can often be seen around town with her devoted dog Lola.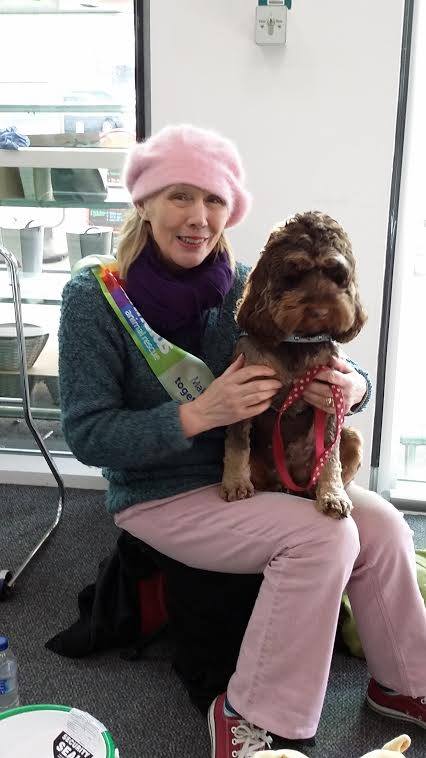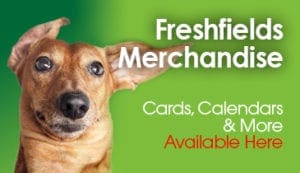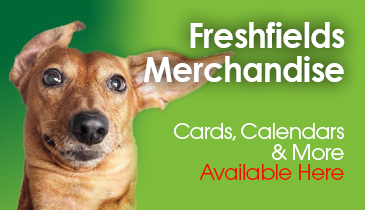 Merchandise
Exclusive merchandise available direct from the rescue. Don't miss out, follow the link to make your purchase today.