A Company match-funding scheme really helps your staff feel involved, excited and encouraged.  It also encourages the public to support a campaign because we all like to get maximum impact for our efforts.
Does your company offer a match funding scheme? These can come in a number of forms:
Matching funds raised by individual members of staff

Matching funds raised by staff teams

Matching a public Fundraising Campaign
Match funds achieve amazing things faster…and saving time saves lives!
In 2018, Facebook offered a match-fund that enabled Freshfields to purchase a brand new Animal Ambulance by doubling the £8000 of donations made by our community partners.  In one year we transported 211 animals in safe and comfortable conditions. This included dogs, foxes, pigs, ex-battery hens, geese, and sheep!  It also gave a real boost to the staff who use it.
Freshfields has worked with credit card company Barclaycard since 2015, who support the rescue with volunteer days, donations of IT equipment… and their staff fundraising matched funding scheme.  This has helped their staff feel supported and valued by the company, increasing their feel-good factor and impact.
Contact Emma Jensen on emma@freshfields.org.uk or call 07591 205 078 to discuss how your company can boost the benefits of Freshfields work for pets, their owners and for struggling local wildlife.
Alternatively, submit your enquiry via our contact form HERE and we'll get back to you at a time to suit you.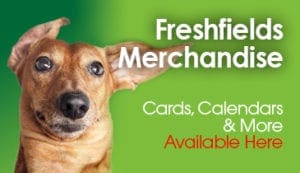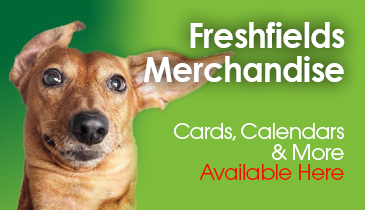 Merchandise
Exclusive merchandise available direct from the rescue. Don't miss out, follow the link to make your purchase today.