Whilst over 80% of those that become infected with coronavirus will recover, fears for our personal safety remain, understandably, at the forefront of our minds.
With over 8 million pet dogs in the UK, many of them will be owned by individuals who who are particularly vulnerable should they catch the virus, and who fall into the Covid-19 'high risk' category.
Current evidence suggests that humans cannot catch Covid-19 from your dog, cat, or small pet, and you cannot infect them with it either.
Government guidance currently states we should stay at home, and to only go out if necessary and only for the reasons identified HERE. Those people who are self-isolating as a precaution (for example, working from home) or shielding (because they are especially vulnerable) can still walk their dogs. Obviously you need to keep away from other people, but some fresh air out in the 'near to you' countryside can help promote both physical and mental well-being.
If you are self-isolating because you are showing symptoms or have tested positive, it is advised that you do not leave your house and garden. Dog owners need not be overly concerned about their inability to take their dogs for a walk, this is relatively short-term, not a permanent situation and there are lots of things you can do to keep your dog mentally stimulated.
Keeping your dog happy to be home…
Your dog is seeing a whole lot more of you at the moment! Trust us when we say, they are very happy about that so we are starting off in a very positive place.
Games and training
Dogs love scent games. Hide your dogs favourite treats or toy somewhere in the garden or house, and then make a game of encouraging them to find it.
A lot of dogs can be kept happy playing retrieve games in the house and/or garden too.
Trick training can be great fun! Why not take a look at the YouTube channel Kikopup if you are looking for a few ideas.
Enrichment feeding is also an excellent way to occupy your dogs time, and to challenge their brain. You can find out more about enrichment feeding here.
Other considerations
If you are able to get a shopping trip in before self-isolation, buying a little extra food for your pet than you normally would buy is a good idea, so that you're able to feed them for the duration of your time indoors. It's recommended you have sufficient food to last 2 weeks. You also need to be sure to check that you have enough medication to last you through should your dog be on regular treatment.
A good back-up plan to put in place is to see if a family member or close friend could look after your dog for you should you suffer from more serious symptoms.
It's important to follow good hygiene rules and wash your hands regularly.
We can't put a measure on the joy and companionship that our pets give us, either in normal times or in difficult periods like those we are experiencing now; for them, their world revolves around their owners, and they have neither thought for nor comprehension of the big wide world beyond. Keep yourself safe and they'll stay safe too.
Still concerned?
If you need reassurance about your dog (or any other pet) during this time, please do not hesitate to contact us.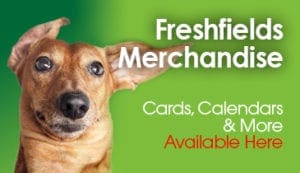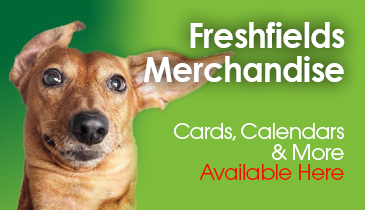 Merchandise
Exclusive merchandise available direct from the rescue. Don't miss out, follow the link to make your purchase today.