They say that every penny counts and it's true! Collection tins are a valuable source of income for Freshfields, and the pennies in the collection tins add up to pounds.
If you want to help raise funds for Freshfields be that regularly in your place of work or via your own one off (or regular) fundraising event then we can help support you by providing posters and collection tins or buckets.
Freshfields' charity collection boxes are held by organisations and individuals and are placed in over 100 shops and businesses throughout Merseyside and North Wales. We are extremely grateful to the proprietors who support Freshfields in this way, and we are always looking for new placements for our collection tins.
We also have a number of larger donation bins which are a collection point for donations of animal food, toys, treats and other items generously donated by our supporters.
If you are a business owner and you feel you could help then we would love to hear from you.
If you work in an office or building with lots of footfall then please have a chat to your colleagues and managers at your workplace – every contribution, however great or small, makes a difference to the lives of hundreds of abandoned and abused animals every year.
If you are running your own special event on a specific day of the year then get in touch, let us have all the details and the opportunity to offer you as much support we can.
Contact Jane on 0151 931 1604 or jane@freshfields.org.uk if you need poster/tins for your special event or can display a Collection Tin or Donations Bin at your place of work.
Or you can collect a tin at our Reception area at the Rescue Centre, open 10-4pm every day in Liverpool, 10.30 – 1pm in Wales. We will simply require you to supply your workplace details for our records along with details of the person responsible for supervising the tin.
Call in and pick one up at:
• East Lodge Farm, East Lane, Ince Blundell, L29 3EA (Liverpool)
• Bryn Melyn, Nebo, Caernarfon LL54 6EA (Wales)
Thank You on behalf of all the animals at Freshfields Animal Rescue Centre.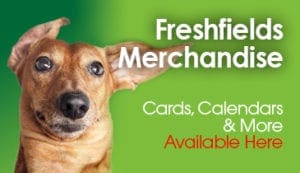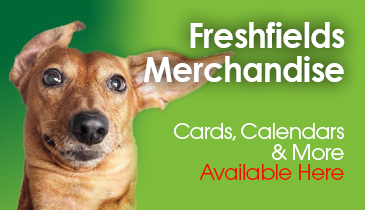 Merchandise
Exclusive merchandise available direct from the rescue. Don't miss out, follow the link to make your purchase today.