Calling brave souls from across the North West
We challenge you to come and take part in the ultimate ghost hunting experience and fundraising opportunity... hosted on behalf of Freshfields by 'Haunted Happenings'. 
Do you have the steely determination required to undertake an overnight stay at the long-abandoned Newsham Park Hospital and Orphanage?
All we ask is that you commit to raising £200 in sponsorship money, to help support the life-saving work of Freshfields Animal Rescue.
And you never know... if word of your selfless bravery gets out it might just help keep the ghosts and ghouls at bay too!
This sprawling Victorian grade II listed building in Liverpool is derelict but in the past has been used as an Orphanage, a Psychiatric Hospital and Old Person's Nursing Home throughout its 138-year history.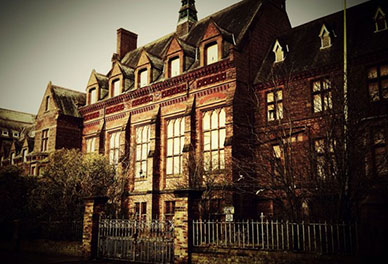 A School House, hospital wards, nurses accommodation, Bell Tower, Chapel, and Mortuary are among the array of spooky rooms, corridors, and basements the building houses. There is an instant feeling of uneasiness as you enter and begin your journey into this frightening location. Wheelchairs sit empty in corridors and the mortuary fridges exist as a cold reminder of the lives that passed over in this place, giving this location a unique and frightening atmosphere. You will not fail to sense the torment of those who belong to its long and torrid history.
Although the building has laid empty for many years, there have been numerous reports of paranormal activity from security staff and workmen alike. Distant voices have been heard from within the empty building, shadowy figures have been seen darting down the stairwells and workmen's tools have disappeared only to turn up in a completely different part of the building.
The abandoned Newsham Park Hospital & Orphanage is a location like no other and an experience that you will NEVER forget. The opportunity to investigate a building like this is rare and Haunted Happenings have exclusive access for the night. Who or what will you encounter?
Interested in taking part?  Contact Naomi on 07545 211018, email naomi@freshfields.org.uk or submit your details today, via our contact form below!