Calling brave souls from across the North West
We challenge you to come and take part in the ultimate ghost hunting experience and fundraising opportunity… hosted on behalf of Freshfields by 'Haunted Happenings'. 
The event takes place on Saturday 2nd November 2019 between 9pm and 3am.
The event takes place at St George's Hall, St George's Place, Liverpool L1 1JJ.
The Ghost Hunt is hosted by Haunted Happenings.
Their website can be seen at https://www.hauntedhappenings.co.uk/
All participants must be preregistered for the event. This can be done by contacting Naomi at Freshfields via naomi@freshfields.org.uk or 07545 211018.
They will provide team members, equipment and refreshments including tea, coffee and biscuits. If you wish to take more provisions to last through the night then feel free to do so. This is an overnight hunt and there will be darkness and it may be cold at times so remember to dress accordingly.
St George's Hall ghost hunt in Liverpool has everything to give you an intense night of ghost hunting. This is one of the most historic and exceptional buildings in Liverpool and a ghost hunt here will include some extremely sinister and foreboding areas. Not only do you have the court cells to investigate but you also have the dark, creepy, catacombs which lie beneath the building. If that wasn't enough, there will also be access to the courtrooms themselves.
St George's Hall in Liverpool has so much to offer and with a strong link to some very strange hauntings within this Grade 1 listed building groups are excited to discover the entities that reside here. With the main aim being to go in search of the paranormal, an overnight ghost hunt at St George's may give you more than you bargained for. Shrouded in history and with a macabre past, this building will hopefully give you the evidence that people have all been searching for with regards to the existence of ghosts and spirits. Venture down into the dark cells or spend time alone in the bowels of the Catacombs. Be part of the incredible history of St George's on your journey to encounter ghostly activity.
You will be working in small groups to determine who or what is haunting St George's, taking part in experiments that will hopefully give that all important proof. Watch and wait vigils in the dark, lone experiments, traditional activities such as table tipping, Ouija Boards and Glass Moving are all part of the night for those who are brave enough to take part.
• Ghost hunting vigils and séances in small groups
• Workshop/separate vigils for returning guests
• Experiments including glass divination, table tipping and Ouija Boards
• Use of ghost hunting equipment including EMF Meters, K2 Meters etc
• Refreshments and light snacks included such as teas and coffees
• Not suitable for people with mobility issues or walking difficulties
Fundraising
We ask that all participants raise a minimum of £200 in sponsorship. Freshfields pays £60 per person to secure your place on the event. The sponsorship covers that costs and the additional £140 or more goes to help all the animals in desperate need of our care and shelter.
The place cost is payable to Freshfields should you not raise any sponsorship funds.
We should add that this scenario is highly unlikely to happen.
Paper sponsor forms are available but participants can set up a Facebook fundraiser for the event at https://www.facebook.com/fund/freshfieldsrescue/
We also recommend TotalGiving as an online fundraising platform as there are no costs incurred by Freshfields and all money comes directly to the charity. The link to sign up is https://www.totalgiving.co.uk
If you require any help setting your pages up please contact Naomi for assistance. We will also happily share links to your fundraising pages via our own social media platforms so send them to Naomi if you wish.
We ask that following the event all money raised is paid to us within two weeks of the event.
Don't miss out on this great opportunity.  Please get in touch with Naomi today!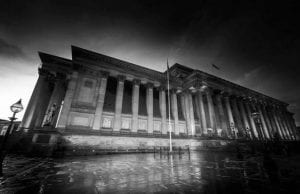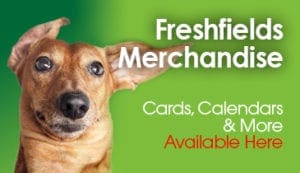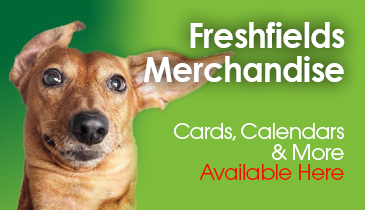 Merchandise
Exclusive merchandise available direct from the rescue. Don't miss out, follow the link to make your purchase today.