Rosanna, joint owner of The Old Hardware Shop cafe in Woolton.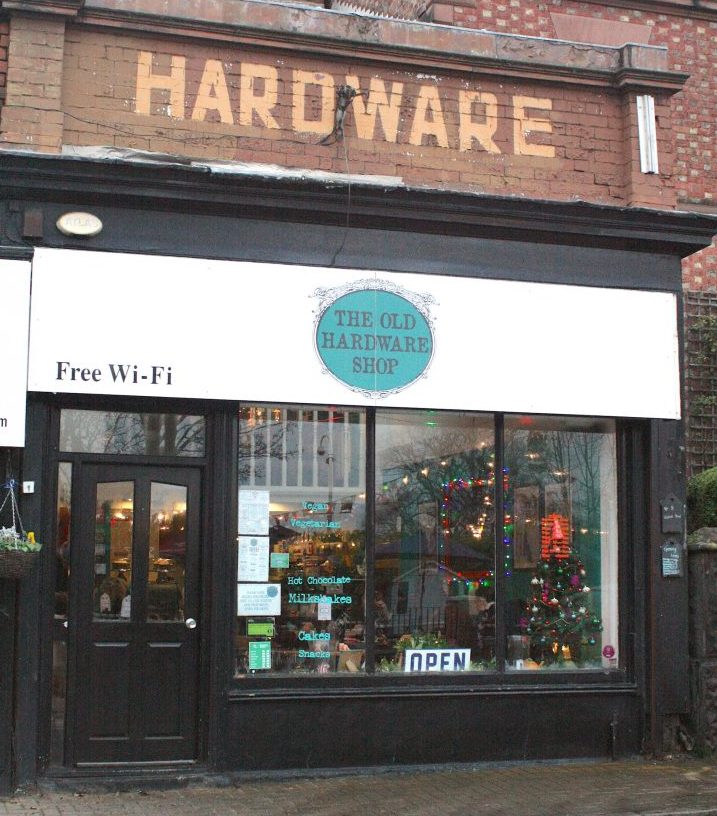 Rosanna, 27, owns and runs The Old Hardware Shop cafe in Woolton, along with her sister Amy. Mum, Dad, and other family members also help out in this very busy and successful cafe. Here Rosanna tells us how her dream of running a cafe became a reality, and why it is so important to her.

When did you become interested in cooking?
My sister and I have always dreamed of having our own café. We used to play in the garden pretending to run a café – making pretend menus and serving delicious plates of mud and leaves to each other! We have always loved eating, but not always been the most successful cooks! However, a while after we became vegan we were frustrated with not being able to get simple café food like toasties, cake and nice drinks like milkshakes and hot chocolates and starting thinking about putting our dreams in to action!
Do you cook for the cafe?
Amy and our Mum (thanks Mum!) are the main cooks in the café during the day, but we all do the prep and Amy and I make the cakes and soup each day. I usually make the drinks but I help out with food when I can!
How did the Old Hardware Shop Cafe come about?
Both Amy and I were in jobs which we were not happy with. This, combined with being vegans who missed junk food and having always dreamed of having a cafe, led to us pursuing that dream! We decided that this was the best time to try whilst we had nothing to lose! We searched on the internet and found a café to let in Woolton Village and went for it! We couldn't decide on a name for the café, and didn't just want it to be something to do with it being vegan and vegetarian because we didn't want it to be exclusive – we wanted everyone to feel welcome. We were sat in the beer garden opposite and noticed the words HARDWARE painted over the café and discovered that it used to be a Hardware shop – so decided on that name!
Who is involved in it?
The café is very, very tight on space in the kitchen – and we would probably get sued for sexual harrassment if we had staff because of how often we would be squeezing past them! We are very, very lucky that our amazing Mum and Dad have helped us not only set up the café but also work with us. They have had to help out more and more as we have been getting busier and busier over time thanks to our customers. Our Aunty Eileen is also our dishwashing saviour, constantly buying us things for the café and helping us out whenever we ask without hesitation. We don't know what we would do without them! Hopefully soon we will find bigger premises to move to so we can employ some other staff and give them a break!
When did you become vegan?
I have been vegetarian since I was about 10, but about 4 – 5 years ago my sister and I had a bet to see who could be vegan for the longest, thinking it would be too hard and one of us would fail. But neither of us have lost yet!
Why did you decide to be veggie/vegan?
I have always loved animals, and we have always had pets. Everyone loves their pets and knows they have their own personalities, thoughts and feelings. Once you understand that that doesn't just apply to dogs and cats, but all animals – especially intelligent animals like cows and pigs – who feel love and fear…I don't know how anyone could not be vegetarian. I was vegetarian for over 10 years before becoming vegan but am so happy to be cruelty free and know I am doing my best to help animals and not to contribute to suffering.
Our café at the moment is vegan and vegetarian, but once we can move we hope for it to be 100% vegan. However, at the moment we see it as a jumping pad for people who would never dream of coming in to a vegan cafe. Many of our customers have come to us as meat eaters and it has opened their eyes, and we have even had vegetarians who have become vegans once they have seen how easy it is! We are glad that we can let people see that vegan food is just normal food, nothing weird!!!
What sort of customers do you get, and what do they think of your food?
We get such a variety of customers, it is brilliant! We are next to the doctors so we get a lot of elderly people coming in for tea and toast after a blood test, we get women coming in after going to the gym, teachers from the nearby school who come in every Friday for a treat, and a huge base of loyal vegan and vegetarian customers who travel down from far and wide to visit us, including some amazing customers from Freshfields!!!
Aside from a few people every now and then who get mad at us for not selling meat – or who come in and order Seabass – everyone seems to really like our food! For a lot of vegans like us, who are really only vegan because they don't want to hurt animals and not for health benefits, it is quite hard to find vegan food when you are eating out that isn't just falafels and quinoa or mushrooms. We are just glad that other people wanted it as much as we did! There are some people who we don't think even realise that all our cakes are vegan, and we are very proud of that!
How does this compare to other jobs you've had?
It is the best job I have ever had, but also the hardest! Many of our customers have become friends who we look forward to seeing, and working with my family every day is brilliant. However, running your own business is hard and we have had a whole myriad of problems with the café building itself – everything that could break, leak or explode has and we really, really need somewhere with some storage space…or just space for us. At the moment we are looking for new premises so that we can grow our business, employ staff and offer new exciting items on the menu (we are dreaming of chips, pizzas and burgers.)
We have been overwhelmed with the support we have received since opening and it makes every day feel unreal!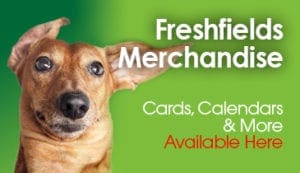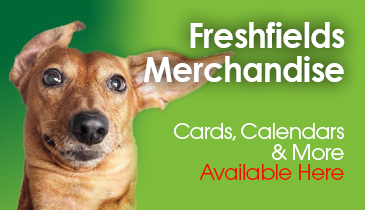 Merchandise
Exclusive merchandise available direct from the rescue. Don't miss out, follow the link to make your purchase today.