Our second guest blogger is Danielle Owens. Danielle, works at the Liverpool shelter in the Small Animals and Wildlife Unit. Danielle can attest to the need to make the very best of the scarce resources available to the shelter, and we feel confidant, that readers may consider the full and clearly hectic day described, to be a fairly accurate depiction of a typical day at the rescue centre.
Every day is a busy day here at Freshfields Wildlife Unit! Whether it's high Summer with a room full of baby birds demanding food, or Winter with hedgehogs everywhere just waiting for the Spring, every day is different. New animals are welcomed and others leaving to go to their forever homes. There's never a dull moment on the Small Animals and Wildlife Unit, and I wanted to share a snapshot of my life here at the Freshfields Liverpool Rescue Centre.
9:00am
The day starts with the feeding of all the outside animals in our bigger pens, generally the birds in the aviary, the ferrets and the rabbit groups. Our resident starling is always waiting to land on our heads & dig through our hair in the hope of finding worms!
Then it's back inside where every cage is emptied & wiped down. Fresh newspapers are put in to line each cage & fresh bedding, hay, food & water is given to every rabbit &
guinea pig. We always have at least 1 slightly grumpy bunny who doesn't like to be disturbed, and a delicious breakfast works as a great distraction!
We have up to 25 rabbits & guinea pig cages in our inside room on any given day.
The smaller & injured hedgehogs are kept in this room. They also get fresh newspapers, bedding, food & water. The back shelf is usually packed full of these little guys.
The pigeons & other wild birds that require 'cage rest' remain in this room also. Also in here are baby birds that have either been abandoned by their parents, fallen from the nest or have been injured. Each one has their environment cleaned out & fresh food & water given. Many can't feed for themselves so it's up to us to make sure they're getting enough food. Several times a day we'll go from one end of the room to the other feeding all the crying infants; in Spring it feels like there's a never ending chorus and it's never quiet in here!
A lot of the animals in this room are on medication; painkillers, antibiotics, eye drops, creams… the list goes on & on. Each day we check the diary & administer whatever has been prescribed.
11:00am
After we've tidied up all our mess it's on to the outside pens. Here we keep the rabbit groups, offering them more space in which to run around & cause havoc! Each pen is lined with small shredded paper, making it softer underfoot. All of the soiled paper is removed and replaced. Fresh hay & water are given too. Sounds easy in theory, but gets a bit tricky when there are 5 rabbits all having a good old nosy around at what you're doing!
We've also got our ferrets out here, in nice big pens for them to play in. Our resident boys can be quite mischievous, so you have to be aware of where they are at all times when cleaning them out! Others just want to play. In here we have newspapers lining the floor that need changing every day, and once a week their duvets will be changed for fresh clean ones. Each pen needs to be brushed out & tidied & fresh water provided.
Along the back we have our resident pigeons that can't be released due to broken wings, injured legs, missing eyes etc, but are too healthy to be put to sleep, so they live with us. This area needs to be hosed down & scrubbed out. The pigeons love to crowd around the hose, getting their morning baths.
Out here we have more hedgehogs that go in to pre-release pens where they get used to the colder weather before being released back in to the wild. These pens also need fresh newspapers, food & water.
1:00pm
Finally it's dinner time! With all the morning's activities, we've worked up quite the appetite.
1:30pm
It's on to the hedgehog room. Here the majority of our hogs are kept either being treated for ringworm or being built-up with enough fat to be ready for the spring release. Each cage needs to be cleaned & fresh newspaper, bedding, food & water given. Once a week they are weighed to monitor their progress. They need to be at least 600g to survive winter hibernation.
3:00pm
The afternoons are for a range of jobs, such as:
 • Feeding the rabbits and guinea pigs their veg.
 • Disposing of all our rubbish across the field (whilst trying to avoid the turkey, who thinks the field is his alone!)
 • Getting more hay for the next morning.
 • Stocking up on birdseed, cat food, biscuits and mealworms for the hogs.
 • Feeding the Terrapins, 4 resident gulls and the pigeons in the pre-release aviaries.
 • Cleaning & feeding even more hogs in pre-release pens.
 • Finishing up with any more medications
 • Last bird feedings
 • Giving out any heat pads for the animals who need a little extra warmth for the night.
On days where our fabulous volunteers lend a helping hand we are able to add extra tasks onto our daily lists, such as;
 • Cleaning out the chinchillas cages.
 • Cleaning the 3 terrapin ponds.
 • Cleaning out the water bird pond.
 • Cleaning any cages where animals that have been released or re-homed have been kept.
 • Cleaning any other areas that could do with some attention.
On any day we will have to juggle our schedule to accommodate any emergencies, vet runs, strays brought in, animals dumped on our doorstep and the visits from the vet.
We also perform a bonding service for any rabbits looking for a friend. We can have 3 pairs bonding at any given time. Here we monitor the pair throughout the entire day to ensure they are getting along and will be a compatible pair. It can take quite a few attempts to finally find the perfect friend.
5:00pm
The day is finished, but the work goes on 24/7. Any animals needing some extra TLC will go home with the staff. Working for Freshfields Animal Rescue is a unique experience, and one which is certainly not 9-5!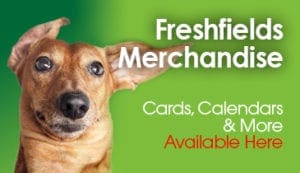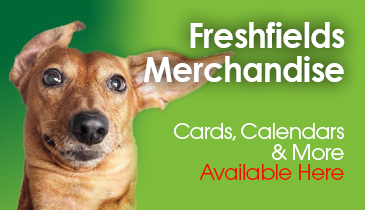 Merchandise
Exclusive merchandise available direct from the rescue. Don't miss out, follow the link to make your purchase today.