Rio is a firm favourite amongst the staff here at the rescue after coming into our care in 2017 when his family could no longer care for him.  When Rio first arrived with us he was very insecure and quite reactive on the lead but it did not take us long to win his trust.
Rio is still reactive towards strangers, however once you have gained his trust you will be sure to have a friend for life. With those he knows Rio really is the sweetest, most affectionate boy! His whole body wags and he is just so happy to be with you. He did not have the most stable start to his life and we truly believe that with a dedicated owner steering him in the right direction Rio will learn to trust people again.
After landing in rescue at such a young age, Rio desperately needs some stability in his life.  He is desperately trying to find his feet in the world, and finding himself in a chaotic environment especially at such a crucial age, means that Rio needs some special understanding and a patient new mum and dad.  We love and trust Rio, but we have seen him show some protective behaviour. He briefly went to a home but was returned after a couple of days for showing aggression towards strangers on walks and visitors to the home.  We believe through advice from our wonderful behaviourist that Rio is insecure, worried and therefore can make 'wrong decisions'.  He just needs putting on the right path, with the right home that will follow our behaviourists advice to help him settle and ultimately teach him the right way to behave.  Underneath his tough exterior Rio really is a vulnerable boy who is just afraid. He is not a 'problem' dog, but merely a young boy that needs a bit of guidance.  Luckily, his age is on his side and he is a fast learner and eager to please so we believe he has the makings of a wonderful boy!
Rio needs someone home pretty much all day as he can become upset when he is shut away or left on his own. We have recently moved Rio into a quiet room away from the kennels and have found him to generally be clean and non destructive so we are sure that in time Rio will learn to feel secure when left alone. He is a goofy boy who makes us laugh every day, his favourite place to be is curled up under a blanket on his couch, he even tucks himself in!
We are looking for an adult only home for Rio, free from visiting children and no children planned for the future.  Although Rio can walk well on the lead he can also be incredibly strong and reactive at times for eg if a stranger or other dog walks by. For this reason he will benefit from an experienced owner who is able to control him on the lead. He lacks social skills with other dogs and will need to be the only pet in the home. Rio's new family must be prepared to make several trips to and from the rescue in order to form a bond with him before adoption.
Rio is ideal for someone who likes silly, daft dogs, he is full of love and character and will keep you thoroughly entertained.  He absolutely needs a calm, patient home with experience of settling rescue dogs in.  He has so much potential!  We simply adore him and would really like to see him settled in a loving, stable home.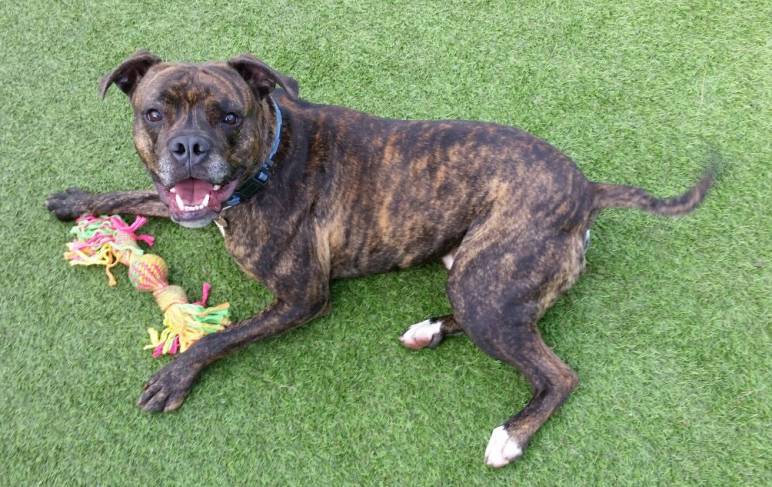 Admitted -

14/04/2017

Breed / Type -

Boxer cross Staffordshire Bull Terrier

Sex -

Male

Age -

3 Years

Colour -

Brindle & White

Vaccinated -

Yes

Neutered -

Yes

Used to Kids -

No

Used to Cats -

No

Used to Dogs -

No
---
How do I Adopt
Sponsor me
Back to Animal Search
Share this animals details