This handsome young boy came to us as his family could no longer care for him.  Rio is adorable, a strikingly attractive dog, who won our hearts over immediately!  He is a medium sized dog (boxer sized) and can be strong.
After landing in rescue at such a young age, Rio desperately needs some stability in his life.  He is desperately trying to find his feet in the world, and finding himself in a chaotic environment especially at such a crucial age, means that Rio needs some special understanding and a patient new mum and dad.  Rio is so loving and greets us with a big waggy tail and bum!  We love and trust Rio, but we have seen him show some protective behaviour.  We believe through advice from our wonderful behaviourist that Rio is insecure, worried and therefore can make 'wrong decisions'.  He just needs putting on the right path, with the right home that will follow our behaviourists advice to help him settle and ultimately teach him the right way to behave.  He is not a 'problem' dog, but merely a young boy that needs a bit of guidance.  Luckily, his age is on his side and he is a fast learner and eager to please so we believe he has the makings of a wonderful boy!
Rio needs someone home pretty much all day as he is still so young.  We are looking for a home with adults only, with no plans for children in the future.  He can react to some dogs, sadly kennel stress adds to this, so we would love to see him settled in a home, in a nice, calm environment he may be calmer around other dogs.  He will need to be the only pet.  Rio is ideal for someone who likes silly, young, goofy dogs, he is full of love and character and will keep you thoroughly entertained.  He absolutely needs a calm, patient home with experience of settling rescue dogs in.  He has so much potential!  We simply adore him and would really like to see him settled in a loving, stable home.
Please note that Rio's new family must be prepared to make several trips to and from the rescue in order to form a bond with him before adoption.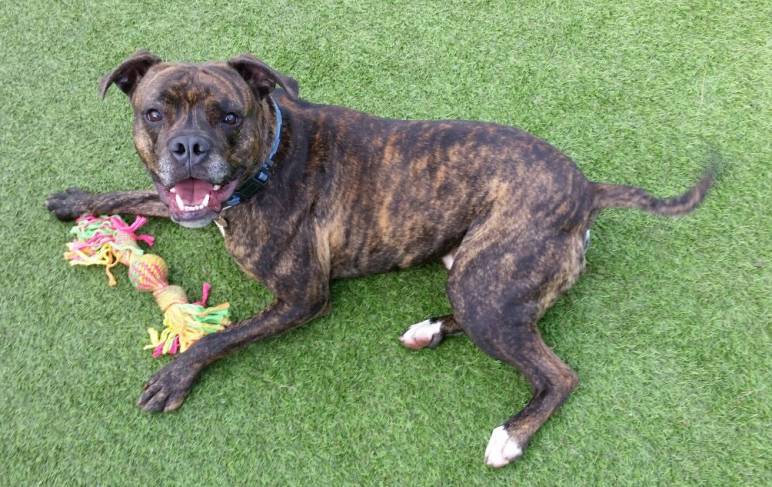 Admitted -

14/04/2017

Breed / Type -

Boxer cross Staffordshire Bull Terrier

Sex -

Male

Age -

2 Years

Colour -

Brindle & White

Vaccinated -

Yes

Neutered -

Yes

Used to Kids -

Older Teenagers

Used to Cats -

No

Used to Dogs -

Not to live with
---
How do I Adopt
Sponsor me
Back to Animal Search
Share this animals details