Yes yes yes, we have Twiglet back. She is so pleased to be back here and has hardly stopped purring. Unfortunately, the collar she had on at the time she went missing, had stretched and she had managed to get her front leg through it which has caused a nasty sore to develop. She is in the Vet at the moment receiving treatment. Needless to say, she will not have another collar put back on. We do not use cat collars here but sometimes a cat is brought in wearing one as was the case with Twiglet.
Our new horse Django has transferred his affections from Moko to Sally a small chestnut pony. They are inseparable now. I think that when new horses arrive, they take some time to have a mooch about and check out the others until they finally decide on the animal to befriend.You may remember that Sally was the best friend of Dids, the chestnut mare we lost recently to ill health so we are pleased she has found a new BBF (Big Best Friend) to look after her.
We were happy to help rescue a tiny piglet who had narrowly escaped being reared for meat.Vet Student Lauren was working at a pig farm when she spotted a piglet being attacked and bullied by her siblings.The farmer would have left her to die but Lauren kindly took her home to hand rear.8 weeks old Charlotte is a real character and her interaction with Lauren has meant that she sees humans as a source of food and fun and not to fear. She likes nothing more than a cuddle on a knee and a game of 'chase me' round the stable! An appeal for a permanent pet home resulted in a couple of offers and after a successful homecheck on Merseyside, Charlotte has a long and happy life to look forward to. Piglets are cute when they are as tiny as her but  pigs grow at a rapid rate and a huge adult pig needs suitable facilities and not just a pen in a garden. Even the so called micro pigs are seldom as micro as people imagine and many grow to a fair weight and size. Another issue is that they need company and many are kept isolated from other animals or  their own kind, the humans believing that occasional human – pig interaction is all that a pig needs. NOT SO (Like most creatures, including humans, pigs like company.)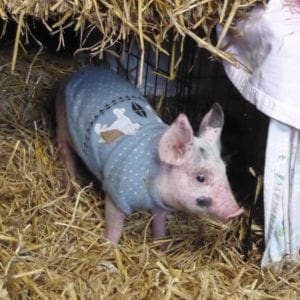 Eight more Romanian dogs are coming over this month and ALL have homes waiting for them. I am so pleased. I have had a brilliant success rate with these eastern Euuropean  dogs though in all honesty we appear to be on a roll with all dogs, the local dogs also.Long may it last. Five local dogs went to homes this week and 5 adult cats and 4 kittens too.We are definitely on a roll.Some of the cats which were adopted were older ones aged between 7 yrs and 13 yrs. Fantastic.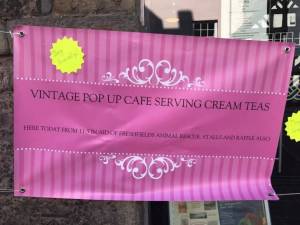 A fundraiser held for us in Beaumaris by friend and supporter Lottie, raised an amazing £560.The 'Pop up' coffee shop held in The Town hall rooms, attracted people in all day long and the fact that it was Beaumaris Food Festival helped due to the bigger footfall in the town. Thanks to Lottie and friends for their support which means so much to a small shelter like this.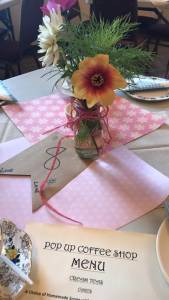 Rhian, Another friend of the animals organised a Dog Show for us at Penygroes|memorial hall, the total raised has not yet been announced but once again I would like to show my gratitude to Rhian and all who helped make this a success. Duke, a handsome White German Shepherd adopted from the Liverpool shelter won the admiration of the judge and came away with several rosettes earning him a huge fuss and a big smile from his proud  'mum' Vanessa.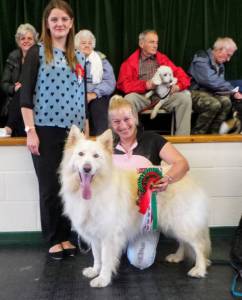 Our Barn swallow babies  can now be seen popping their little heads and beaks above the nest and we all have to dodge  mum and dad who are constantly swooping  back and forth over our heads. A couple of the last offspring died after falling out of the nest but these seem to be doing well so far and should be flying very soon. There used to be dozens of bats swooping around the property but the past two years all has been quiet on the bat front.Where did they go? I miss seeing  them flitting about on their everlasting search for insects. I believe they were  little pipistrelles but there were some larger bats and as there is a big colony of lesser horseshoe bats in the area, perhaps one or two had strayed over here.
To those of you holidaying abroad, stay safe. I am taking a few days off myself. I am very stressed and not feeling great so like Humpty Dumpty I  need to put myself back together again!