THANK YOU SO MUCH TO THOSE OF YOU WHO HAVE MADE A DONATION!
Our rescue centre in Caernarfon, North Wales deals predominantly with abandoned, neglected and unwanted cats and kittens, there are usually 70 to 80 in residence at any one time. We neuter, vaccinate and generally rehabilitate these amazing animals before seeking out new and permanent homes for them. For every cat or kitten that goes to its new home, there are 10 more vying for a place at the centre.
We also provide shelter to approximately 32 horses and ponies. These animals have come to us for any number of reasons, sometimes as a result of neglect or abuse, often abandoned and sometimes because the owner simply cannot afford or is not able to look after them anymore. Through sheer hard work and determination, we do the very best we can for every horse and pony in our care. Our dedicated team of staff and volunteers play a vital role in the long-term rehabilitation of these wonderful creatures. Our accomplishments would be far less without them.
Some of the younger, fitter equines are available on loan to the right new family, some are bonded pairs so must be rehomed together and there are many who enjoy their retirement here at the shelter. Please feel free to contact us should you wish to view the horses, either because you feel you have a suitable long-term home on offer or because you would like to make a donation to the charity.
The Welsh branch of Freshfields also works hard with our limited resources to do what we can for unwanted dogs and small animals. We do not have facilities to admit them to the centre itself nor adequate back-up for a comprehensive foster programme. We do however have many contacts across the UK who can offer the support of these facilities plus a wealth of experience and advice for those willing to make changes to enable them to keep their animals.
We remain passionate about the rescue and re-homing of animals in need in North Wales and we sincerely hope that we can continue to rely on your support.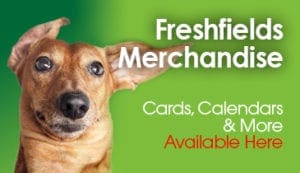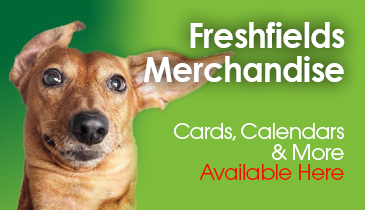 Merchandise
Exclusive merchandise available direct from the rescue. Don't miss out, follow the link to make your purchase today.