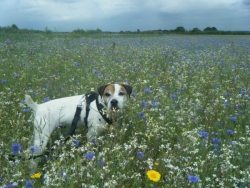 SCRUFFY  14-11-2011 age 9 yrs.
Life brought such a heavy load
for a little dog to bear,
you braved it well along the road
and still had fight and guts to spare.
So sad when you had had enough
We'll  love you always,
Little Scruff.
All staff and dog walkers at Freshfield  xxx.
It's taken a week or so to pass on the news about dear Scruffy.  This perhaps is because Scruffy's story is not the easiest one to tell.  This little man was brought to us originally in 2006 after being rescued from an abusive owner who used to regularly beat him.  Scruffy had a neurological disorder that left him disorientated and wobbly on his feet.  We managed to rehome him but sadly things didn't work out and he was returned to the rescue for biting.
There was nothing nasty about Scruffy, he simply had a tendancy to react if taken by surprise and his condition meant that it was difficult to predict the form his disorientation would take and you therefor needed to be aware that there was always a possiblity he might nip when approached.  Our vets could never pinpoint a specific reason for the neurological problem but it is thought likely it was a result of the beatings.
Anyway, Scruffy stayed with us after his return and spent many a happy hour out and about with the one or two dedicated dog walkers that were able to build a relationship with him.  In 2010 he even took part in a sponsored walk around Southport.  As time passed though, the little man became more wobbly on his feet and his disorientation reached a level that his quality of life was becoming impaired.  So… the decision was made that it was time to let Scruffy go and on Monday the 14th of November he was put to sleep peacefully, here at the Liverpool rescue, with those who cared for him and had been closest to him present.  Scruffy was later laid to rest in our wildlife garden as with Sparky and Leon before him.
It's important for Freshfields that we mark the passing of those animals that have relied upon us for long term sanctuary and that we celebrate the strength they found in life to cope with the often heartbreaking challenges that 'humanity' threw at them.
Scruffy's condition made it difficult to bond with him closely although there are those who undoubtedly felt a special connection with him.  Scruffy will be missed there is no doubt about it and we are grateful to have been given the opportunity to keep him safe and give him security in his final years.
Sleep tight Scruffy… we know that in your dreams you will be out on your walks in the fields with the people that made you happiest!
All at Freshfields Liverpool…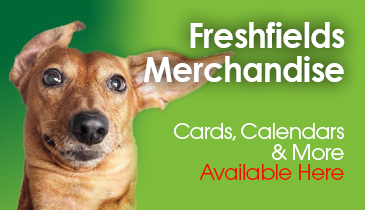 Merchandise
Exclusive merchandise available direct from the rescue. Don't miss out, follow the link to make your purchase today.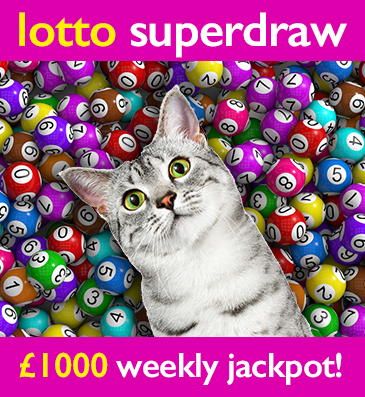 Freshfields Lotto Superdraw
The easy and fun way to support your local animal rescue centre. Over 30 guaranteed prizes every week. Every time you play you help an animal in desperate need.