My beautiful Nina passed away on Friday 11th July 2014 after a short illness and I had to make the most awful decision to say goodbye.  To say Nina was a remarkable dog, almost does her an injustice.  She spent 11 years in Freshfields after being tied up and abandoned on a busy road going into Liverpool.  I saw the appeal for her forever home and fell in love with her.
We had 1 amazing year together, it was an honour and a privilege to share my home and my life with you Nina.  She was my shadow, every day of her short time with me we had beautiful woodland walks, we went to work together which she loved because she got a big fuss from the team in the office, and the odd treat or two. Everyone who came into contact with Nina fell in love with her and she was so affectionate, once she got to know you.
From the moment Nina and I were on our own after a settling in period with Freshfields staff, we fit together like hand in glove and it wasn't long before Nina became friends with my lovely cat TIlly.  Nina trusted me totally, her favourite food was raw carrot and she would always sit behind me for her share when she heard me preparing vegetables. Her favourite toy was 'Puff' her little dragon that she would always touch or lay on when she went to bed. She loved water and spent many happy hour in her paddling pool in the garden. We would curl up and sleep together on her big dog bed as she couldn't get up stairs to my bed, her legs wouldn't let her.
The pain of losing Nina is almost unbearable, she was such a character and I know she will be missed by all the Freshfields staff too. Thank you for entrusting me with Nina, I can be grateful for the year I had with my dearest friend even though I wish it could have been longer.
My beautiful girl, I miss you so much and will see you at the rainbow bridge one day, have fun with Sparky.
God bless you Nina. May your spirit go in peace and go towards the light.
Love you always.
Dawn & Tilly xx
and from Nina's dog walker at Freshfields
Goodbye Nina,
My beautiful friend for the past 12 years, how I will miss you.
I treasure all my memories of our countless walks across the fields, and will never forget my loving old friend.
Sleep peacefully!
Love Breda xxx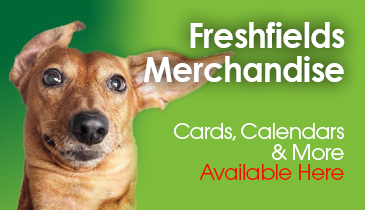 Merchandise
Exclusive merchandise available direct from the rescue. Don't miss out, follow the link to make your purchase today.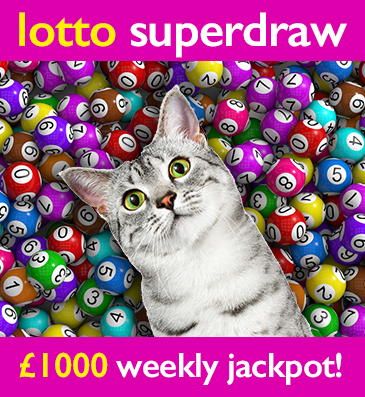 Freshfields Lotto Superdraw
The easy and fun way to support your local animal rescue centre. Over 30 guaranteed prizes every week. Every time you play you help an animal in desperate need.