It is with a heavy heart that we must tell you that Monkey has sadly passed away today.
Monkey passed away surrounded by his devoted family. His life was, in so many ways, symbolic of the profound and powerful impact that rescue animals have on our lives, and how honoured we are that they give us their love.
Monkey came into our care at Freshfields back in September 2012. He was due to be put to sleep, incredibly, because he had a case of fleas!
We all fell in love with Monkey, a wonderful Staffordshire Bull Terrier with a fantastic personality, great courage and a big heart. He was quickly adopted. He had a lovely home, but sadly a year later his new dad passed away and Monkey found himself back at Freshfields.
Monkey was heartbroken, and very confused. He had some health issues, including glaucoma, so he had limited eyesight and some hearing problems. He was also suffering from arthritis. He later became completely blind, having both eyes removed some years ago.
Despite this, Monkey loved life and was more like a puppy in his behaviour, enjoying playing on the field with the staff and having fun with his toys.
We were determined that this loving dog would find a forever home, and launched a campaign to find that special family who would bring him the joy and affection he so dearly deserved. Monkey's Rehoming Appeal was covered by local and national media. We all had our fingers crossed for a happy ending to Monkey's story.
It was a wonderful feeling on July 4th, 2017, when we waved farewell to Monkey as he left to start his new life with David Brocklehurst and his family.
David takes up the story…
'When we first met Monkey, we knew that we wanted to make him as comfortable as we could. He looked like he was in pain all the time. Then, when he came home, he suddenly became a pup!
David said:
'Freshfields were amazing, and Monkey loved going back there for his treatment. The number of people who got in touch with us was fantastic. The best thing we can do for Monkey now is to give our baby a lovely end to his life. We will miss him so much, but he will be close to us forever, in our garden'.
All of us at Freshfields want to pay a heartfelt tribute, not just to Monkey, but to David and Olivia. You are living proof that adopting an older rescue dog with health issues can bring you love, joy and happiness beyond all expectations. The rewards are immense, and a little faith is rewarded with a lifetime of love.
Thank you for giving Monkey the most wonderful home he could have wished for.
With love,
Monkey's friends at Freshfields Xx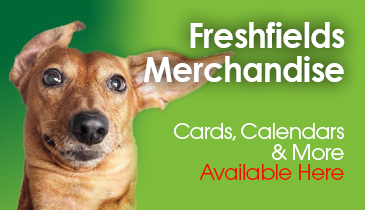 Merchandise
Exclusive merchandise available direct from the rescue. Don't miss out, follow the link to make your purchase today.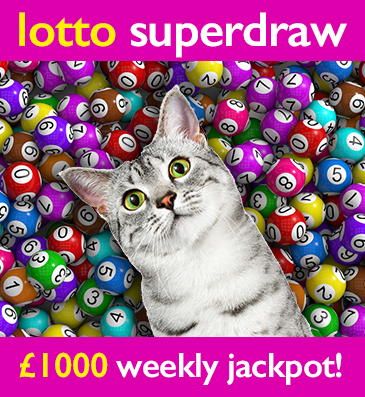 Freshfields Lotto Superdraw
The easy and fun way to support your local animal rescue centre. Over 30 guaranteed prizes every week. Every time you play you help an animal in desperate need.