NEO Finds a Home!
We are delighted to bring you the fantastic news that Neo, one of 2 dogs brutally attacked by his owner in 2017, has finally found a wonderful home!
Many of you will have followed Neo's journey from the beginning, and will remember the horrific injuries he sustained at the hands of his owner, who attacked Neo and his brother Santos with an axe.
Neo came to Freshfields with his brother Santos, after spending 6 months in police kennels. Whilst the physically injuries he endured were all too clear, we could only begin to imagine the mental abuse Neo had suffered. We were determined that Neo would only know love and kindness from the moment he stepped through our doors.
Despite the trauma in his past, Neo proved himself to be a perfect gentleman, who loved to be fussed and cuddled and enjoyed his walks and adventures with a trusted and dedicated group of volunteer dog-walkers. We are always humbled by the incredible capacity for love and joy shown by animals who have known nothing but anger and abuse.
Sadly, as time went by, Neo continued to be overlooked for adoption – until earlier this year when we received the phone call we had all been waiting for! We had to delay introductions due to Covid-19 restrictions, but as soon as we were able, we began slow introductions to his new family and home environment. It became clear almost immediately that Neo had formed a bond and wanted to stay with them.
Connor and Millie, his new owners, have given Neo the loving home he so deserves. Millie says:
'We have been following Neo since he first came to Freshfields. I have rescued dogs in the past and now am in a position to adopt. Our landlord was great and very understanding.
When we first met Neo it was on the exercise field at Freshfields, and he made both of us smile with his antics! He loves his tennis balls. We came to visit 3 times a week or so during April, and he started to be more comfortable on walks with us and his personality shone through.
The Freshfields staff were amazing; Amy talked things through with us and we had so much support every step of the way. Neo has settled in brilliantly. He's so happy when he's snuggled between us on the sofa. He's changed our lives and we've changed his!'
Dawn Hurst, Operations Manager Liverpool, said:
'Everyone at Freshfields is thrilled to share this news with all our supporters. We know that Neo will be so happy with Connor and Millie. We want to say a HUGE thank you to everyone who has helped care for Neo during his time with us. Whether you've donated to his vet bills, followed his journey or helped in any other way, you've prepared him for the day he can go to his new home with a big smile on his face.
We are so thankful that Neo has a fabulous home to call his own where he will be safe, loved and cherished. Have a wonderful life Neo, and enjoy your new home!'
Could you give a new life to one of our a long-term resident dogs at Freshfields? Find out more by browsing the Animals section of the website.
Thank you all for your fantastic support, which helps us to make dreams come true for dogs like Neo every day.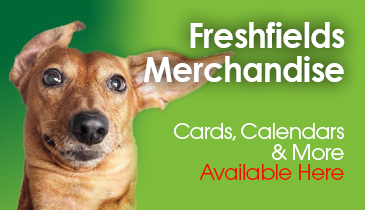 Merchandise
Exclusive merchandise available direct from the rescue. Don't miss out, follow the link to make your purchase today.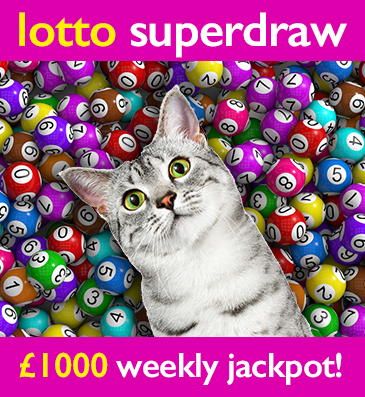 Freshfields Lotto Superdraw
The easy and fun way to support your local animal rescue centre. Over 30 guaranteed prizes every week. Every time you play you help an animal in desperate need.