Making a difference together for All animals!
You have helped 89,734 animals since 1979! A heartfelt THANK YOU to our wonderful community partners and supporters.
Below you will find all the tips and ideas you need to put together your own, successful fundraising event to help the animals at Freshfields Animal Rescue.
---
If you would like to speak to a member of our fundraising team for further help or support please call Naomi on 07545 211018 or email naomi@freshfields.org.uk 
THANK YOU
Fundraising Ideas
There are literally hundreds of things that you could organise, take part in or get together with friends to arrange and all can easily be used to raise funds to support the Freshfields animals. We've listed some ideas below to get the ball rolling but remember it's OK for you to have fun and enjoy yourself at the same time!
Fundraising ideas to get you started.
• Donations instead of birthday presents
• Donations instead of wedding favours
• Cake sale
• Swear box – these can fill up really quickly!
• Raffle
• Cleaning – clean for your neighbours and charge a fee to donate to Freshfields
• Bring and buy book sale
•'Shake a bucket' at a supermarket or station. You will need permission for this. If you have questions please contact us
• Tombola
• Concert or bands night
• Organise a quiz at your local Pub
• Donate your skills – are you a dog groomer, hairdresser, mechanic, beautician, gardener, cook etc, etc? Do what you do best in exchange for a donation to Freshfields
• Come Dine With Me event – charge a fee to enter and everyone brings a course!
• Create an animal themed fantasy football league
• Car boot sale – using your own unwanted items and/or donations or get all your family/friends involved
• Golf day
• Football tournament
• Sponsored dog walk
• Car wash.
Fundraising in School
There are dozens of ways you can have fun and raise funds to support the animals. You could even run a competition with an entry fee to decide whose idea is best.
Here are a few of our favourites:
• An animal themed sports day – any pet animal of your choice. Will your bunny be the one to hop across the finish line first?
• Non-uniform day – dress like a dog or a cat for the day, or, simply settle for your favourite pair of jeans!
• Cake sale – bring in some baked goods and ask for donations from your classmates and teachers
• Ask if ticket sales from the next concert or play can be donated to Freshfields.
• Sponsored silence – your teachers will be happy and you will raise lots of money.
• Talent competition –Invite parents and teachers along to watch as you put on a show and reveal everyone's hidden talents, in return for a donation.
• Guess the number of sweets or marbles in a jar – fill a jar with sweets, marbles or even dog biscuits and take it around each class – for a £1 donation everyone can have a guess and the closest answer wins a prize.
Charity of the year
Does your school, college or university support a different charity each year? If so, we would love for you to choose Freshfields as your charity of the year! Please contact our fundraising team for further information and to find out what we might be able to do to support you in return.
Fundraise in Workplace
Workplace fundraising can be as simple or as complicated as you want it to be. Try to get the boss on board first if you are hoping to go for something a little more creative!
A few more popular ideas:
• Ask your boss to donate an additional day's holiday and charge to enter a raffle to win it.
• Have your very own workplace swear box – guaranteed to be a fundraising success!
• Hold a cake sale or bake off – nominate your very own Mary Berry or Paul Hollywood to judge
• Dress as a dog or a cat for the day – get all your colleagues to pay a fee.
• Put a collection box in the kitchen and ask people to make a donation for each cup of tea or coffee they drink
• Organise a quiz evening – ask the local pub or club if you can hold it there and round up your teams. Adding on a raffle could raise even more.
• Encourage staff to donate an hour's salary and ask your employer to match it
• Hold an auction of promises – how high will people go for a weeks' worth of tea making or taking over their early morning shift?
• Set up an arm wrestling contest in the canteen. Charge an entry fee and ask the boss to supply a prize for the winner.
Total Giving - Try This a Great Fundraising Tool
Do you hope to do something GREAT this year, like raise vital funds for Freshfields Animal Rescue? Try using this great fundraising tool…
A great way to boost your fundraising is to create your very own fundraising page using Total Giving.
Whether you are taking part in a team event, running a marathon, trekking up a mountain or collecting donations in exchange for a product or service Total Giving can provide you with the tools you need to promote your fundraising to friends, family and colleagues and to collect their donations!.
There are loads of tips and advice on the site along with great ideas for promoting your page using social media. It's easy to set up, eligible events can boost donations with gift aid and if you let us know about your page we can help to publicise it too!
Why not visit the Total Giving page and register today.

Collection Tins & Posters

It's said that every penny counts and it's absolutely true!
Collection tins are a valuable source of income for Freshfields, and the pennies in the collection tins add up to pounds.
If you would like to help raise funds for Freshfields whether that's regularly in your place of work or via your own one-off (or more regular) fundraising event then we can help support you by providing collection tins or buckets and posters too to promote your efforts!
Freshfields' charity collection boxes are held by organisations and individuals and are placed in over 100 shops and businesses throughout Merseyside and North Wales. We are extremely grateful to the proprietors who support Freshfields in this way, and we are always looking for new placements for our collection tins.
If you are a business owner and you feel you could help then we would love to hear from you.
If you work in an office or building with lots of footfall then please have a chat to your colleagues and managers at your workplace – every contribution, however great or small, makes a difference to the lives of hundreds of abandoned and abused animals every year.
If you are running your own special event on a specific day of the year then get in touch, let us have all the details and the opportunity to offer you as much support we can.
Contact Naomi on 07545 211018 or naomi@freshfields.org.uk if you need collecting tins or a poster for your special event or can display a permanent Collection Tin at your place of work.
We hope to hear from you soon!
Thank You on behalf of all the animals at Freshfields Animal Rescue Centre.
Planning The Event
The success of an event is so often down to planning! A daunting prospect can become easily manageable when broken down into its component parts. In an attempt to remove the fear factor and replace it with FUN we've detailed our 'Top Planning Tips' for you below.
• If you're a fundraising novice, keep it simple and start off small, you will always have the option of becoming more adventurous with your next event.
•Choose a fundraising activity that you (and others!) are going to enjoy. Then set yourself a target to raise.
• OR Decide how much you want to raise and set a target. Then let this help focus your choice when deciding what you are going to do.
• Once you have your target, break your event down into pieces, keep it manageable to minimise stress.
• Know how the funds will be coming in, e.g sponsor money, ticket sales or a raffle. Choose carefully to be sure people will attend your event or sponsor you.
• If it's an event you are organising, check that it doesn't clash with any other events or important holidays in your area and be sure to choose a time when you are not going to be overly busy yourself, this will help to avoid you losing focus or wearing yourself out.
• Appropriate facilities are very important so make sure any venue you hire can provide what you need. Check wheelchair access and facilities for the disabled, baby changing facilities plus if required sound system availability and catering facilities.
• Ensure that you (or a designated individual) know how to work all the equipment you will need.
• Try and get lots of help and support from friends and family. Share the workload, don't feel you have to do everything alone.
• Know what materials you will need and how you are going to obtain them.
• Give all your helpers defined roles and responsibilities so everyone knows who's doing what, where, when and how.
•Do keep a good record of all event correspondence and an accurate account of income and expenditure.
• Remember to say thank you to your helpers and supporters for their involvement. Teamwork is everything and a show of appreciation is a great reward.
Spread the Word
Spreading the Word about your Fundraising Event will be vital to its success. Read on below for some of the most effective ways to publicise your event:
Word of mouth
Word of mouth is the best (and also the cheapest) way of letting people know about your fundraising. Family, friends, work colleagues, neighbours… they all need to hear about your event and ask them to tell their own friends too!
Social networking – what did we do before Facebook and Twitter? Don't miss a trick, use them both to promote your fundraising.
If you create an online fundraising page, you can add a link to your Facebook page which will show your friends and followers how you are getting on in reaching your fundraising total.
You can add a post about your fundraising on the fundraising on the Freshfields Animal Rescue fundraising page and share your stories by tweeting @Freshfieldsresc
Blog about your fundraising experiences and let other fundraisers learn from you about what worked and what you would do differently.
Posters and flyers
Posters or flyers are a great way to promote your fundraising. However, it is really important to us that you use our charity identity in the right way. You can download the Freshfields template posters to use here.
It's also really important that our charitable incorporated organisation number (1160348) is clearly displayed so if you are planning to produce any further printed information, please be sure to include it. For our logo please email us and finally you must send/email all material to us first for approval before you go to print.
Local press and radio
It's always worth trying to get coverage in your local newspaper or radio station if you are local to either Freshfields shelter please contact us first and we can advise you of local media contacts.
Generally, there is good uptake with the local press for 'human interest' stories, so we would certainly recommend giving it a try.
If your local media ask to speak to a Freshfields Animal Rescue representative, it is really important that you get in touch with us as soon as possible, so we can provide a quote or spokesperson.
Be Legal
Freshfields Animal Rescue is incredibly grateful to every individual or group that comes forward and makes the effort to raise funds for us. We are so grateful in fact that we want to be sure that you are protected and that you have the information required to keep your fundraising both legal and safe. To help with this we have outlined some very important points below.
Insurance
Any person organising their own fundraising activity 'for the benefit' of Freshfields Animal Rescue is not covered by our insurance. We advise that you obtain your own cover as necessary.
If an event that you organise involves the public in any way, you will need to ensure that the appropriate public liability insurance is held by the venue.
Risk Assessment
It is always advisable to carry out a risk assessment to ensure that you have proper plans for public safety, whatever your event.
A risk assessment as defined by the Health and Safety Executive (HSE) need be nothing more than a careful examination of what (during your event) could cause harm to people, so that you can weigh up whether you have taken enough precautions or need to take further action to prevent harm. This applies to any event not just sporting events and challenges, it even applies to garden parties which can carry their own risks; people tripping/falling on uneven surfaces, food poisoning, boiling water causing burns etc.
A risk is the chance, high or low, that somebody will be harmed by a hazard A hazard is anything that can cause harm (open flames, food contamination, inadequate safety barriers, etc).
Click here to visit the HSE website for further guidance and template risk assessments forms.
Food and drink regulations
Here are some guidelines if you plan to have food and drink at your fundraising event.

Food
Food safety laws apply when food is available at an event whether it is for sale or not, so you must make sure you follow the relevant food hygiene procedures. For information on food hygiene and safety legislation you should contact your local authority environmental health department.

Alcohol
If you want to sell alcoholic drinks at your event, unless you use a venue that is already licenced, such as a pub or restaurant you will need to obtain a licence.
You can apply to your local council for a short term licence, known as a Temporary Event Notice (TEN), which costs £21. TENs can only be used to authorise events involving no more than 500 people and lasting no more than eight days. Make sure you apply for your licence well in advance, and no later than 10 working days before the day on which the event is to start
You can serve alcohol if you are not asking people to pay for it, so you could think about increasing your ticket price and including drinks for 'free', or asking for a voluntary donation rather than minimum payment per drink.

Lotteries
Lotteries are a fun way to raise much-needed funds to support our animals. Ask friends and family to donate items, such as unwanted gifts, or contact local shops and businesses and ask if they would like to make a contribution too. Freshfields can provide a letter of authorisation to prove that you're raising money for us. Just drop us an email.

Small Lottery
This is a raffle held at a one-off event where tickets are not sold in advance. For this type of lottery you do not require a licence, but there are several rules that you must adhere to:
• Tickets can only be sold during the event
• The price of every ticket must be the same i.e. you cannot sell bundle deals such as three for the price of two
• You must not have cash prizes although store vouchers are accepted
• You cannot spend more than £250 on prizes. Donated prizes with a higher value are accepted
• The result of the raffle must be drawn at the event

Private Lottery
This is a raffle or prize draw where tickets are sold in advance but within a particular organisation, for example at work or at a social club. Please note:
• Tickets can only be sold to members/employees of this organisation
• Tickets must include the name and address of each of the lottery's promoters, the ticket price and give details of who is allowed to buy tickets

Society Lottery
If you are planning on selling tickets to a wider group of people then you must obtain a licence from the relevant local authority. Please note that as the promoter of the lottery you are liable for the organisation of it. Tickets must include:
• The name of the society on whose behalf the lottery is being promoted (i.e. Freshfields Animal Rescue)
• The name and address of the person that the society has authorised to promote the lottery
• The date of the draw
Tickets cannot be sold by or to people under the age of 16 and must not be sold in the street.

Prize Competitions
You do not require a licence to run a prize competition that people pay to enter as long as the participant displays a certain level of knowledge, judgement or skill in order to be eligible for the prize. This is unlike lotteries, which rely wholly on chance.
For further information on prize competitions and lotteries please have a look at the… Institute of Fundraising and Gambling Commission websites.
https://www.institute-of-fundraising.org.uk/home/
https://www.gamblingcommission.gov.uk/Home.aspx
Sending The Raised Money To Us
Sending in the money you have raised
• When your event is finished, it is sensible to collect the money you have raised as quickly as possible.
• Ensure that two people are present when you are counting cash.
• Any cash or cheques made payable to you should be banked and then you should make your own cheque for the amount raised payable to Freshfields Animal Rescue. Please don't send cash through the post.
• Please iclude any sponsorship forms you have used or a note so we know if we are able to claim Gift Aid – this means your gift to us could be worth 25 per cent more to us.
• Please enclose your completed Money Return Form or a note with your name, address, postcode and details of the event. We'd like to thank you properly for your fundraising efforts and this will helps us to do that.
Please send your cheques to:
Fundraising
Freshfields Animal Rescue
East Lane
Ince Blundell
Liverpool
L29 3EA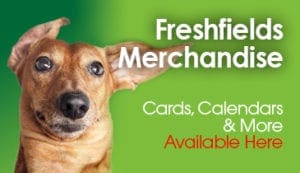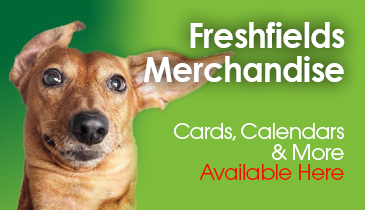 Merchandise
Exclusive merchandise available direct from the rescue. Don't miss out, follow the link to make your purchase today.