11th February:
This week we lost one of our permanent Equine residents. Dear Moko was in his late twenties and the culmination of  several health issues resulted in having to make that last difficult decision to let him go. As we always do, we allowed his companions to see him pass away. Some people have questioned this but from experience we know that  horses often struggle  with the loss of a friend when they cannot understand where he/she has gone. By being allowed to see their dead companion, they can grieve and move on. It is a much kinder process for them.Moko is pictured here  in a pink rug.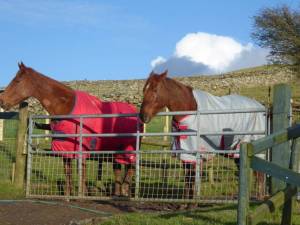 We have hit rather a quiet time here for rehoming, it has slowed down considerably the past week and not as many animals have been adopted  but the weather has been so bad here , I am sure that has put many people off  from visiting the shelter.
We have had  snow here, followed by ice, followed by torrential rain and high winds. This is the downside of living  on a Hill Farm. We are so exposed and experience lower temperatures than the villages lower down. Last week,  one visitor attempting to traverse our  track in thick snow, went into a ditch and had to be pulled out by tractor. We put up a notice at the foot of the track advising visitors to leave their cars there and walk up to the shelter  and most seemed to have taken note of the warning.
Our main Photo is of a very successful adoption  we had recently. Freddy the middle aged Staffordshire bull terrier who has been with us for four long year went to a wonderful home locally. A great favourite with staff,  we were despairing of  finding the right home for him but then a miracle happened. We are so thrilled for him.This makes all the negativity over other issues, disappear. Brilliant result for dear Fred. 
13th Feb.
Awful day, we lost another horse. 19 yrs old Rocky who had kidney failure went down in his stable and we could not get him up. There had been some  warning  signs of the toxins having an effect on his body ;  he had a couple of times been a bit wobbly on his legs but overall he was doing well. Had people seen him at the shelter in the weeks preceding this day, they would have thought he was completely healthy. We really did not expect to lose him quite this soon,  and with it happening shortly after losing Moko, it was a particularly shattering day for us all. Although we should not have favourites, I do confess to being particularly fond of Rocky and in the early days of his arrival I would go for short hacks round the village on him.         Rip Rocky.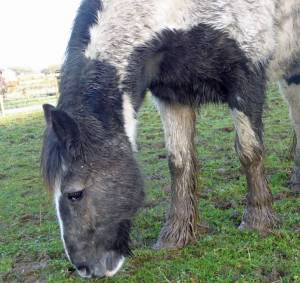 17th Feb.
I have been in Liverpool for meetings and arrived back in time to meet a family who had travelled from the Isle of Man to meet ex farm collie Gwen.  We home many of our dogs to locations out of our area and it is quite usual for potential adopters to spend a day or two locally before they travel back with their chosen pet. The Davies family were looking for a companion for  Jess, their gentle rescued greyhound and were also very taken with Charlie, a huge lurcher we had admitted recently. To our delight they decided they could not leave either of these dogs and adopted both.  We have since heard both dogs are settling well after their long journey home and that other travellers on the ferry back to the Isle of Man were amazed that the dogs had only just been adopted as they seemed so unfazed by their experience on board.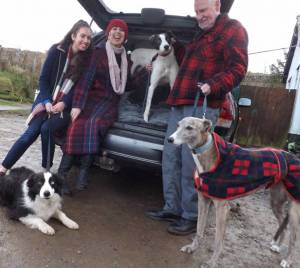 Two puppies admitted  garnered  more interest on facebook than any other story ever posted! Cockerpoo brothers Sid and Jack received more than 1000 comments, half a million people looked at the post and our telephone calls reached crisis point. They did of course find a home from this but such a shame  that we did not find homes for any others. Que sera sera!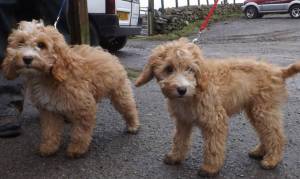 Misty, the first Scottish Fold cat  we have rescued has been admitted. I have only seen this breed in cat books so I was interested to see one in 'person'. The owner had died leaving several Scottish Fold  which all found homes except this one who is timid and her ears are not as folded flat and small as the standard decrees!  Poor cat. Thankfully there are cat loving adopters who will take on a shy feline like Misty and I am sure she will not be with us for long. Recently we found a wonderful home for a very timid cat called Tess. Tess spent most of her time here in hiding and a family who came for another cat adopted Tess also. There is somebody for every animal, it is just not always easy finding them, but when we do, it is a cause for celebration.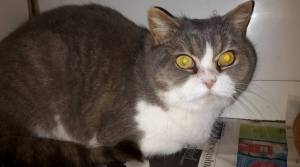 Rant of the week:-
I brought back from Liverpool,  a little family of chinchillas  who needed a home. There was no space at the Liverpool shelter and Wales colleague Gail had offered the family of four  a permanent home. Sweet little creatures, how can people use their fur or that of any other species  for vanity?  I am always angry when I see celebrities showing off their expensive fur coats. It is truly disgusting that they have no interest and don't care about the terrible lives and deaths these animals endure to end up on their backs . Such Selfish vain people!  I could rant about this for months.
Adoptions are picking up a bit (thank goodness)