Tuesday 24th:
Nobody claimed the old cat from Llandudno and we were unable to contact the person who adopted her from us several years ago.Perhaps they moved, but still, I would have thought they would have contacted us to tell us their new address unless he/she has died and there were no relatives to deal with the cat situation.Who knows, I expect we will never find out.Now we need to find her a home, she is a gentle cat but I don't think life here is going to suit her, she needs a home of her own.
Adoptions are going really well at the moment, three cats and two dogs were reserved yesterday.It was an awful day weatherwise, pouring with rain and very cold,it always surprises me that we seem to have more visitors on days like that, than the brighter days. Someone turned up wanting to get rid of four ponies (Isection B's) but 2 are stallions and we simply do not have the facilities(or the funding) to take them on.I suggested they get them gelded and I would try to find them homes, but feel doubtful he will do so. I asked him to send photos of the ponies but so far no photos have been sent.I think a lot of people just want someone to go and collect their unwanted animals and are either unable or unwilling to meet us halfway. I am trying to put them to the back of my mind. Of course we cannot help them all but it is still hard not to feel upset when our hands are tied due to our present circumstances. With the current situation with unwanted and abandoned horses, all the horse rescue centres are full and unable to help so passing on phone numbers is a waste of their time and the rescue centres also.It takes us all our time to care for and fund the 30 horses we have on site and they have to be our priority at all times.
Paris Hilton has a lot to answer for! Since she was publicised showing her 'handbag' Chihuahua, that breed immediately became a trend for young people to buy and carry around with them. We have had no fewer than 4 chihuahuas admitted in the past couple of weeks and the last two, Lily and Thea had spent their days in a garage because there was nobody at home during the day and unfortunately for them,they are not toilet trained. These little dogs are notoriously difficult to house train but do the people who purchase them take note of that when they are so desperate to have one?In fact, do they even research the breed before purchasing? It is extremely doubtful, they see a cute little dog and they want one so they buy one without looking into any possible problems. The young lady who bought these two, went to live abroad and left them with her mother who works all day! At least Paris Hilton keeps hers until they die of old age(her last dog was 15 years old)
The story above reminds me of a lady who came to the Liverpool shelter not long after I had moved there , some 30 years ago. She was about to move home and told me she could not take her dog with her because she was moving to a smaller house and did not have room. Imagining a large boisterous animal, I asked her what type of dog she had and she opened her jacket to show me the tiniest Chihuahua I have ever seen snuggling into her. Work that one out! Surely that has to be the lamest excuse ever !
Thursday:
We have been looking for an elderly dog suitable for Roy who used to run our Caernarfon shop until his retirement recently. When we heard about Sion, an elderly Labrador cross who had never been taken out for walks,been fed on scraps and lived in a shed his entire life, we thought maybe this was the one for Roy so we rang to tell him about Sion who turned out to be a gentle friendly dog who seemed to just like to potter about. He is coming to see him.
Monday 30th January:
Roy has taken Sion, fingers and everything crossed that it works out well for them both.What a sad,lonely life this dog has had and yet he is still amiable and waggy tailed.Dogs put up with so much and how amazing they can still like and trust humans after a lifetime of neglect. We don't deserve it.I am thankful that he was brought in by a relative and didn't end his life unloved and uncared for.There are happy days and walks ahead for Sion.
Lightening , one of our bunnies found a home today, he has been with us for nearly a year and he has gone as a companion to another of his own kind.I love to see the rabbits find homes, it is not an every day, or week, or even monthly occurrence so it is a happy day when we see one leave us for a better life.
At the weekend we hosted an Equine Podiatry 'workshop'. For the third year running, Podiatrist Richard Vialls brought his students to learn about horse's feet and it was extremely interesting in more ways than one. The horse staff on duty learn a lot from these visits and sometimes Richard even spots a problem overlooked by Vets (who are not specialists in this subject) The students are from all over the Uk and todays work was part of a 2 year course undertaken to learn more about Horse physiology.
You may wonder why I said it was interesting in more ways than one?
When we brought out 30 years old Melody(the cross shire) Richard was stunned to recognise her! He had first come across her when he worked at a riding school where she was a brood mare.Later she had spent some time on his own land so he was very familiar with her and he told us more about her past. Poor Melody was having foal after foal (at least six that he knew of , so no doubt there were more) but she was bleeding a lot so it was decided she was no longer of use for breeding, and passed on to the people who ultimately neglected her. We have been concerned about the bleeding and had called in our Vet to examine her but it seems she had already been seen for this problem and nothing untoward was found, nor was anything discovered this time. It is a great pity that we were not given that information,it would have saved us some money, but hey, when getting rid of horses, many people seem to FORGET (!) to pass on such details thus causing the charity to spend more money than necessary. Why would they care? After all they have passed on their problem animal and it no longer matters. I am pretty angry about this, especially as the promised donation for Melody never materialised and we never heard from the woman again.
A visit from three ladies this weekend resulted in our last two kittens being adopted, a new homechecker found and I also had the pleasure of meeting one of my regular blog readers (didn't know there WERE any!) Love visits like this one, so much positiviity came from it.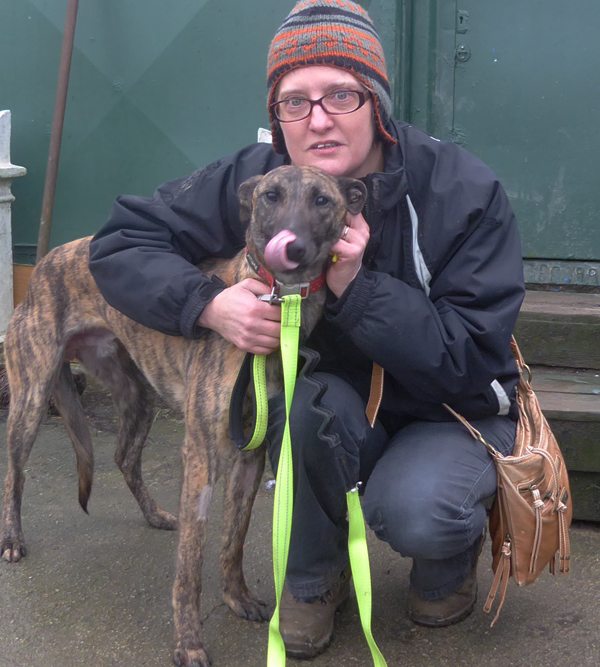 Finally, our lovely lurcher Bryn who was an unclaimed Dog Pound stray and whose Facebook appeal brought no interest, found someone to love him on Sunday.The only reservation is that they had another dog and althoyugh Bryn is wonderful with other dogs, the resident collie seemed a little put out that he had to share his family car with an unknown dog. We are all hoping that he will grow to love Bryn as much as we did.
All things said and done it was a very good weekend.