Monday:16th January
Why do people mess us about so much?
Yesterday I took a call from a man who said it was extremely urgent for him to find somewhere for a 12 months old Shetland pony as he was going into hospital that night and there was nobody to care for the pony. I passed the details on to Mei who is head of the stables and she was up to two am this morning trying to find a short or long term foster home for the pony.She was thrilled to bits that she was successful so first thing this morning she rang the owner who hummed and aahed and then said we didn't need to bother because his sister was going over with a horsebox to collect the Shetland!! Why did he not ask her first? Grrrr. Then there are the dogs who need homes whose owners say they will wait until we find a place or a suitable home. We send someone to assess the dog, we advertise, we check out suitable homes, we find a home, we ring the owner only to be told that they gave the dog away the same day they rang us! What a total waste of our time. You would be surprised at how many times this happens. It can be very frustrating.
I still haven't had any luck with the Bearded dragon and turtle and now I need to find a home for two middle-aged sheep! Vera and Elsa are no use for breeding as they had prolapses and I need to find a forever home for them. Poor old girls. I so wish we had the money, space and facilities and the staff to take more animals but that isn't the case at the moment so I just have to do my best. Every morning I wake up and have a desperate search in my addled brain for some positive thoughts for the day – sometimes it works, sometimes it fails miserably but for anyone who suffers from depression, it really is worth trying it. If it only works a couple of times it shows that you can do it. After all, it is we ourselves who control our brains and the thoughts in them. I'm not saying it is easy, far from it. A lifetime habit is hard to discard but we can at least try, can't we?
Tuesday:
A lady turned up today with a Chihuahua she had purchased via an online pet site where she was told he was house trained but she found after a few days that he was not always clean, and he also paced up and down the room! If I had my way I would close down all those sites, they are a menace. So many pets end up here and heaven knows what happens to the rest of them. Anyhow this little chap is a sweetheart, he is gentle and sweet natured and will be a great little companion for someone with the time and patience to help him with his house training. It appears that he may have spent a great deal of time crated in his original home so no wonder he makes mistakes now. We will ensure that he will be fine from here onwards, we will find him a loving forever home where he can settle down and have some stability in his life. Fortunately these toy dogs are fairly easy to rehome, we just need to find the right person with the time and willingness to train him and I am confident we will find that person.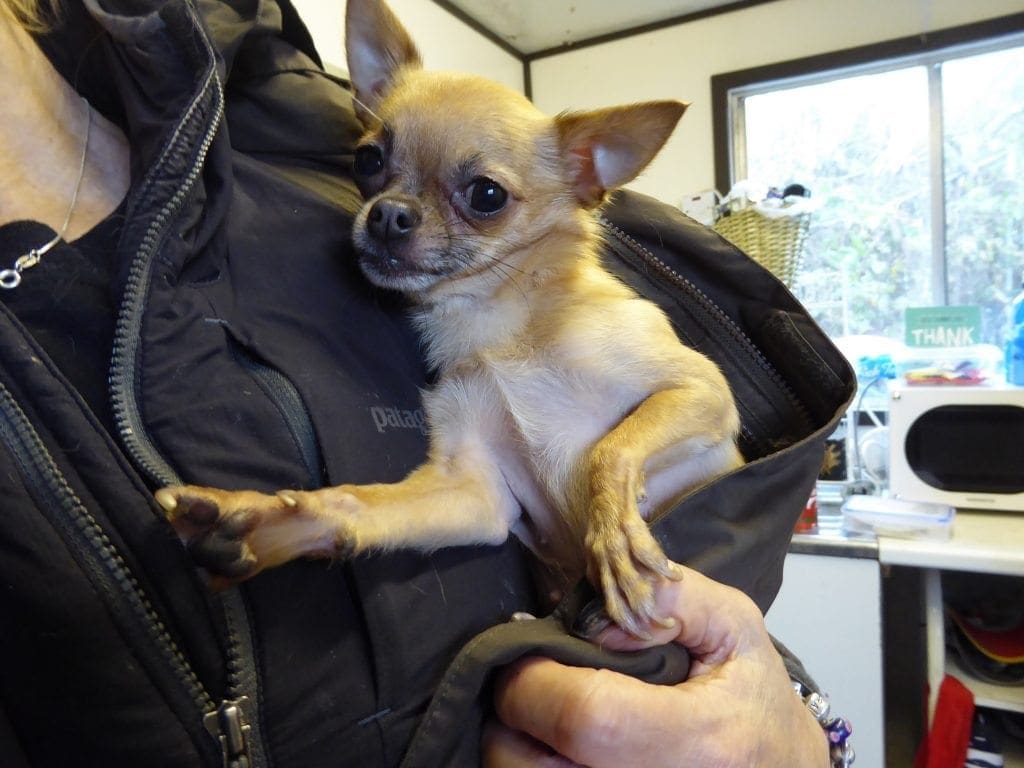 I posted an appeal for the sheep on our Fresh fields Facebook page and they have been offered a home with a family who have a couple of our cats. As the family are vegetarian, Vera and Elsa should be able to sleep easy on their property! I wonder if they have room for me? Also found a home for the Bearded Dragon. This has made my day.
Wednesday:
The Chihuahua has been adopted by a lady who adopted two Chihuahuas from us five years ago. His life will definitely improve now and I know he will be adored like her other dogs. I could not be more pleased at this outcome, he deserves to be cossetted. All I need now to complete my good mood is for lots of letters with donations to appear in our postbox instead of the usual bills and general rubbish which is always there alongside them. Who knows, we could be on a roll!
One of our rehomed and microchipped cats has turned up in a garden in Llandudno, appearing to be very hungry so we will be bringing her back to the shelter where hopefully we will be able to trace her family through the chip we gave her when she was admitted here. I am concerned, however, that she has not been reported missing so far. We will see what happens when she is returned.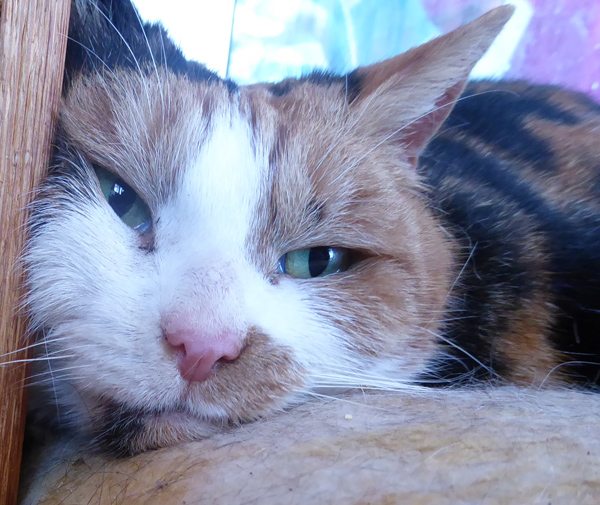 I wish the rain would stop, our fields are a soggy mess, I am so thankful we managed to build hard standings in the fields which needed them most, at least the horses can stand somewhere relatively dry when they munch away at their hay.We really do need a decent dry spell to allow the fields to dry out but at least we are not having to cope with deep snow like a friend of mine in Canada who runs a wonderful pig sanctuary there. Jan really does struggle as she is on her own and has had health issues also. I am so glad she managed to rally some volunteers to help her through the worst of the weather and whilst she was in hospital. Dealing with extreme weather conditions when you are healthy is bad enough but when you simply are unable to do the work needed to keep the animals fed and cleaned, those volunteers are a lifeline.
Friday:
My wish has come true, unfortunately, it is not the 'loads of money' rolling in but the rain has finally stopped and even the sun is out. One out of two is better than none. The staff are even having their tea break (panad) outdoors where some of the resident cats are hanging around them knowing they will be given a treat or two or a few cuddles on a welcoming lap. The cat has arrived from Llandudno and is currently hiding behind a basket in the closed part of the conservatory (it has two rooms). Poor little cat, but at least she is safe here. Jac the cattery Head will be checking up on her details on the PC database after our staff meeting which is about to start so I need to finish this right now and put my Managers head on.