Apologies for the absence.
There has been a lot going on at the shelter, not least the pulling down of our old  and extremely dilapidated cattery. Work on the new cattery has started today; the site is being cleared, the safety fence has been put up and the builders are wearing their safety helmets ready to commence. The old shed where our feral cats slept and which we named Kitty Kottage  is also being pulled down ;  over the past few weeks  the cats have  moved to live in the new heated shed next to the adjoining stables and a further area  of the stables is being converted into a feral cat home to make space for the  cats we are releasing from our feral enclosure. Some have been here for many years and we want them to now have the freedom of the property. This was not possible earlier due to the numbers of feral cats  living freely at the shelter.  I did not want the local wild bird population decimated by being overrun with cats roaming around , but now many of the cats have passed on from old age related issues and the numbers have come down to seven so I feel we can now give a few more the freedom they deserve. That will  leave just half a dozen  'incarcerated'  and athough they are not strictly ferals, they are  still too nervous and new to the shelter to take a chance releasing them. These cats belonged to a supporter and fellow cat rescuer who died not long ago, and unfortunately the cats were only used to him and are  not socialised enough to render them adoptable. The new cattery  is being  paid for by Bill's family in his memory ; we promised to care for his cats for the rest of their lives  and we will honour that promise but certainly for the foreseeable future they will need to stay in a secure area.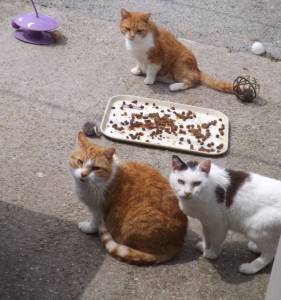 Abandoned mother cats and their litters are being brought in on a regular basis and our kitten room and our foster homes are full with these little families. One mother cat which we named  Betsy, gave birth under the decking of a patio and it took Jac, our cattery manager , several visits with a cat trap to catch her and  the babies. We had Betsy spayed and released her back to the area where she was found and we are now looking for homes for her offspring. Although they were hissing spitting little terrors when we trapped them, because they are so young  they have come round quickly and will now make good family pets.  Had they been even just a few weeks older it would have been so much harder to do this so we were glad the finder acted promptly by letting us know the situation. It helped that she was happy for us to release Betsy back to the same area. Many people simply want us to remove the problem  completely but finding homes for feral cats is not an easy task and the sheer numbers of these cats makes it an impossibility. It is far better for the cat to be spayed and released back to the area with which it is familiar.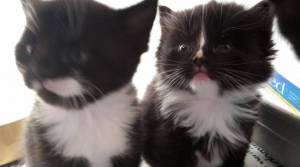 The horses are late going to their summer grazing , the appalling weather we suffered this winter has destroyed so many fields and the grass is only just starting to grow again. Of course, this means our feed bill is higher than usual at this time of year;  there are 31 hungry bellies to fill and the cost of hay and straw has risen due to the increased demand. We have had  a couple of our loan ponies /horses returned but we were fortunate to find a home immediately  for Simon the miniature shetland whose  carer is suffering from ill health. Also returned  for a similar reason are Caradog and Phoebe  and because Caradog is quite a big boy and bonded with pal Phoebe,it may be hard to  find another loan home.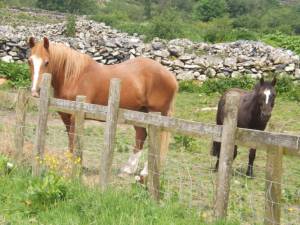 Our little orphaned lambs 'Thelma'  and 'Louise' are growing sturdily although Thelma who arrived with a  bad infection in one of her hooves is still limping a little.   Hooves are like human finger and toenails, they grow in the same way. Our Vet treated the infection successfully, but shortly afterwards the 'nails' came off leaving her feet very tender . Until they grow back again, she will suffer some discomfort but we can see an improvement already. Ultimately I  would love them to find a pet home so if anyone reading this knows of such a home please let me know. 01286 479711.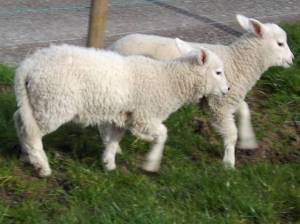 Once again we  are delighted that we have been included in the green token voting at Waitrose in Menai Bridge, Anglesey . If you are shopping there please please place your tokens in our box. and help us to win.
Finally, due to various reasons, we will regrettably no longer be involved in  rescuing dogs at the Wales centre. For more information please read the statement issued on our website: www.freshfields.org.uk.  It can be found under the heading  'NEWS'.