!3th April:
Hello again.
I have had a much needed and welcome  extended 6 weeks holiday and  I am now back in work and shocked to hear of all the devastation which occurred here during Storm Emma.  Those of you on Facebook may already have seen the photos of some of the damage caused by the storm but I have posted some here for those who were perhaps not aware of the issues dealt with by staff here during my absence. They did a wonderful job coping with the problems caused by both the storm and the generally appalling weather conditions during which time they had to deal with the electrics failing and no water plus part of the ceiling in the house caving  in due to a burst pipe.  The most frightening news was hearing that Mei was preparing food for the ponies prior to bringing them in from their field when the huge Ash tree near the stables  became uprooted and crashed into the stable yard. It  trapped Mei under the branches and destroyed  the stable roof. The Stables bore the brunt of the damage but it was nothing short of a miracle that Mei was unhurt  except for some bruising, and  how propitious that the ponies were not at that time in their stables! What a terrifying experience.  Unfortunately it looks as though the insurance may not pay out for the damage but at least there was no loss of life for which we have to be thankful. It could have been so much worse.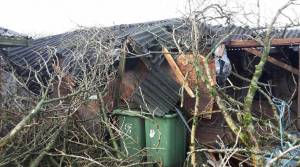 During my absence rehoming  of animals was steady and 2 ponies were found a lovely home under our Loan Scheme. Sophie and Simon  have already been to one home  where they lived happily for several years but were recently returned due to the ill health of their carer. The scheme under which they are 'adopted' is a signed agreement that the animals must be returned to the shelter if circumstances change with their carers . This prevents them being passed on and is an assurance that Freshfields can remain responsible for their future welfare. We all hope that this home will be a long term one for these adorable Shetland ponies.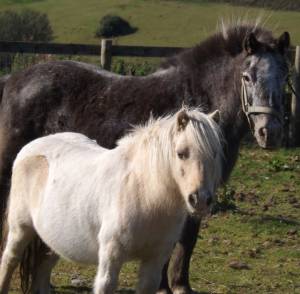 I have just met Ollie and Stanley; these  lovely old cats were admitted whilst I was away. It seems we were told that the owner had passed away and the 8 years old cats had become homeless, however when they arrived we were told that they were not eight years old but EIGHTEEN yrs! They are bonny male  cats but have never been neutered and are now too old to put through the operation which means that they will likely have to stay at the shelter for the remainder of their lives. It is difficult but not impossible to find homes for elderly cats but unneutered ones have little or no chance of finding someone to take them on. Who wants a smelly pair of elderly cats?  If only the owner who reputedly adored his pets, had done the responsible thing and had them neutered. Of course they can have a home here for life and will have the freedom to roam once they are settled and adjusted to being in our  'Oldies' conservatory and we will do our best to make them feel at home.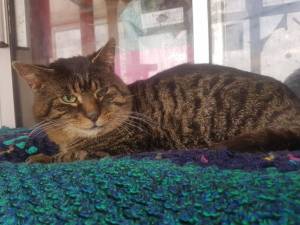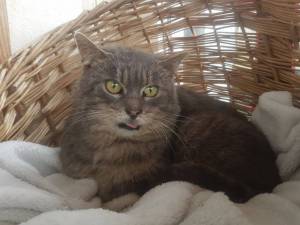 A heavily pregnant West Highland terrier has just been brought in to the shelter. Molly is 3-4 years old and ready to give birth in the next couple of weeks. The mystery is that her elderly owner had only had her for a week and Molly had originally come from a breeding facility in Wales but had ended up in a Liverpool rescue. I cannot think of a rescue on Merseyside who would pass on a heavily pregnant dog with no microchip or paperwork and without doing a homecheck. Poor Molly is very timid but a very sweet little dog, we are looking for a foster home so she can have her pups in peace and quiet, please contact us if you feel this is something you could do for us and for Molly.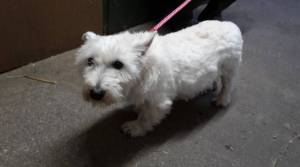 Our sponsored dog walk in Blaenau Ffestiniog took place last weekend but the weather was dreadful and only a few people turned up but a huge thank you to those who braved the elements to raise funds for us and to Madog Dog Walks group for organising the event for us. I will post the results once the money is all in.
Finally, we are desperate for volunteers here at the shelter and to fundraise for us , so please, if you can spare a few hours to help or you can organise a fundraiser for us, get in touch. We will be very glad to hear from you. So far this year has been somewhat of a struggle financially so we really do need as much help as possible to keep afloat. If every person who reads this blog could send a small donation  or hold a fundraiser just once a year, it could mean the difference between life and death to a needy animal. It is not easy fundraising when there are so many other charities appealing for help and we would not ask if we did not truly  need your help.