The Romanian dogs rescued from a life on the streets, arrived at the weekend and all but 2 of the six dogs were collected immediately by people anxiously waiting to meet their new family members.What a heartwarming day! Cheryl who was behind the organisation of it with her 'Promise for shelter dogs' did the hard part, she had to go over there and choose the lucky ones to come over here.What a terrible decision to have to make. I applaud her for her strength to do that. They are all without exception, lovely friendly dogs and those which have gone have already settled in their new homes as though they have lived there forever. They must be on cloud nine!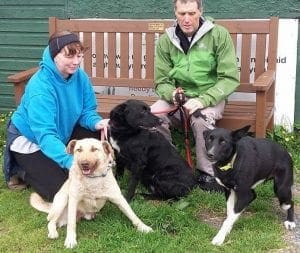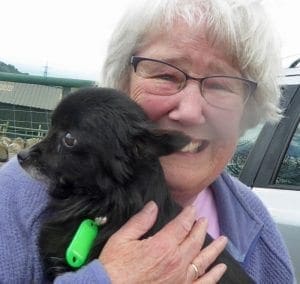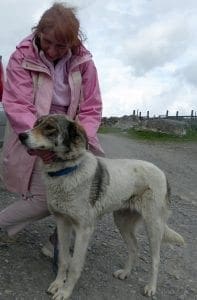 The Wales dogs were not forgotten and the last 2 of the Staffie/collie pups were reserved.Unclaimed stray Labrador Henry will be leaving us on Tuesday for his new home and Millie the lurcher, also from the dog pound has been adopted.How these two beautiful, good natured and well behaved dogs ever ended up in the Dog Pound is beyond me but thank goodness they did as they now face a good life with caring people instead of the ones they had . Their cavalier attitude towards the welfare of their pets, could well have resulted in them being destroyed after seven days so in my opinion did not deserve to have these wonderful animals.
The beautiful and equally beautiful natured' Maine Coon ' cross cat. Kia has been reserved.That's a bit of a tongue twister! Try saying' Maine Coon cross cat ' a few times when you have had a drink or two! What a wonderful cat she is , her new family will just love her to bits. Apart from her stunning looks and huge size, she appeared almost human in her attempts to communicate with staff and very quickly became a great favourite with everyone at the shelter. I am delighted that she will be soon settled in a new home, her personality seemed too big for her to be confined here(does that make sense?)I'm pleased to say too that Alfie and Gizmo who were mentioned in a previous blog, have been adopted as a pair and black and white Courtney has also been adopted. Altogether it has been a very good week for the animals here and if it is good for them, it is good for us too.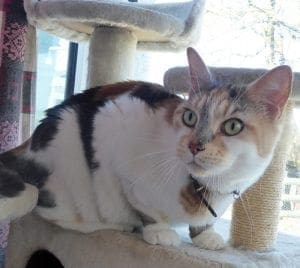 Sorrell our beautiful Arab mare gave us some cause for worry when her hernia appeared to have grown larger.Some of you may remember that Sorrell came to us at the age of 9 yrs, some five years ago.In her previous home,she had been a brood mare who had given birth to twins.This caused her to develop a large hernia.No longer able to continue and justify her existence as a brood mare, she was being taken to a slaughterhouse in Cheshire when we heard about her plight. Instead of facing an untimely and unneccesary death, she came to live out her life at Freshfields. It was originally thought that she would need surgery but on Vets advice we decided to rule out that option for the time being, instead we monitored her over the ensuing years. Another visit from our Vet to examine her resulted in much the same decision.l He seemed to think that with her type of hernia, surgery would not help her so once again we continue to monitor her and at the moment she seems to be coping well with it so there is no big decision to make about her future . Thank goodness for that. A huge relief to us all.I hope their judgement is correct.
23rd may.
Horrified about the Manchester bombing, those poor people who will be immersed in grief today and personally shocked also as I will be at The Arena in 3 weeks to see Kings of leon. 'There but for the grace of god go I ' springs to mind. I am so sad for the victims and their families and angry at the senseless massacre of innocents. What is this world coming to when nobody is safe wherever they live ?