The date for our Dog Show is looming closer.Due to being unable to hold an Open Day this year, the decision was made to hold a dog show at The Memorial Hall in Penygroes. LL54   6PL on September 10th. Rhian an ex-colleague of ours has kindly organised this for Freshfields and we hope to see both old and new faces at this annual event. As usual, we have both Pedigree and Novelty classes which will include Best rescued Dog and the Handsomest /Prettiest dog. Hopefully, some of you will be able to join us to make this fundraiser a success.
An appeal on Facebook resulted in some stalwart volunteers coming to the shelter to help us with our invading Himalayan Balsam! This non-indigenous plant spreads so rapidly and we do not want to get into trouble if it spreads to neighbouring land. Thanks to our volunteers, almost all have now been dug up. It really is such a shame as the plant bears very pretty pink flowers and looks rather nice but like the highly invasive Japanese Knotweed it presents a very real problem to our own native wildflowers/plants and as land owners, we have a responsibility to curtail the spread of such plants.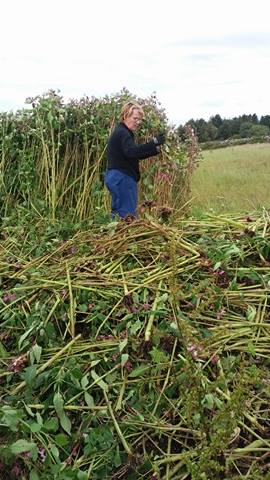 In another of our fields, plants with pretty blue flowers have suddenly appeared and Mark, our resident botanist has identified them as  Chicory!     I can only hope that the horses don't trample them all underfoot!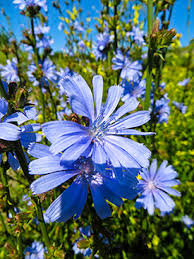 Sadly we lost one of our beautiful resident horses at the weekend. 30 year Chestnut mare Dids had become arthritic and lame to the point where painkillers and anti inflammatory treatment were no longer producing an effective result. Dids was admitted several years ago as she could not be ridden due to her tender feet. She enjoyed her retirement here and even went out on loan for 6 years with her then pal Buster. Both animals were treated as much loved pets until a change in circumstances dictated their return to Freshfields. At that point, Dids was still enjoying a good quality of life but the past few months have seen her symptoms increase with severity and there was no other decision to be made but to let her go. RIP dear old Dids, you were greatly loved by everyone here and by Jan, your last ' foster'mum.
Our dogs are still flying out, even 6 yrs old Maggie Collie was only under our care for a week though in truth we find our middle aged collies attract many prospective adopters. Ben, one of our permanent resident collies was 8 Yrs old when he was admitted but he was so happy here that he refused to 'speak' to people who came to see him and tried to hide. Not only that, when we placed a lead on him, he immediately lay down with his legs in the air and refused to move from that position. Ben won his case and now lives in the house with pal Glen the Autistic collie/kelpie. Ben was a farm collie living outside with no bedding or comfort, and now he is seldom away from the kitchen radiator where he lies happily in his bed, soaking up the warmth. How he ever managed to survive in his old farm life, I will never know because he hates the cold so much. He is 13 Yrs old now and a very contented dog. One of my pet hates (there are so many) is the fact that most farmers do not treat their working dogs well. Surely when a dog works hard, the least that can be done for them is to ensure they have a warm comfortable bed at the end of the day but no… instead, they are under the misconception that this will 'make them soft' and therefore not work as well. Most sheepdogs love being out working but to deny them any degree of comfort in return for their invaluable help round the farm and  condemn them to a life of being chained a good part of the day (and often much much longer), locked in dark sheds or kennelled with little to protect them against the elements and rarely with clean bedding or any bedding at all, given the cheapest food and seldom enough for a working dog,l is at best ignorance of the needs of an animal and at worst deliberate neglect. The Welsh Assembly has guidelines on keeping dogs and their suggestion is that a kennel and enclosed run be erected instead of chaining a dog but   I have yet to see any sign that this has been taken on board by local farmers. The old ways take a lot to change. I hope that a new younger generation of farmers will have a better attitude towards their working sheepdogs but I won't hold my breath.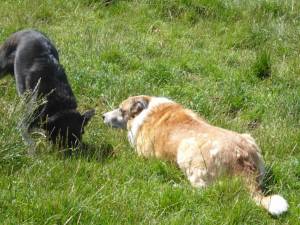 We were unsurprised recently when a Staffordshire bull terrier youngster was found and unclaimed.They seldom are.  This pup was found wearing a collar with lead attached! Of course there was no Id tag and he had no microchip implanted so there was no chance of tracing an owner and nobody had contacted the authorities about him. He is adorable and will find  a home very easily once he is ready for adoption.
14 years old ginger cat Garfield has been offered a home but not for a months time. He will be happy enough here in the conservatory until his new carer can come along and adopt him but we have made a new ruling today  which is that in future  we will reserve animals for people but for no longer than 10 days at the most. Not only is it unfair on the animal which may end up spending much longer than necessary in a pen/kennel but it also means we are unable to take on the next needy pet on our forever increasing waiting lists.This extra delay may result in another pet being destroyed.We ask those interested in adopting pets from us to contact us only when they are ready and not before they go on a four week holiday! Most people ARE ready but we have in the past kept animals for up to 6 weeks and in one case the person backed out after that time and we lost several  homes for that particular cat which then spent another four months here before he eventually was adopted. In the case of Garfield it is unlikely anyone else will want to adopt the 14 yrs old  and he is not in a cattery pen so the delay in adopting is not so disruptive to our attempts to make inroads with our cat waiting list.
Finally , please spread the word about our forthcoming Dog Show in Penygroes and if anybody else can organise a fundraiser for us, don't hesitate to get in contact.
Photos: Ben and Glen, Himalayan balsam. Chicory. Dids.