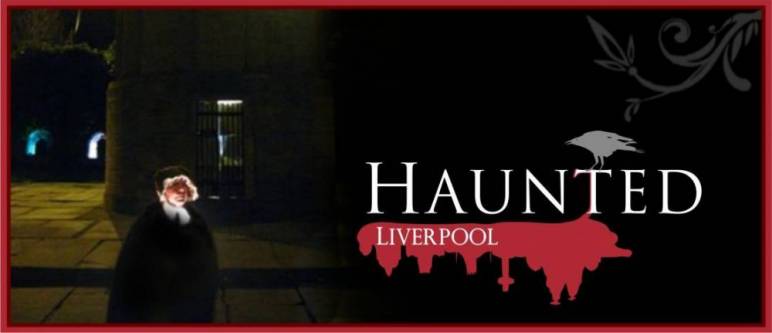 Haunted Liverpool, has been helping to raise much-needed funds for Freshfields Animal Rescue since 2008.
Ghost Walks – Psychic Nights – Special Events
Our Tours:
Join us on a journey of spooky excitement, adventure and discovery. Haunted Liverpool Ghost Walks take you to the hidden quarters of Liverpool where you will meet the characters from Tom Slemen's Ghost Stories. Hear bloodcurdling tales retold by a costumed actor/s on the very spot where they happened. Some stories take place inside St James's Gothic Grave Yard where many a restless spirit roams the night. Will you brave the cemetery on a dark night and take part in a Ghost Hunt with EMF meters?
Haunted Liverpool Ghost Walks are the only Ghost Tour in Liverpool to offer a 'Live' Ghost Hunt with EMF meters and dowsing rods in St James's Cemetery.
The Georgian Quarter Tour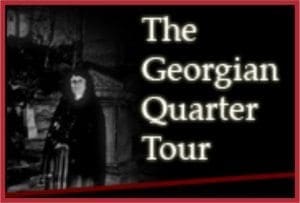 Travel back in time as we take you through the streets of the city's elegant Georgian Quarter and stand in the very places where spooky, paranormal and downright horrific events occurred.
Hear every grisly detail as experienced by the witnesses – and the victims. The veil between present and past becomes thinner as you move through the gathering dusk past the Georgian houses with their blackened railings and cobbled streets.
Feel the fear as you walk down into the blackness of St James's Cemetery, the last resting place of 57,000 souls. Dare you hear more tales of the paranormal in their company? Is that mist billowing or a tortured phantasm searching for a resting place?
The Haunted City Tour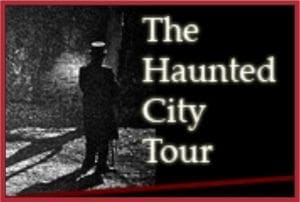 Are you fascinated by the paranormal? Spellbound by spooky happenings? If so, you will not be able to rest until you have experienced the Haunted City Tour – and if you think you know Haunted Liverpool, you may just be in for a shock!
Dare you draw aside the curtain of time and expose the horrors that lurk in the City's past? If so, be our guest! You are cordially invited to spend an evening steeped in vampires, curses, witches, betrayal, death and destruction. Learn the consequences of making a pact with the Devil … and shudder. Let the fear of inciting the wrath of God send icy drops down your spine … and shiver at the ghostly smell of roses.
Starting at the olde-worlde Peter Kavanagh's pub (itself reputedly haunted) your costumed guide and marshals will usher you through the city, telling the most gripping of Tom Slemen's stories, never before told on our tours and ending in St James's Cemetery in the shadow of the Anglican Cathedral, last resting-place of 57,000 souls.
The Haunted City Tour is definitely for adults, but children over 12 will be allowed to join in at their parents' discretion. Those with strong nerves can book online… if they dare!
Download our Good Ghost Walker's Guide HERE
Introducing your guides…
Dr Hart
A Doctor who has been struck off for operating on 'cadavas'.  Not only does he operate on the dead; when money is tight, he sells the flesh to the local butcher.  Behind the handsome exterior lies a dark and sinister character who you would not wish to meet on a dark night.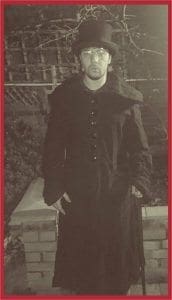 Guardian of the Graveyard
She is an animated corpse who roams the cemetery in search of her 'husband'? The story goes that she was stood up on her wedding day and never got over it. She killed herself the same day and restlessly roams the Georgian Quarter and Graveyard looking for the man who ruined her life. She is seeking revenge……..and will not rest until she has it.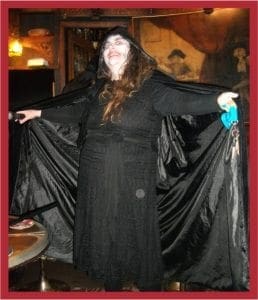 Tailored Packages – We can often cater for special one-off requirements, be it a school party, group of friends or other. If you would like to discuss your specific needs please email in the first instance jan@freshfields.org.uk or telephone Jan on 07983160479.
Schools, view here for further information.
In 2008 Tom Slemen granted Freshfields the right to run ghost walks based on his material. Information about Tom's books is available HERE.