Our 'Oldies' cat room in the conservatory is never empty, though for once we have no really elderly cats on site so the room has provided shelter for a few cats which we felt would do better in that environment sooner than the normal cattery pens. Basil, a big handsome tabby is 8 yrs old,  his owners could not stand him being 'under their feet' all the time and decided to give him up to the shelter. He is a lovely cat and we struggle to understand how he could be given up after so long but we hope he will eventually find a home.  Then we have tabby Tallulah (Bankhead)who is 9 years old and was rescued from living the life of a stray on the streets;  Tallulah can be grumpy at times, a bit of a diva we named after a legendary 20's actress known for her often outrageous behaviour. Tess and May are shy girls of 2 years who came in last year with kittens, they have both benefited from their move to the 'Oldies' room. And last but not least 9 years old Tortoishell Poppy has recently arrived to join this little group. Sadly her owner has passed away and being a Freshfields cat, she was returned to us as requested in her adoption forms. As anyone who has adopted a pet from us, will know, we always ask for our pets to be returned to our care should circumstances change. Animal Rescue does not stop at the rescue and rehoming of an animal, we provide care for life. There are two rooms in the conservatory and one provides a home for the longterm cats who are unlikely to ever find homes, these cats have the freedom of the property and can come and go as they wish through the hole in the door! This was once where a catflap was positioned, but after William, my beloved and now sadly deceased lurcher broke it through trying to squeeze his body through on a daily basis, we replaced it several times only to have the same happen with Dougie, one of the little old dogs who resides here permanently. For the time being, we have decided to give up and so the Hole remains!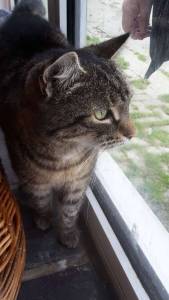 Our Christmas Fair At The Royal Sportsman Hotel in Porthmadog was a great success and we raised an amazing £666, almost twice what has been raised at previous fairs. What was different this time? It could be a few different reasons. Firstly, the new proprietors kept the tradition set by previous owners Louis and Viorica and gave us the use of their lounge free of charge and generously also supplied the coffee and tea. This year we definitely had more cakes to sell and we put up the admission fee too. The latter was with some reluctance but not everybody spends money at fundraisers, some just come for a panad (cuppa) and the social aspect. I was worried it would put people off but only a small handful of people turned away at the door, everybody else seemed happy enough to pay £1. 50p and receive a hot drink and a mince pie or small cake to go with it. There was a nice atmosphere and we just about had enough helpers to run it efficiently. I am so grateful to the volunteers who turned up to help out and those clever cake bakers who helped fill our cake stall with mouthwatering confections.If you read this, thank you one and all.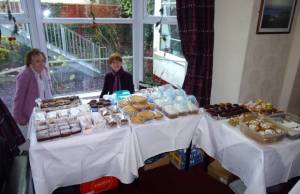 For those of you who live in Anglesey, don't forget we have our annual Xmas Fair  In Benllech on December 16th. St Andrews Church Hall, Benllech, Anglesey. 10am – 12.30pm.
If you live near please go along and support Freshfields, they will be pleased to welcome you.
We have had a marvellous year for adoptions, after a recent count we found that we had rehomed 163 dogs (and a few more have been adopted since then) almost 200 cats and kittens(the best ever)  several rabbits, one  pony  (on loan) one  sheep, one heifer, one adult pig, a piglet and a hamster. These are the highest figures yet and  If they are anything to go by, it shows that we are becoming more established here in North Wales. Setting up and establishing a new shelter anywhere takes time and I admit it has been, and continues to be a hard slog here. It was never going to be easy starting an animal shelter in the middle of rural Wales and we are right in the centre of a farming community which does not help our cause! From the day I moved here I saw that there was a great need for a charity like Freshfields, for the many unwanted farm dogs,the stray and unwanted cats(where did they go before we arrived?) and every other type of animal in need of shelter .  My only regret is not yet  raising enough money to upgrade all of our animal facilities but there is light on the horizon at least for our main cattery which many of you will know is  no longer fit for purpose. I have had the meetings with Architects, builders ,and trustees of the Charity and  new plans are being drawn up to be submitted to the local council  before Christmas .All being well we hope to start the rebuild in March 2018. It will not be super fancy but it will be a huge improvement on the existing wooden building which houses our adult cats. Everyone here is really excited about it  and we will be counting the days until the work starts. A huge thank you to the family of Billy Meade without whose help we would not have been able to set the wheels in motion for this project.

Photos: Handsome Basil waiting for his dinner in the Conservatory, Tallulah looking through window. Porthmadog xmas fair.