13th April:
Not A good start to the day today – I Nearly passed out when I accidentally stapled my finger instead of the papers I was meant to staple. Thankfully Office manager Deborah responded to my screams of pain and quickly pulled it out! I have a very low threshold of pain and it knocked me sick. I am a real coward.
16th.
The Easter Fair in Beaumaris went much better than I expected with more people coming through the doors, though I expect Ben Leggatt in the disguise of an Easter Bunny had a lot to do with it! There was a lot of interest in our rescue rabbits but only one possible home but one is better than none.Altogether we made a profit of £420 which is quite acceptable for an event lasting only 2 and a half hours and it was nice to see some of our regular supporters and have a chat. On top of that money, a local guide group turned up with £114 they had raised for Freshfields AND a full collecting box.That was a nice surprise and very welcome.Thanks also to everyone who helped and who baked cakes .Your help was much appreciated. I had my photo taken with the guides and it has given people a few chuckles – for some reason my head looks totally out of proportion to my body! Someone even went as far to say that it looked like the wrong head had been superimposed on the body. Wonderful – now I have another body complex to worry about !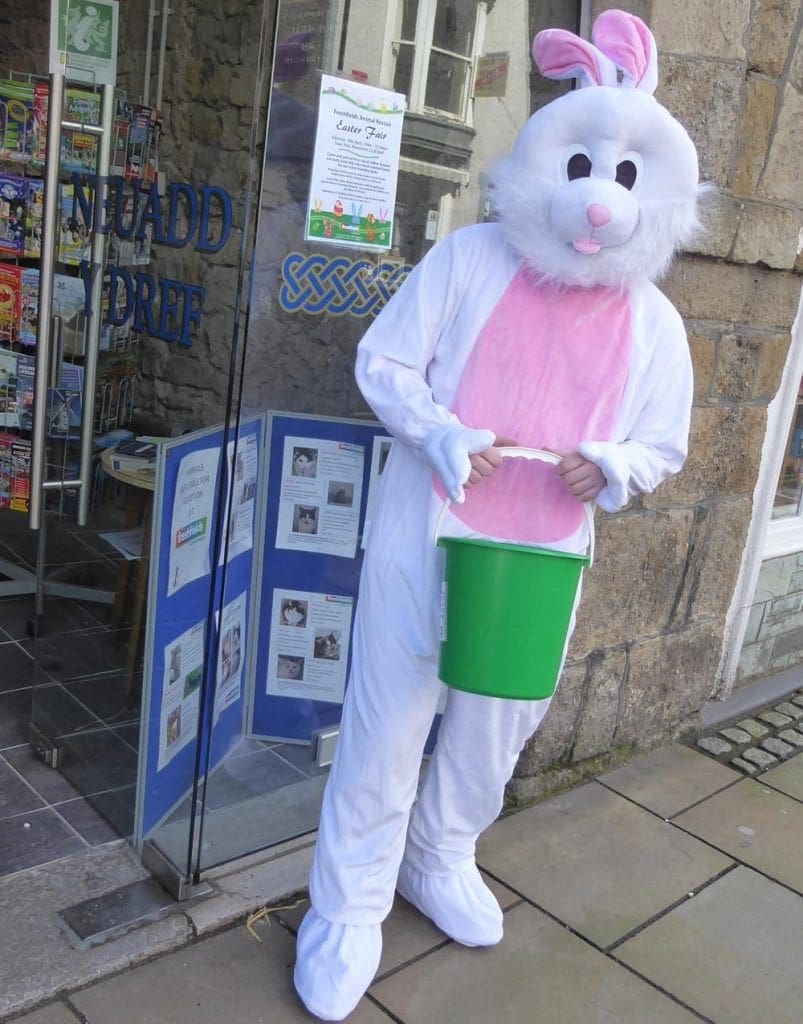 Easter was a busy weekend at the shelter; a couple of people turned up with stray cats not all of which we had the room to take but thankfully North Clwyd animal rescue helped out. We admitted a 5 years old collie called Oscar whose owner had died six months earlier and whose family were unable to keep him. Luckily for Oscar, he was reserved the following day. Then there was A man was evicted from his home who had 2 collies and a jack Russell . We had a home waiting for the terrier and the two boys came to us for foster care. They are sweet shty dogs and very bonded so I would like to rehome them together though It may be harder to home them as a pair .They are so dependent on one another it would be a shame to split them and we need to at least try .They need that chance. If only all dogs were reserved as quickly as Oscar but he is a handsome boy and has everything going for him – house trained, well behaved, good with everything he encounters .What more could any prospective adopter want? Unfortunately with many of our dogs we cannot make guarantees about their general behaviour in the home as they are mainly farm dogs we take.
We were greatly saddened by the demise of one of our rescued farm collies at his home in Hampshire. Gel has been much loved by his family who took him on with some problems which over time were sorted out making him a wonderful friend and companion. He spent much of the year sunning himself under the olive trees at their home in Spain and after so many years of misery spent on a chain in a farm yard, he really was leading a life of luxury.We are so thankful that we had regular updates on his progress and he was a good example of how an untrained farm dog can bring so much joy and happiness to people who have the patience and the right attitude to adopt .RIP dear Gel.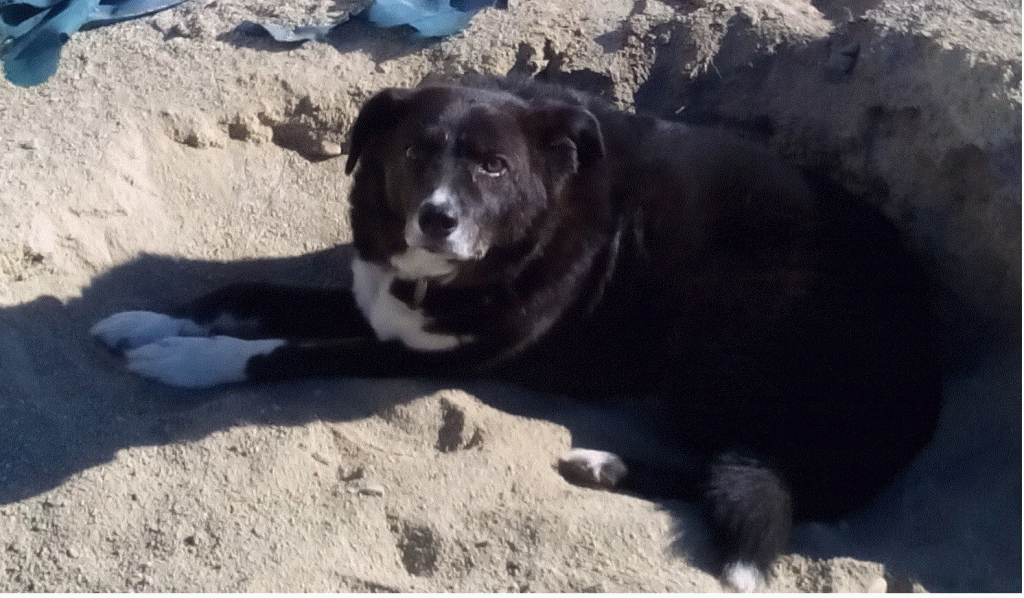 It looks like the general mayhem of the kitten season is about to begin.The calls are starting to come through about mother cats and litters of babies.Most are not yet ready for adoption, being only four weeks old and younger but it is an indication that the next month is going to be very busy indeed. One pregnant stray we have in foster care, gave birth last night to 5 kittens – 3 black, 1 black and white and one grey.Our wonderful fosterer Mion is delighted to become a 'grandmother' once again! Jac just took a call about another heavily pregnant cat and we were both shocked to hear that advice given to the finder included several people saying she should just let the cat (which she wants to keep) have the kittens and kill them when they are born! How disgraceful and how shocking that in this day and age with all the education about animal welfare, there are still ignorant people thinking that it is acceptable to deal with the situation in such a way. That particular soon to be mum cat is also going to stay with Mion where she can have her babies in peace and safety.
The cow rescue went well and Alice as she has now been named has settled into her new home with Dexter the castrated bull.They have had to be kept in separate fields at the moment because Dexter is in love and his amorous advances would not help poor Alice with her injured leg,however they lie next to one another on opposite sides of the fence and constantly give each other kisses. Another Vet from Leahurst vet Hospital will be looking at her this week and hopefully there will be something they can do to help her situation.
I can't believe how many people have let us down over the two Chihuahuas we have.Little Thea has now been in foster care for three months and during that time loads of people have emailed or phoned about her.Appointments have been made for them to meet her, some did not bother turning up or even ringing the foster carer,others went to see her and did not take it any further. It is not that we did not tell the truth about them. Like many Chihuahuas in rescue situations, they are both a little wary of strangers and so we explained that they would not necessarily make friends immediately.'Oh that's fine' they all said! So why did they not want to adopt them? The same has been happening for Minnie but today, she has finally found her forever home with a lady who already has 2 of our rescue Chihuahuas. Now we need to find the same for Thea. We need a sensible person who understands the breed and will not expect wonders overnight.There must surely be another such person somewhere who has the space for a little dog like Thea? I hope it happens soon for Her sake, she will be becoming too attached to her foster carers and that makes rehoming even more of a wrench for her.
There is another lurcher in the Dog Pound so I placed an appeal for a foster home for her and a lady in Anglesey has come forward. All being well we will be able to take the lurcher before the weekend.As we had such luck with lurchers Morgan and Maisie and Staffordshire bull terrier Mabli, we are sticking with the Letter M and the new dog will be named Millie. Fingers crossed for her to Have the same luck as the previous three dogs.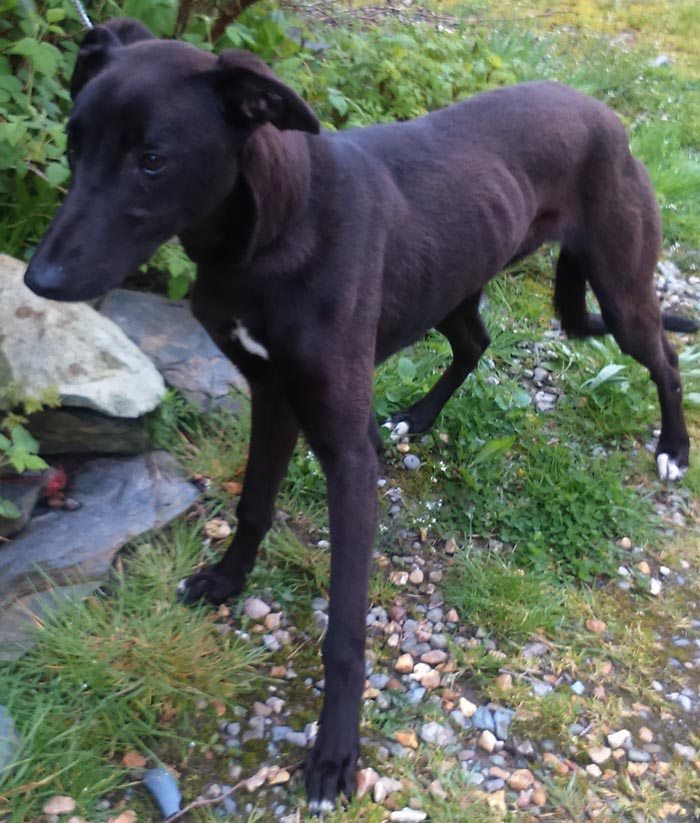 We have just admitted the one surviving duckling from an abandoned litter whose mother was scared away by builders.Unfortunately the poor little soul only lived a short time after arrival.So sad. The rule of thumb with what appear to be abandoned baby birds is to leave them where they are found as mum will sooner or later return for them,but in this particular case, the mother duck failed to return and the babies did not make it. Such a shame.
Our swallows are back nesting in our barn, I love seeing them swooping around after insects and thinking about the amazing journey they have made from Africa to get here. As for me, I get lost when there is a diversion locally,so how do these birds find their way over such a long distance? if only I had that same homing instinct! Once I even got lost coming back across the fields from next door but ones property! I hope the swallows have hatched their eggs and taught their young to fly before our fundraiser at the end of June. They never seem disturbed by the staff working in the barn ,or the horses moving about in the evening but music is another matter so fingers crossed they have flown by then.
Ps: Thea has now been reserved so pending a successful homecheck she will be leaving her foster family very soon.
Photos of Dexter and Alice, The Easter fair, Millie lurcher and Old Gel.