One week into the New Year. Has it been quiet? No, it has been incredibly busy. Those who didn't manage to part with unwanted pets before Christmas are now clamouring to get rid of them now! I do not recall it ever being this busy so soon after Christmas
One of our most recent admissions is a blind Bengal/Maine Coone cat called Tiger.(our main photo) 2  Yrs old Tiger was born blind and he needs a safe secure home. In an attempt to find a suitable home  I posted his story on our facebook page and a  home was found with a lady looking for an indoor cat. Keeping certain  species of  pets indoors is becoming more common nowadays and although we prefer young healthy cats to have the option to explore and enjoy an outdoor life as much as possible, with so many cats being killed on roads, it is easy to understand why some people are anxious about allowing their felines to have that level of freedom. That fact notwithstanding, I still believe that where possible ,cats need to be allowed the freedom to climb trees and explore their surroundings, Captivity is never the best solution for an animal whose natural  instincts are not to be confined, but there are instances where an indoor home is the only option and disabled  and blind cats like Tiger need such homes.
 Rabbits too are becoming more popular to keep as house pets although once again, I believe where possible,  they need to experience fresh air. Having said that I would prefer a rabbit to live indoors and have company and attention than a rabbit kept in a hutch and out of sight, out of mind! Nothing is ever black and white so each home needs to be assessed with regards to the needs of a particular animal and I have no criticism of those who choose to keep their pets indoors for whatever reason. It simply would not be a choice I personally would make. I recently 'met' a beautiful healthy 10 years old rabbit who lived indoors most of the time though it has to be said that he was still allowed out in the garden on nice days so that lucky bunny   had the best of both worlds.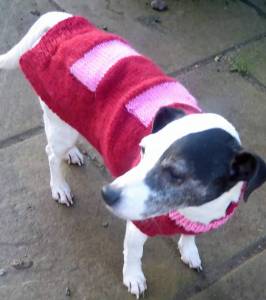 I have Just received a package from a lovely lady called Phyl who has kindly knitted some dog coats for the terrier size dogs which come in to us and for our resident dogs.Pictured here modelling her new coat  is dear little 13 years old Ella who lives permanently at the shelter.Ella has an enormous tumour on her back end and we are monitoring her very carefully. We know she has a limited life ahead of her but she is such a happy little dog, so full of life and joy. She has only lived here a year but it is as if she has lived here all her life.She spends her time with me in the house and gets on marvellously with my dogs and the other animals.
I am pleased to say that the initial plans for our new cattery have been drawn up so we are all looking forward to seeing that dream come to fruition but in the meantime we are still struggling with the problems which arise every time it rains. Once the plans are submitted we will have to wind down our admissions; what we don't want is to find ourselves ready to move ahead with the demolition of the building and still having  20 plus cats for which we need emergency accommodation.Certainly some can be accommodated in other areas of the shelter, there is usually  some room in the conservatory and we can reserve a couple of pens in the kitten room for those cats temporarily displaced but we still need to reduce numbers before the building work commences.
 Whinge of the week (month, year!)   Is people who do nothing whatsoever  to find their missing pets but then  want them back when they see them being advertised by a rescue. Recently a heavily pregnant  dog  was rescued from destruction at a Dog Pound where she been taken by a Dog warden who had collected her off the streets. At each stage of her rescue, the owner was informed  by both finder and the Local  Authority, but still failed to claim her pet. Dog Pounds are only obliged by law  to keep a stray for seven days to allow an owner to claim him/her, after that they can destroy the animal or in some cases pass  on to a rescue shelter for rehoming. Even a check on the owners facebook page showed she did not care enough to mention that her 'beloved' family pet was missing.So therefore, one would wonder why all of a sudden that dog becomes 'greatly missed' etc etc? Unbelievable  and very very annoying. Reminds me of the 17 years old dog  I took in late last year, a similar tale with the owner telling people in her local shop about her  beloved missing family pet yet no mention on her FB page, no reports to ,local rescues or Dog warden. What goes on in their minds?  I suspect that they do not want to find their pets at all or at best are indifferent,  but they enjoy  the attention and sympathy  given to them when they tell people. What they also fail to realise is that the longer their pet goes unclaimed, the more fees they will have to pay for wasting everybody's time. There will be transport fees, boarding fees and in some cases (as with both dogs mentioned) veterinary bills to pay. Ignoring the plight of a missing pet until it is convenient  for you can prove to be a very costly business.
I was recently sent a photo of a litter of piglets in need of homes and my heart went out to them,.They were living in a sea of mud and anyone who knows and understands the needs of these sensitive creatures, will know that pigs DO NOT LIKE muck! They are clean animals and enjoy a  clean warm place to sleep just the same as any other animal. I have  offered  to take two of these unfortunate animals but will need to repair some fencing in the paddock first.