The past couple of weeks have been taken up with organising fundraisers and as always I am in a state of panic, thinking nobody will turn up to any of them! Oh how I long for the days when my job was caring for the animals, cleaning out pens and feeding them. How much more complicated and difficult (For me) it is to do office work and fundraising. I am completely out of my comfort zone and have been for many years now. Thank goodness for the past and present Admin staff who have supported and helped me in my daily struggles! They have been and still are invaluable to the efficient running of the shelter. They put up with my inadequacies in the office, my appalling singing voice, my high and low moods, my enthusiasm and despair, they are lifesavers. Thank you one and all.
Rehoming has gone a bit quieter lately but we have found a lovely home for Heather an elderly grey cat who had stolen the hearts of all the staff. Heather has gone to live with a friend of the person who adopted old Winston; word of mouth can be a wonderful thing. Many of our pets are adopted because a neighbour or relative has an animal from Freshfields and nowadays we seldom have to pay to advertise in newspapers. You might be forgiven for thinking that both these elderly cats went to older people but you would be wrong. Both Winston and Heather have been adopted by young people who wanted to give a home to a cat nobody else wanted. How great is that? We have already seen many photos of Winston living a life of comfort and no doubt we will soon see Heather doing the same. Good luck to Heather.Now all we need is someone to take on 16 years old Ozzie, a gentle but unspayed female cat who will need to be adopted by someone either living in an apartment or in a quiet home where doors will not be left open.It would be catastrophic if she became pregnant at her age(it can happen) and she is too old to put through an anaesthetic and operation.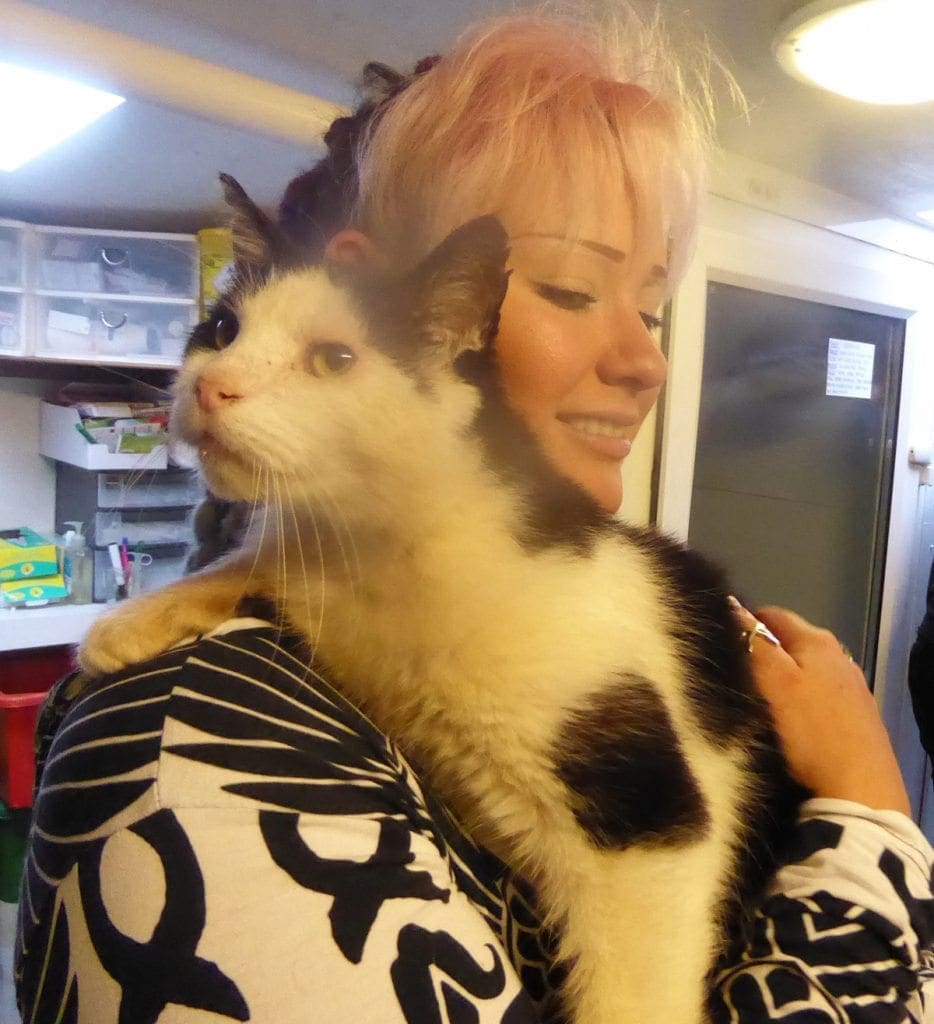 We gave shelter recently to a cat and 6 kittens. When they arrived we discovered that the kittens were in fact, adult cats! Why do people tell us they have kittens when they are clearly huge and bigger than their mother? We booked them in to be neutered and thank goodness we did so quickly as two of the 'kittens' were already in the early stages of pregnancy.When the kitten season arrives we will struggle to home all of them so it would be sheer folly to allow these cats to have their kittens.It is not a pleasant thing to do but due to the vast numbers of homeless and unwanted cats in the UK (and everywhere else), it is sadly a necessary evil.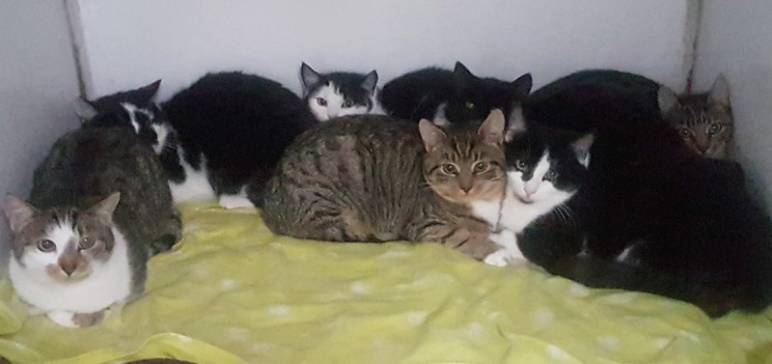 Another lurcher came our way after an advert was spotted on facebook. These are not the exact words but as well as I can remember. 'This dog is useless at hunting.If somebody does not take her off my hands within 24 hours it is down the Quarry with her and 'Bang Bang' ! I am sure you feel as I did that this was disgusting but quite frankly typical of the attitude 'lurcher men have towards their working dogs. Anyhow, Maisie the dog in question is now under our care and she is such a lovely natured and affectionate dog (though as expected not good with cats) who just loves the company of other dogs.She is 6 years old and we know she will make a wonderful companion for the right person.From now on she will enjoy a life of good care and will be appreciated for the loving dog she is. If I had my way I would make lamping(hunting with dogs at night, using a lamp to startle the hunted animal and make it freeze in terror) illegal and anyone found doing so would receive at least five years in prison. I'm afraid that is wishful thinking only. When rapists , muggers and murderers get such lenient sentences in this country, there is no likelihood of real justice for animal abusers.
My Romanian dogs are arriving at the end of this month, foster homes are already sorted and I am looking forward to finding them homes after the terrible lives they have led in their home country. Both Dis and Luca have been rescued from the wicked paid dog catchers and have been in the shelter there for a long time. In a shelter of hundreds of dogs where the plainer, the older and even the most appealing dogs have little or no chance of finding homes, the future for Dis and Luca was not bright. Here's hoping it will not take long to find them both the loving homes they deserve. I have told my lovely Oliver that when they arrive, he needs to have a chat with them in his own tongue and let them know that they are safe and will have a good life ahead of them. Of course, Oliver just looked blankly at me but I think he got the gist of the conversation! Perhaps this did go a little over his head although dogs understand more than we think. Actually now I think about it, a nice Romanian couple visited here not long after Oliver arrived and he was really terrified when he heard their voices so maybe the accent/words bring back bad memories to some traumatised dogs.
Update on the cow. In spite of having a wonderful home waiting for her and arrangements made to have her TB jab prior to moving her, the decision was taken by the farmer and his Vet to put her down. The Vet felt she was not able to travel with her injured leg. After all our efforts to save her, this was distressing news both to us and to the people who had been looking forward to meeting her and giving her a permanent home. I know realistically that we can't save them all but it doesn't stop us from wanting to help any animal we hear of which needs shelter.
Once again don't forget the Easter fair at Beaumaris Town hall.10am -12.30pm. April 15th Even if you can only spare an hour please come along to support us. I am signing copies of my book 'The Dog with No name' and it would be mortifying if nobody turned up!!