1st September.
This week saw the arrival of handsome 17 hands Palomino Django. We were alerted to his plight by  a concerned person who kept her own horse at the same stables. Due to either bad handling or mistreatment Django's training as a youngster resulted in him being deemed too dangerous to ride. This label generally condemns horses to an untimely end at the hands of the 'Meat man' who is almost always at horse sales waiting to purchase such animals as cheaply as possible. His friend and saviour believed he was too nice  a horse to suffer this fate and we agreed with her. Thanks to her alert, we were able to rescue 7 yrs old Django and have him brought to the shelter. He has made friends with ex polo pony Moko  and seems to have settled happily .We will be placing him for sponsorship as it is highly likely that he will remain at the shelter for the rest of his days. When I wrote about him on our Fresh fields facebook page, I had a message from one person who criticised my wording, she felt that I implied horses and ponies and donkeys taken to Horse Sales  would automatically end up as cat or dogfood.Well the reality is that many animals DO , and unwarranted animals(those which come with no guarantee )stand minimal chance of being purchased by a private buyer. Anybody sending Equines to Horse Sales know that even with rideable animals, there is still a chance they may end up in the wrong hands. I have never been able to understand people who do that, they must have hearts of stone.
Chihuahua crosses Hugo(Boss) and Ralph (Lauren) have been rehomed this week, as have Rollo,Liska (from Bulgaria),Monty, Pero and Buddy. It has been a good week for dog adoptions. Our foster people barely have time to get to know the dogs before they leave for new homes! Old Tyme Bulldog Taz is proving harder to home because he is so strong and needs basic training. We need to find the right person/people to adopt him.His nature is excellent and he is good with other dogs which is a real bonus.We know the right person is out there. We just need to find him/her.
Ps: We Have interest in Taz  and it sounds good, a couple from London who already have a similar dog are coming to see him next weekend.Fingers crossed they will want to adopt him.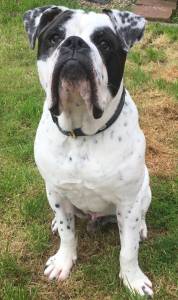 4the September:
I have just had a message from Lottie who held a fundraiser for us in Beaumaris, her afternoon tea/pop up coffee shop raised a wonderful £500. I am so delighted and grateful to her. That is what we desperately need here – people willing to organise fundraisers themselves. It can be anything from holding a similar event as the one in Beaumaris, sponsorship of some kind- running, zipwire. Horse trek etc There are many ways to raise a few pounds for a charity and small shelters like this one in Wales really do have a day to day struggle to keep afloat.
There is a mist covering the shelter today and as  usual it is raining! Miserable weather but thankfully it is just miserable and not life threatening like the floods  and hurricanes in the Us and India, and now the wildfires in Los Angeles. Of course I think  too of the animals caught up in these disasters and I am heartened to see so many rescues involved, all trying their best to save as many pets as possible. When I stayed with my friend Katy who lives near Monterey, California, there was a raging forest fire and she was on high alert to   be ready to move her horses . They had a wonderful network system to help property owners with livestock. The sheriff' s office held contact details of people who owned livestock transport and who were willing to help with the evacuation of animals should the need arise. Fortunately the wind changed direction and everyone breathed a sigh of relief, that time their animals were safe but the hot dry weather is a constant cause for concern.
A couple of months ago we were all distressed when Twiglet,  a cat we had taken in, managed to escape from h erbasket when about to be taken to the Vet.In spite of Posting her  details around the village, we heard nothing until this weekend when a gentleman rang the shelter to say he had been feeding a  timid 'stray' cat for several weeks. Cattery staff member Gail went out to investigate and although the cat ran away immediately she appeared, she was able to identify Twiglet. We have left a basket there and are hoping we will soon have her safely back at the shelter.
This afternoon we welcomed a new arrival, that of a little piglet we have named Miss Piggy.This baby was rejected by the rest of her siblings at a farm where they were bred for meat.For the past few weeks she has been handreared and is now very human friendly but we need a loving pet home for her as soon as possible.Currently she has a lovely warm stable to play in but when all our horses come back from their summer grazing fields, she will need to be moved.We will, of course only home her to  another sanctuary or to a person who will take care of her for the rest of her natural life.Having been rescued from a pig breeding facility, we will make sure that any future home will be  well vetted and that she will have a safe and happy future.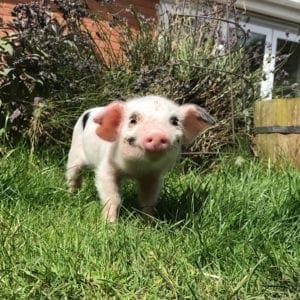 There are still 23 kittens waiting for homes, they are going very very slowly and of course, they are growing bigger by the week.As expected they are mainly black or black and white which are being left behind though we were happy that a few of the black youngsters were adopted over the past week.At the weekend, a  mother cat abandoned at a farm was admitted along with her 5 babies.She is not feral so has ,at some time been living in a domestic situation. Unfortunately it is quite common for unwanted cats to be abandoned at farms or houses in rural locations.I can only assume that those irresponsible people think that the cats will just live on mice around the farm.What they fail to realise (or care about) is that domesticated cats do not always have a high prey instinct and we have often taken in starving cats abandoned in remote locations.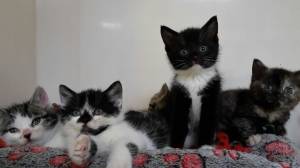 Lucy, our latest staff member who works with the dogs, has fallen in love with  Harvey our deaf kelpie/collie.Harvey has been with us for 5 years  and has a few temperament issues but Lucy is sure she can live with those so we have given her our blessing.He will be leaving us soon for his new life.
I think it is time to start organising a couple of Christmas Fairs so if anyone would like to help me or even take one over to organise, I would be more than grateful. I would like to hold one in the Porthmadog area if there is anyone who feels they could take on that one? Also I would like to have a list of clever people who are able to make cakes  for our events and  I have never been able to hold a craft stall due to lack of crafts to sell!! Perhaps you or your friend/neighbour is talented in that creative area and would be happy to donate some goods? Tel: 01286 479711
Finally, friend ,supporter and talented textile artist Josie Russell is donating 10% of any sales she makes of her brilliant animal portrait commissions. If you would like to have such a portrait made of your pet and help the shelter at the same time, here is the link:
www.josierussell.com/commissionpage
https://www.facebook.com/josiearussell1987/photos/a.276928912344113.60695.264307546939583/1375989882438005/?type=3