Recently I heard about a 30 years old pony in need of rescuing and the story behind it touched my heart.   We only have a small Equine sanctuary here and we are currently full; we can cope with 30 horses and ponies maximum as we have to think of the staffing situation not to mention finances and space(or lack of ) so I wracked my brains to think of a way to help this old gentleman.He had been a child's pony who then was sold to a riding school who  no longer wanted him as he moved into his twilight years. Fortunately the 'child'  who is now adult has never stopped caring for the pony and had always said to the proprietors of the school that they were to let her know if they no longer wanted him.Gypsy was the final link to her father who had bought him for his horse mad daughter  but he  passed away when she was 14 yrs of age and subsequently  the pony was sold to the Riding School. Unfortunately  when she heard that he needed a new home, she was not in a position to help so was desperately trying to find him a safe refuge.This is where Facebook comes into its own, I appealed on the Freshfields facebook page  for a foster home for the old pony and was contacted by a lovely lady in Anglesey who had previously fostered for The Blue Cross. After a successful homecheck we have arranged for the old pony to be moved there in the next week or so. When we have room we will move him to the shelter where he will spend his final years.
Christmas is looming closer and closer and here at the shelter in Wales, we are seeing the beginning of the 'pre Christmas clearout' of pets. Of course there are requests  where there are difficult and extenuating circumstances for having to part with a pet but for each genuine call there are a dozen which leave me feeling quite annoyed and upset for the animal concerned. Even after all the years of doing this work, these calls still have the ability to upset me. One of the staff  who had not worked in a shelter previously to being employed here, told me that her eyes had really been opened to the way truth was bent when some people contacted us to part with a pet.She continued to say that she had never realised just how devious and manipulative people could be, even to the point of spouting downright lies! My reply to her – 'Welcome to my world'.
On the positive side, we meet some lovely people who adopt our animals, and even some who are forced to part with their pets through no fault of their own. Never think that we regard all callers as potential truth benders. Far from it. We have great sympathy for most   people who contact us, some of whom are elderly or in poor health and have to be move to sheltered accommodation where pets are not allowed. I find this particularly heartbreaking for those concerned. How hard it must be for them  to part with a beloved pet; not everybody has family to help out and many a time I have listened to  a distressed person weeping on the telephone, heartbroken at a change of circumstances leading to the loss of their feline or canine companion.   There are many other extremely  genuine reasons for having to part with an animal and no matter what the reason may be, it is always the welfare of the animal which concerns us .
Speaking of calls, we have just received one from a person moving within the month, this at least gives us time to help find a home for the dog concerned, we often receive requests to admit dogs ON THE DAY of moving. As we only have limited space for dogs, this is an almost impossible task.This one we will almost certainly be able to help.
 The cats from the home of our recently deceased friend Billy Meade, have now arrived. Before we could take them, we had to wait until the refurbishment of our feral cat enclosure was  completed. The cats which were originally ferals which Bill had trapped, are very scared, so although they were used to him, they have been understandably traumatised by their change of circumstances and environment. Pictured are two of them who were very indignant at my intrusion of their space and wasted no time showing their displeasure! Out of the 9  cats we admitted , three were found a wonderful home on a local smallholding and there are still  6 more of his cats waiting for space here.Those 6 are being  fostered by  a good friend of his but will eventually come here when we have found suitable homes for a few of those already in situ. If anybody reading this blog has a smallholding or stable yard and could do with a few feral cats around the place, please let me know.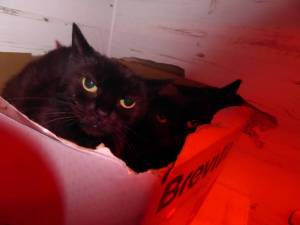 This week we will be getting things sorted for our first Christmas fair this year. The new management of The Royal Sportsman Hotel have kept the tradition going by Louis and Viorica, the previous owners and are not charging for the use of their lounge, not only that  but they will be supplying the tea and coffee for the event. We are very grateful to them for this support. At the Fair we will be selling our  attractive and original Christmas cards( designed by Dina one of our  talented trustees ) Freshfields Calenders and other charity sales goods, as well as having our usual raffle, books, tombola and gift stall. Oh and I almost forgot – our very popular home made cake stall will once again be in evidence.
If you live locally please come along and join us raising much needed funds for the animals at the shelter
25th November 11am – 3pm.(Saturday) Xmas fair. The Royal Sportsman Hotel.Porthmadog.