Volunteering Roles
Below you will find a little background information on those volunteer vacancies that most regularly occur at Freshfields. Please note that not all positions are available all of the time. Please visit our 'Current Volunteer Vacancies' page for details of current vacancies.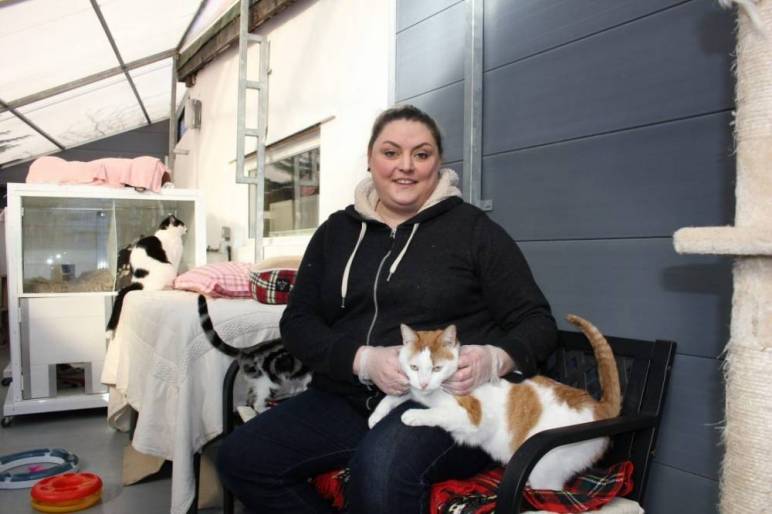 'The satisfaction and sense of purpose I find knowing that the animals are well fed, in a clean environment and safe makes the early starts and hard work worth all the effort. I love it here, I feel I am able to make a real contribution'
Working with the animals
At Freshfields we rely daily upon volunteers to help clean, feed, care for and socialise our animals. We also work to rehabilitate certain types of wildlife including hedgehogs, wild birds and foxes. Types of volunteer vacancy regularly available include work in the following areas – Cattery, Small Animal Unit, Fox Unit, Stables, Farm. These vacancies in most but not all instances rely upon regular weekly attendance, please see individual vacancy adverts for full details.
Vacancies
Dog Walking
There's rarely a time that we don't need dog walkers. Days and times can be flexible to fit in with your availability. We do request that dog walkers provide photographic proof of identity, two forms of proof of address and two passport sized photos, one which we will retain on file the other being used to provide you with a 'Freshfields - Dog Walker' official identification pass.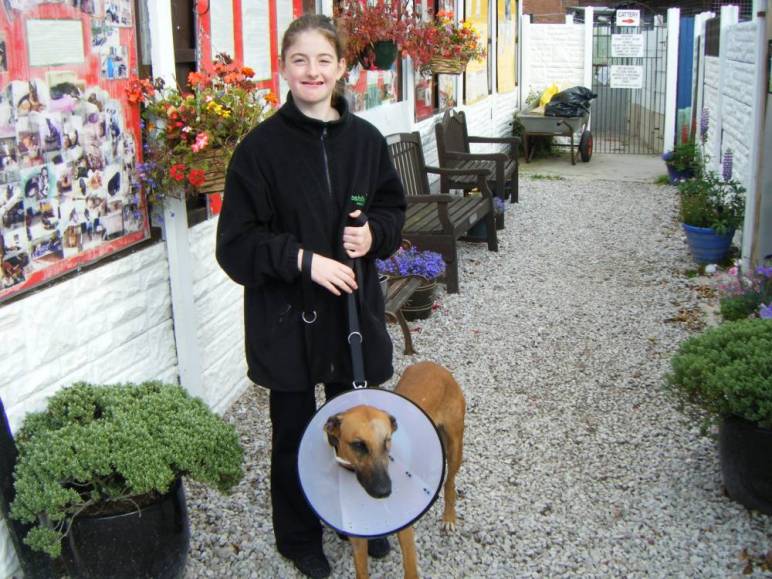 'It's lovely when a dog you have walked a few times recognises you next time you come in. It's clear how much they enjoy their walks and it's lovely to see the excitement in their eyes. It's great exercise for the walker too and it's good to feel you are giving something special to the centre and to the dogs'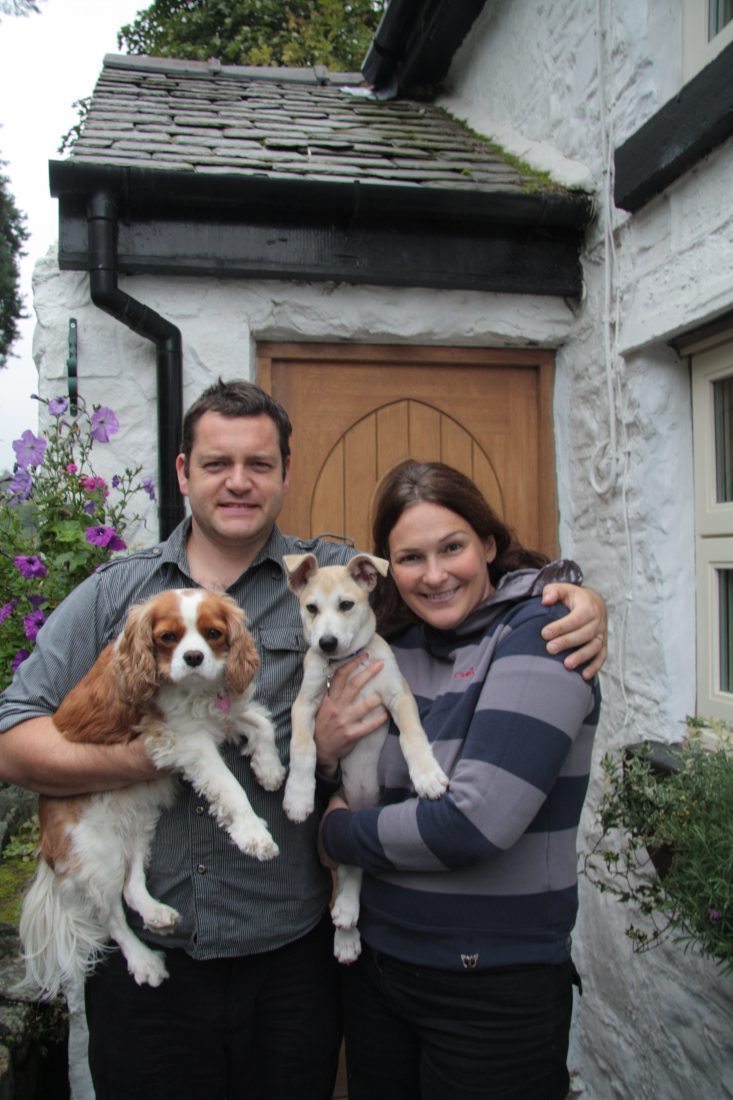 Home Visit Volunteers
For all of our animals we carry out some form of check of the accommodation to which they are being rehomed prior to the actual adoption. In most cases this means one of our wonderful volunteers paying a visit to the home of the potential adopter to assess that all is well and as previously described to us. This is a voluntary position of significant importance to us as only once the necessary checks have taken place can the animal be rehomed. Home visit volunteers need to be flexible and generally available at relatively short notice.
'I have been carrying out home visits for a number of years now. It's a vital part of the charity's work making sure that every rescued animal is re-homed responsibly. It's a big responsibility 'getting it right' but so rewarding to see a families potential fulfilled.'
Vet Run Volunteers
This voluntary position is literally as the label reads. We regularly have cause to carry out routine trips to offsite veterinary practices and it is rarely a good use of staff resources to have them carry out this role. Armed with all the information required (and of course the animal/s needing treatment) our vet run volunteers fulfil this role for us allowing shelter staff to carry on with other tasks. Vet runs are generally first thing in the morning with quite often a return pickup from the vets in the afternoon although occasionally we may request assistance at other times of the day.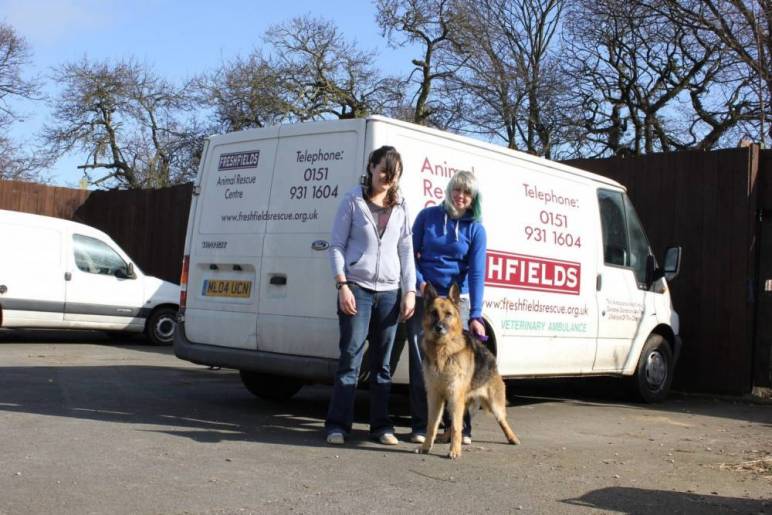 'The timing of vet runs works in well with my other commitments. I know I am doing something really useful but I get to be out and about at the same time. The vet surgery staff know me now and there's always a few words of welcoming banter when I collect or drop the animals off.'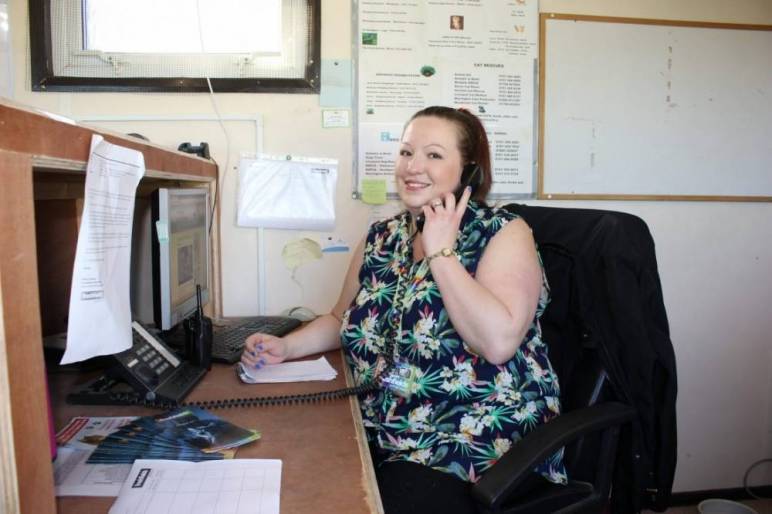 'I thoroughly enjoy every second I spend here at the rescue. With reception being the focal point, I meet so many new and different people and love the fact that every day is different. The staff are so welcoming and it such a good feeling to be appreciated. I would highly recommend volunteering to anyone who some spare time, it really is an amazing experience.'
Reception Support Volunteers
'Reception support' covers a host of duties including answering the telephone, directing calls, taking messages or adding animals to our dog, cat or small animal waiting lists. Reception duties also include greeting the public when they visit, ensuring that their needs are catered for and their enquiries answered. Sometimes it's as simple as receiving a donation of food, newspapers or bedding at the front door and ensuring of course that the donor is aware how much their donation was appreciated and how grateful we are they took the trouble to call. There are administration duties too, just the same as in any small office so the good customer service skills are essential along with a calm personality and an ability to multitask.
Retail Shop Volunteers
With ten charity shops across Merseyside, Lancashire and North Wales our retail shop volunteers represent the charity out in the community and help to raise the vital funds needed to support the two rescue centres. Our shops are also an extension of our shelters in that they provide us with the opportunity to present our animals in need of homes to a much wider audience. Excellent customer service skills are a must for our charity shops along with a keenness to create sales and to promote the charity ethos to our customers.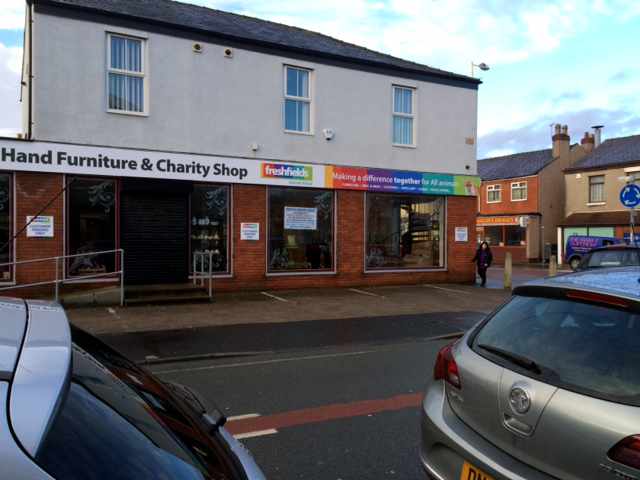 'Volunteering with Freshfields has enabled me to gain valuable experience of a retail environment. My communication and customer service skills have developed as has my self confidence. It's good to feel part of a team all working towards the same goal'
Shops Van Volunteers
In Liverpool we have a transit van that is used to collect donations of furniture and other larger items from supporters and also to deliver goods we have sold to the homes of the buyers who request this service. The van is also used to collect donations and purchases for the Liverpool shelter. Our van driver regularly requires assistance collecting and delivering furniture items and occasionally we require someone to also drive the van. Our drivers and driver's mates represent the charity when out and about in the community so an excellent level of customer service is vital along with a good standard of physical fitness.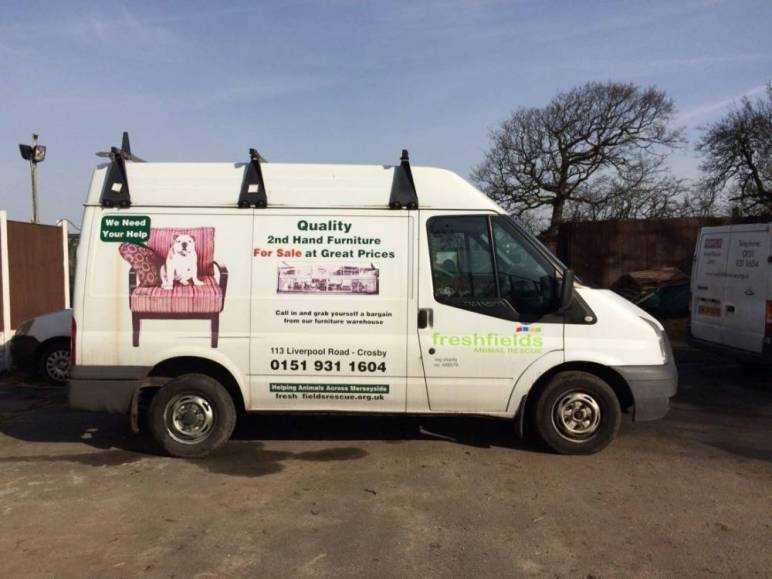 'I really enjoy the variety of tasks we carry out on the van. The day is always busy and I meet lots of new people. I represent the charity out in the community so my customer service skills are given an airing and there can be a lot of lifting and carrying which helps keep me fit.'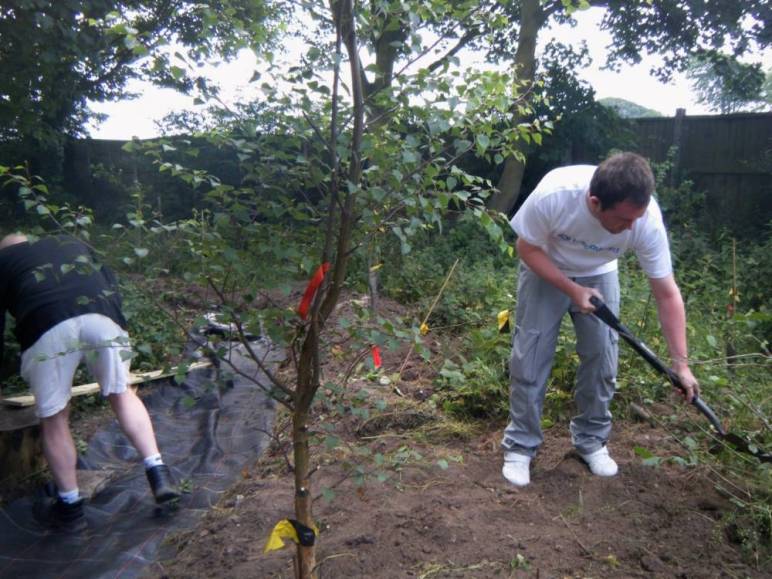 'Gardening at Freshfield helps keep me outdoors and active. I appreciate the many encouraging comments from visitors to the centre and from staff and volunteers.
In the Wildlife Garden my efforts have been rewarded by visiting robins, chaffinches, blue tits, great tits, blackbirds, woodpeckers, goldfinches, greenfinches, nuthatch, and Sparrow hawk. Night time brings visiting bats, moths and several species of owl. Recently as I sat eating my lunch a Robin came to perch on my foot, magic moment!'
Gardening & Maintenance Volunteers
Both of our rescue centres understand the value of a little TLC. Whether it's tending a flower bed or putting a fresh coat of paint on a fence or shed, these things can work wonders to lift the spirits of our staff and other volunteers and prolong the life of the charity's meagre resources.
Event Volunteers
We can't run any type of event without good, reliable volunteers! An event could be an open day, Spring fair, a tin collection or bag pack or it could even be a Haunted Liverpool Ghost Walk. Most events are occasional and as they are also varied there's little chance of becoming bored or overcommitting oneself. Roles at events are also various so it's always worth getting in touch to see what might be available that would suit you.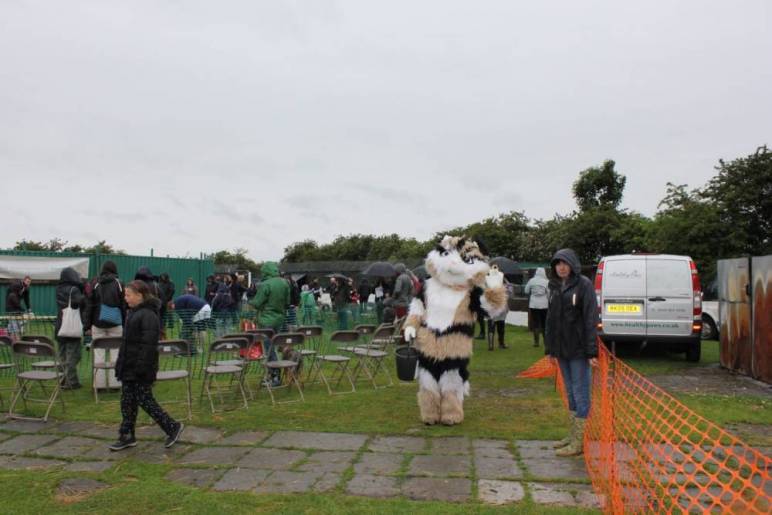 'I love helping out at Freshfields events. I know that even my small role helps keep things running smoothly and that I am helping to raise much needed funds. It's good to feel a part of something and to contribute to the charity's success.'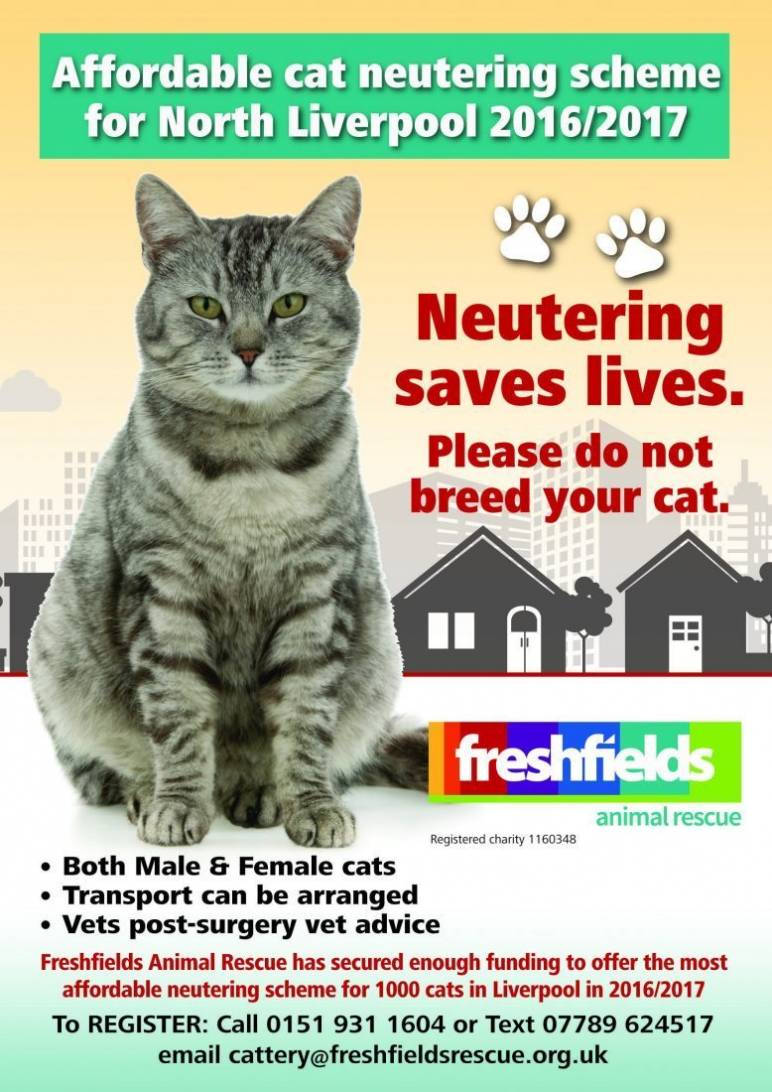 Poster Design Volunteers
If you are skilled at design and able to knock together the occasional poster at short notice, then 'we need you'! Eye catching posters with quality design are a must to advertise up and coming events and the donation of time and skills in this area is highly valued.
'The value of eye catching posters and leaflets should never be underestimated, they can mean the difference between the success or failure of an event or charity initiative. I'm happy to commit to deadlines and donate my design skills to such a worthy cause.'
Corporate Volunteering
Are you employed by an organisation with a large work force? Does that organisation take part in corporate volunteering days? If the answer is yes and a group of you have a day in mind, do please get in touch. Not only our rescue centres but also our charity shops would benefit from hands on assistance for a day or perhaps you would like to organise a fundraising event for us? A corporate fun day or a sponsored event, the possibilities are endless and it's a great way to give something back whilst having lots of fun!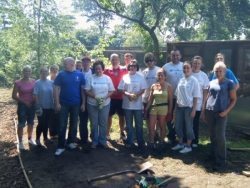 'As part of the team from Barclaycard I have been involved in everything from reclaiming the wildlife garden, painting the site ready for the open day to building hedgehog release pens and cat climbing frames. It's a great change of scene from the office and I go home feeling I've done something worthwhile. It's a great initiative!'