Freshfields values-driven animal rescue, rehabilitation, rehoming and release work primarily serves the North West and North Wales regions.
Does your business serve the same community that has supported the work of Freshfields for the past forty years?
Is the purpose of your business aligned with the work and values of Freshfields Animal Rescue?
Do your staff have a particular passion for the welfare of our companion pets?
Does your business have a mission to improve environmental sustainability or sustainable eating?
We have a variety of sponsorship opportunities to suit your budget, that can be tailored to suit your company objectives. We can help you to highlight your social responsibility impact and work together to build brand awareness.
And don't forget that donating to Freshfields is tax deductible for your business too!
Sponsorship Options:
Sponsor an event or an award at the Corporate Challenge Awards
Sponsor a Freshfields Open Day or Volunteer Celebration event
Sponsor an ongoing Project – Urban Wildlife Outreach Education or Bull Breed Campaign
Sponsor an Animal – company mascot
Sponsor a Unit – Wildlife, Equine, Small Animals, Kennels, Cattery, Farm,
Sponsor a member of staff! We'll update you on the impact they make throughout the year
Sponsorship in kind – Provision of equipment, clothing or consultant services
What you'll get:
Opportunities to visit our rescues and see our work first hand
Volunteer day opportunities for your staff
A pet portrait of your employees' pets'
Logo placement online and at our two rescues and ten shops
Acknowledgment on the Freshfields Website with opportunities for a supporters' blog
Social Media awareness on Freshfields Facebook, Twitter and Instagram
Regional press and radio coverage
Company presence at Freshfields community and awards events
A Freshfields representative at your events
Contact us to discuss options or ideas for how together we can do good and feel good.  We would love to hear from you.
Contact: Emma Jensen, Fundraising Manager emma@freshfields.org.uk or 07591 205 078
Alternatively, submit your enquiry via our contact form HERE and we'll get back to you at a time to suit you.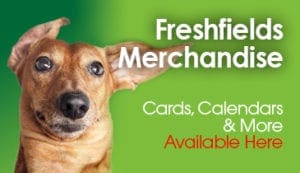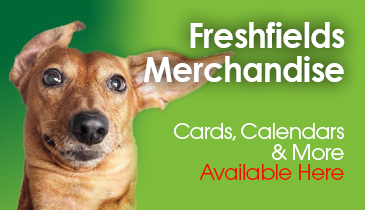 Merchandise
Exclusive merchandise available direct from the rescue. Don't miss out, follow the link to make your purchase today.