North Liverpool Cat Neuter Project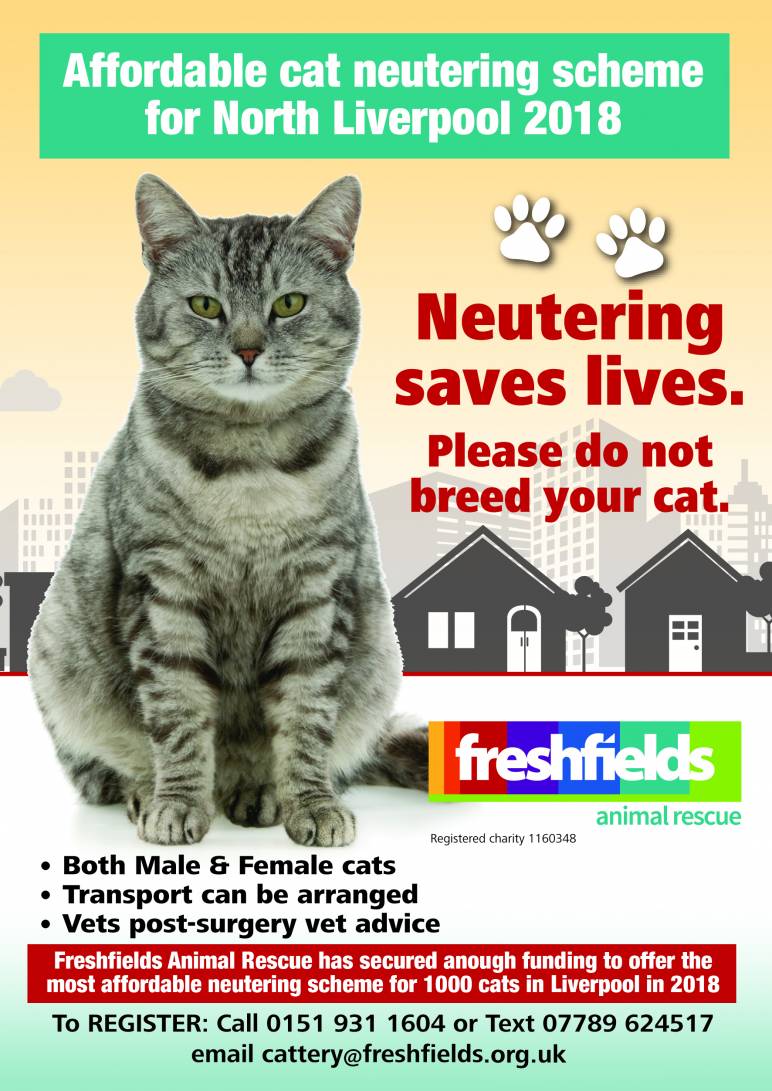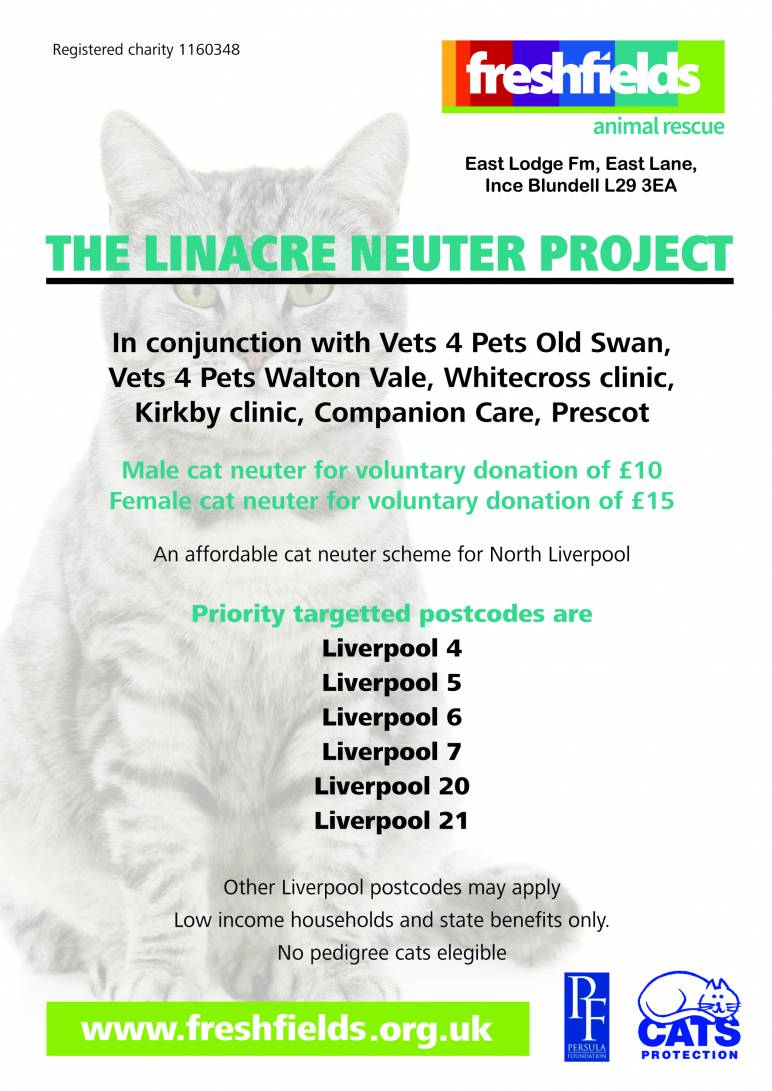 Freshfields remains incredibly grateful to both CATS PROTECTION and the PERSULA FOUNDATION for their ongoing support with this project.
Around 85% of litters of kittens are unplanned! It's a frightening fact that female kittens can themselves become pregnant before they are 5 months old. Spaying your female cat/kitten will prevent unwanted pregnancies and neutering your male cat/kitten will help ensure he doesn't add to the unwanted population by impregnating un-spayed females! Neutering will also lessen the urge to wander off (in search of a mate) and remove the likelihood of injury due to fighting over females.
Did you know? Un-neutered males routinely become lost or are killed on our busy roads!
There are also many health benefits involved with neutering such as a reduced chance of developing mammary cancer and protection from the serious uterine condition pyometra. Add to this less likelihood of unwanted behaviours such as territory marking and there are benefits to be had all around.
• Neutering for both Male and Female cats




• Transport can be arranged




• Vets post-surgery advice included
Are you elegible?
• You need to be on state benefits or a low income.
• You need to be clear that you do not want your cats to breed.
• You need to be resident for a priority booking in Liverpool 4, Liverpool 5, Liverpool 6, Liverpool 7, Liverpool 20 or Liverpool 21
• Living outside these postcodes….?. Do not worry we can still help. We will either signpost your household to another neuter project or register your details with us and allocate bookings as soon as possible.
• We will act as speedily as possible to requests for neuter assistance with feral cats, strays and street cats in all Liverpool postcodes.
• For speed of booking it would be helpful if households could transport securely to one of the five clinics we work with on our pre-booked clinic days for 9 am. Clinics are in Old Swan, Walton Vale, Kirkby and Prescot.
• Waiting times can be two to six weeks, so please tell us if there is an urgency to the situation.
• The voluntary donations for the service are just that; please talk to us if you are struggling or your household has a lot of cats, we are here to listen and act.
• Don't delay register now. We need your full name, address and postcode with preferably two phone numbers.
To register: Telephone 0151 931 1604, Text 07789 624517 or email cattery@freshfields.org.uk
Get your cat neutered for £5
Cats Protection are running a project in throughout Liverpool (all postcodes starting with an L) that allows eligible owners the opportunity to spay or neuter their cat for just £5. Click 'here' for all the details.