A little bit about Staffy's
Sadly Staffy's receive unwarranted bad press, in recent years they have become 'status dogs' with a reputation for being rough and tough. Unfortunately in the wrong hands and without socialisation any dog can display unwanted behaviour, not just bull breeds!
Staffy's are actually originally known as 'nanny dogs' and in the Kennel Clubs own words they are considered:
"Extremely reliable, highly intelligent and affectionate, especially with children."
It's time to show the world that these dogs are not the monsters that the press have made them out to be! In the right home they are beautifully behaved, loving companions just like any other breed of dog.
Here to stand up for Staffy's are some of the families who have been lucky enough to adopt one from us…
Nero & Ozzie
We have just received this lovely picture of Nero and Ozzie. Nero (white and grey) went to his lovely new home back in 2008. He came to Freshfields as a stray and was never claimed. Sadly Nero's story is all too common for bull breeds.
Luckily for him he landed on his feet with his new mum and dad and is a spoilt little boy now! Nero's family came back to us recently to find a new friend for him after losing their elderly boxer Sophie. This time it was Ozzie's turn to find happiness. Ozzie was having a hard time of it. He was yet another unwanted young boy, abandoned and found tied to a tree. He was taken to Manchester Dogs Home where he found a new dad, but sadly after one month in his home his owner found out he was terminally ill. Such a devastating situation for all concerned and Ozzie was once again looking for his forever family.
His luck was about to change when we received a call asking for help to rehome him. We had no immediate room so made arrangements to advertise him for rehoming straight from his current home. And that's where Ozzie's life began to change! Nero's family saw him, came to view him and within one week he was adopted and settling down, hopefully this time for good!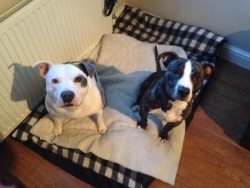 Here is a picture of the two boys together. And just today a member of staff met up with Nero, Ozzie and the family and was delighted to see how well the boys had bonded and how happy and loved they both are. Happy endings are possible!
Mutley
Mutley was with us for 2 years before he landed on his paws in a loving home! Mutley was found as a stray with (what turned out to be his auntie) Missy. They had been straying in Formby for days before they were caught.
We received a call from a member of the public who had a black dog outside their house growling! One of our volunteers went out and quickly caught Mutley who was terrified, he was not aggressive at all, just a very scared boy. As our volunteer was about to leave, a very scared little face peeped out from behind a tree, and there was Missy, utterly petrified.
The two had been wandering together for days. So cute that they stayed together and looked out for one another! They soon settled down here but both spent a long time waiting for their forever homes. Mutley went first and several months later Missy also found a loving home.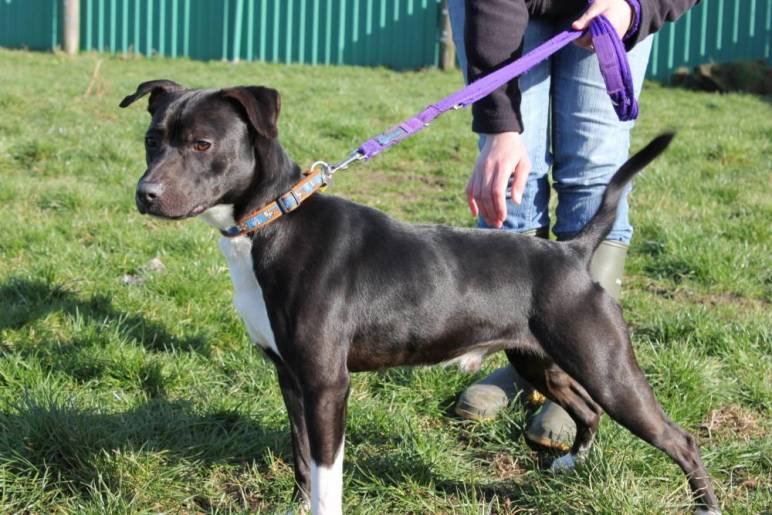 This photo is of Mutley on the day he came back for a visit.
Monkey
Monkey came into our care after we received an urgent phone call from one of our local veterinary surgeries. Poor Monkey had been taken in by his owners to be euthanized as they no longer wanted him because he had fleas!
We were absolutely appalled by this, and with time running out and nowhere for Monkey to go, we stepped in and saved his life – offering him a space in private boarding kennels until we were able to house him at the rescue. Soon after arriving at the rescue Monkey became our staff room dog and was adored by everyone due to his friendly nature and zest for life!
Here's what Monkey's new family have to say…
"I have had this wonderful chap since 29th January 2013. I must say what a wonderful animal he is. Bull breeds get such bad press and most of it is totally undeserved. In Monkey's case Freshfields said he didn't have a bad bone in him. Very true!! I absolutely adore this dog. He has such character but is extremely well behaved and obedient. I have not had to train him so I think at some time he must have been trained. He doesn't chew or make a mess in the house. He is great with children. He loves his tummy tickles which he gets loads of. It's really funny in the mornings because I get up first and he jumps on the sofa and lies on his back next to me for his morning dose!!! However, when he hears Janet getting up he immediately slides off and gets in his bed (she's not keen on him being on the sofa…lol). I feel very privileged to own this animal. He is nearly 9 now and I look forward to many more happy days with him."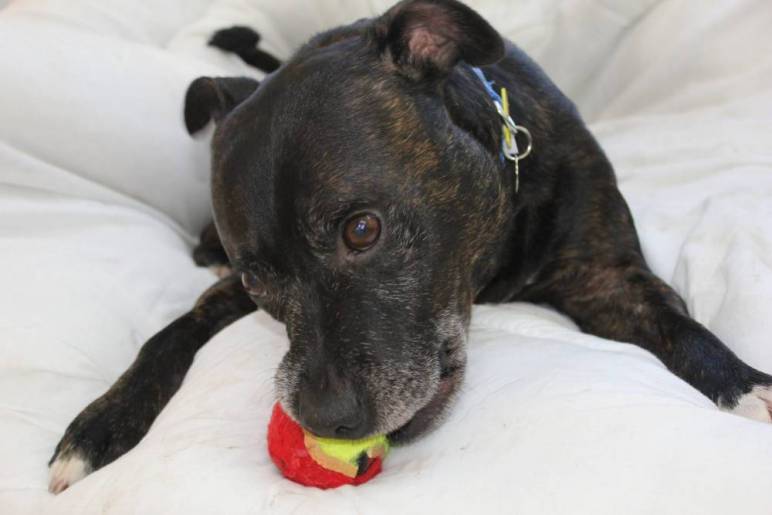 Here is a picture of Monkey.
"Please don't believe all the bad press, it's not the breeds its people
that make dogs bad. Freshfields is a wonderful place and if I could I
wouldn't hesitate to take another Bull Breed from them!"