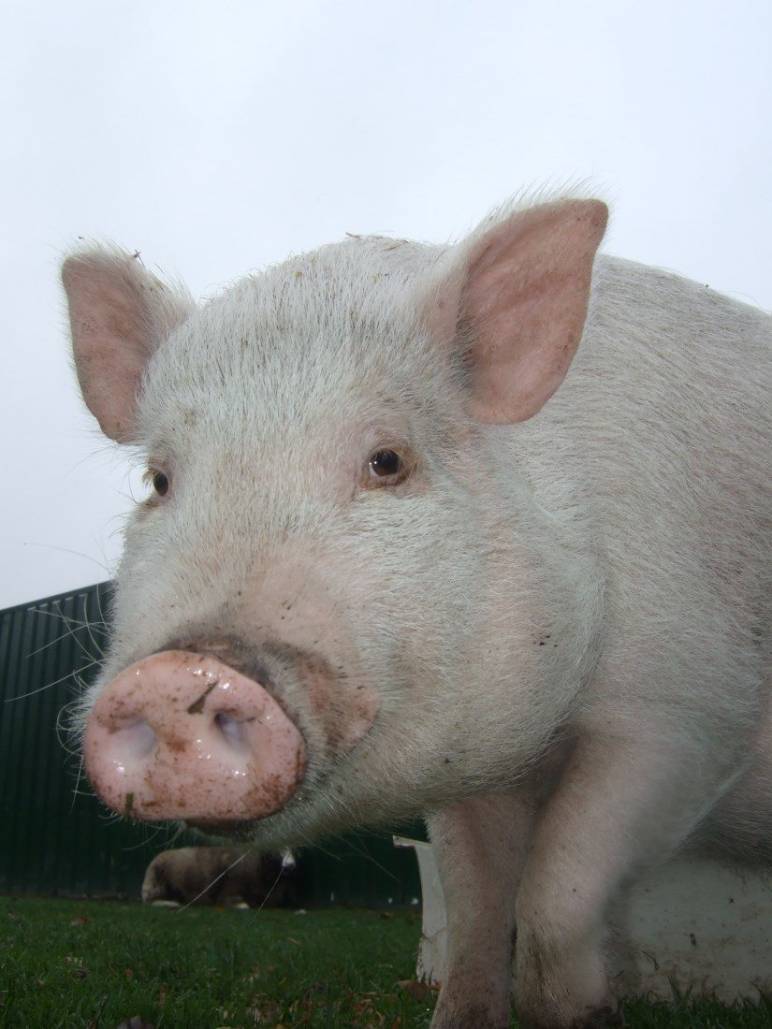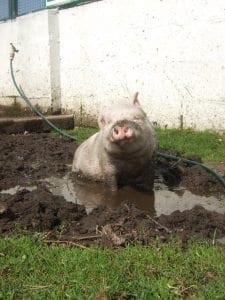 Little Jürgen Kloppig was found as a tiny stray piglet in Liverpool by a very apparent Liverpool FC supporter. Little Jürgy quickly found a loving home (who renamed him Wilbur) but sadly he was returned to us as he'd make a bit of a racket when separated from his family in the garden. We suspected it may have been a case of separation anxiety but knowing him better nowadays it's also very possible that he just doesn't like being confined and wanted more space.
Anyway, he's back with us and very happily living with his pal, Dolly. His new name of Wilbur didn't stick and we quickly started calling him by his original name again so Jürgen it is! Our German vet says it suits him and it was the wish of his original saviour so who are we to argue?
Jürgen was tiny when he came to us and very, very cute. He's much bigger now but still a baby compared to our other pigs. We don't know exactly how large he'll eventually become but we do suspect that he hasn't finished growing just yet. Only time will tell (although his voracious appetite will surely ensure he continues to grow in one direction at least…).
Anyway, little Jürgy is a great big character at Freshfields; always cute, oftentimes hilarious, though sometimes a typical stubborn little piggy. He's a little dynamo, always buzzing about playfully and seemingly full of joie de vivre – not too dissimilar to his charismatic namesake really (though it's doubtful that the manager of LFC has such a love of mud, compost heaps and tummy tickles…).
Ultimately we'd love for Jürgen to be rehomed somewhere with plenty of space and the companionship of another friendly pig but until that day comes he'll never walk alone at Freshfields…
Please consider sponsoring Jürgen during his time with us to ensure we can continue to meet all his needs. For other ways to help please see the 'Get Involved' section of the website or consider donating feed via a local farm feed shop or our amazon wishlist. Donations of fruit and vegetables are also very welcome.