Eros is a German Shepherd cross Collie and is almost 9 years old. This special boy originally came to Freshfields in 2016. The outside world has proven to be an unsurmountable challenge for Eros – and after some bad luck and unfortunate experiences, it has with much consideration been decided that he will spend his life with us at Freshfields; living with people who love him and will provide him with the care and affection he deserves.
Let's tell you a bit about Eros!
Eros loves playing ball and enjoys nothing more than spending time on our field with his favourite people. As you can see in is video below, he likes to carry a tennis ball from his room to the field to make sure he has one to play with and then we'll often find him heading over to the sandpit, which during the rainy seasons is usually full of water. However, regardless of the weather, Eros is a water baby and loves to take a dip!
Eros is a laid back chap – his favourite spot to relax is on his sofa, especially when he has company. He loves a good belly rub, and is often rolling over asking for a fuss! He has a lovely room here at the rescue, with all his favourite toys and comfy blankets to make sure he feels secure. To him this is his safe space – so we always make sure it is as relaxing for him as possible. Eros can become very anxious – loud noises and busy areas spook him and can make him feel very insecure. However, he always feels better when he is with the people he trusts.
Eros is such an affectionate boy with the people he knows and we want to be able to provide him with whatever he needs to feel safe, loved and cherished – this is where you come in! Your sponsorship will help us to continue to support Eros for the rest of his life here at the rescue.
If you are interested in sponsoring Eros, you can find the Sponsor Me button below. Alternatively, you are welcome to give us a call on 0151 931 1604 or email us at admin@freshfields.org.uk and a member of our reception team will be happy to help you set up your sponsorship by card or cheque.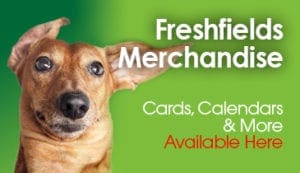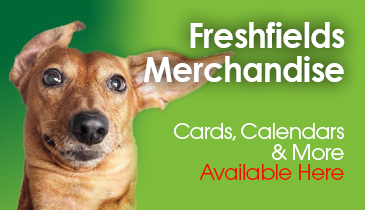 Merchandise
Exclusive merchandise available direct from the rescue. Don't miss out, follow the link to make your purchase today.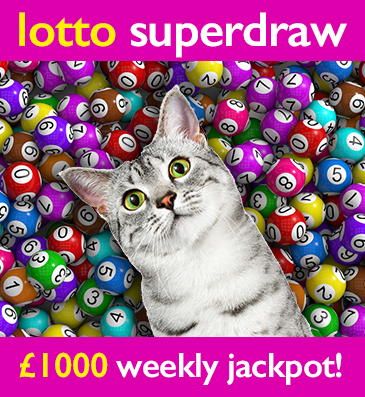 Freshfields Lotto Superdraw
The easy and fun way to support your local animal rescue centre. Over 30 guaranteed prizes every week. Every time you play you help an animal in desperate need.