We have a large number of domestic ducks in our care – mostly Aylesburys (or hybrids thereof) but also several Muscovy ducks and even some Mallards that came to us in such condition that they're unable to be released into the wild. Although it can be sad to think that they've been bred for a purpose that makes them too large to fulfil their natural urge to take to the skies they get on just fine in the right environment and make for adorable, incredibly entertaining friends.
Most people that show an interest in adopting ducks from us tend to express an interest only in female ducks (and most requests for us to admit ducks are for unwanted males) but typically we find that many of our ducks organise themselves in their own small social groups that comprise a mixture of males and females (drakes & hens). Therefore, with many of our ducks we would only be willing to rehome them along with their nearest and dearest which would require taking on some of our beautiful boys also.
Any potential home must be able to provide safe, secure, predator proof housing, ample space and access to greenery. Being waterfowl, it is essential also for them to have access to clean swimming water so that they can stay clean, healthy, happy and enriched. Obviously self sustaining lakes or ponds are best but for the smaller garden good sized pre-formed pond liners dug into the ground are excellent but require regular cleaning/refilling and can be reasonably pricey. As with any of our rescued animals they are rehomed under the strict agreement that they will never enter the food chain or be used for breeding.
For those unable to welcome ducks into their lives please see the 'Get Involved' section of the website for other ways to help or consider donating feed via a local feed shop or our amazon wishlist.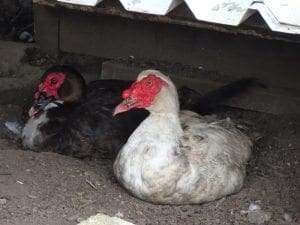 Breed / Type -

Domestic/Varied

Sex -

Male

Age -

Unknown

Colour -

Mixed
---
How do I Adopt
Sponsor me
Back to Animal Search
Share this animals details